Willow Flycatcher
Empidonax traillii
Passeriformes Order – Tyrannidae Family
INTRODUCTION:
The members of the genus Empidonax show fairly similar structure and plumage pattern, but the differentiation occurs mainly through voice and behaviour. These birds are always difficult to identify.
There are differences also in habitat, nesting habits and distribution between birds with almost similar plumage characteristics.
Numerous Empidonax species are widespread in North and Middle America. Some of them have more restricted range.
The Willow Flycatcher breeds in United States and Canada, and migrates southwards to spend the winter in Mexico, Central America and N South America.
It frequents moist, shrubby habitats often near water during the breeding season, whereas during winter, it can be found in shrubby clearings, pastures and forest edges, also near water.
The Willow Flycatcher feeds primarily on insects caught in the air or from foliage while hovering. Some berries and seeds are consumed in autumn.
It nests in a cup-shaped structure built in trees, frequently willows, between 90 centimetres and 1,50 metre above the ground.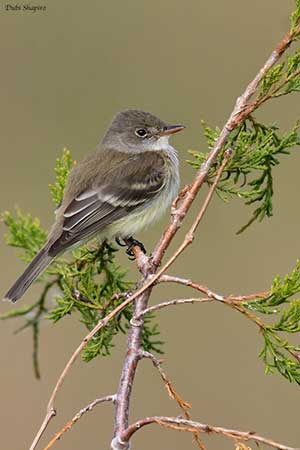 The Willow Flycatcher was formerly included in the Traill's Flycatcher, but in 1973, this species was split into two species, the Willow Flycatcher and the Alder Flycatcher.
The species is described as common to fairly common and it is not globally threatened, although degradation and loss of wooded habitats in the wintering grounds may have a negative impact on populations.
DESCRIPTION OF THE BIRD:
Biometrics:
Length: 15 cm
Wingspan: 20-23 cm
Weight: 14 g (11-16 g)
The Willow Flycatcher is one of the largest members of genus Empidonax.
The adult of nominate race has brownish-olive upperparts. The wings are blackish-brown and show two whitish to pale yellow wingbars. Secondary and tertial flight-feathers have pale edges forming a panel on secondaries on closed wings. The tail is dusky.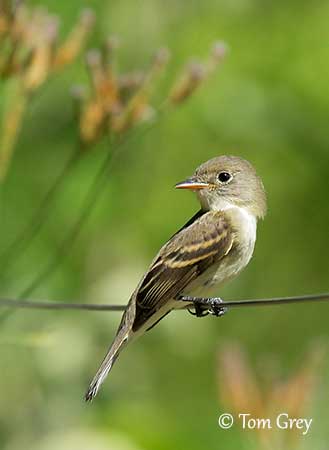 The underparts are greyish-white including the throat. The breast is washed dull brownish-olive, but darker on the sides. Belly and undertail-coverts are tinged pale yellow.
In spring, in fresh plumage, the upperparts are brighter green and the plumage pattern is more prominent. In late summer, in worn plumage, the bird becomes duller.
On the head, there is a weak, narrow, pale loral area and a whitish eyering. Rest of head is slightly darker than upperparts.
The two-tone bill has black upper mandible and pale orange-yellow lower mandible. The eyes are dark brown, surrounded by whitish eyering. Legs and feet are blackish.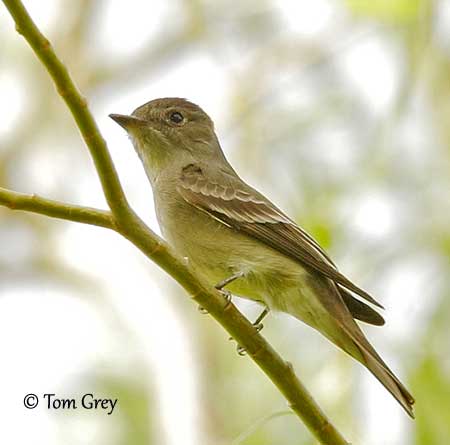 Male and female are similar.
The juvenile has browner upperparts and yellower underparts. The yellowish-buff wingbars are broader.
SUBSPECIES AND RANGE:
The Willow Flycatcher has four subspecies that differ mainly in plumage tones, with browner races in west.
E.t. traillii (described above) breeds in S parts of Canada and NC and NE USA. It winters from Panama to Ecuador.
E.t. brewsteri breeds in extreme SW Canada, S in W of Cascades to SW California (W of Sierra Nevada). It probably winters in W Mexico, S to Panama.
This race is the darkest.
E.t. adastus breeds in SW Canada, S in USA to E California (E of Sierra Nevada) and in Great basin and Rockies. It winters in W Mexico, S to Costa Rica.
This one has intermediate plumage colour.
E.t. extimus breeds in SW USA (SW Utah to S California and N New Mexico). It probably winters in W Mexico S to Costa Rica.
This race is the palest.
HABITAT:
The Willow Flycatcher breeds in moist, shrubby areas with standing water or near stream, and along the margins of ponds and lakes. However, depending on the range, it also breeds at woodland edges and in dry, brushy thickets.
During migration, it is found in similar habitats, especially willows in W USA.
During winter, it can be found in shrubby forest borders, open woodlands, clearings, pastures and arid scrub, but often near water.
The species is visible from sea-level to 2,500 metres of elevation.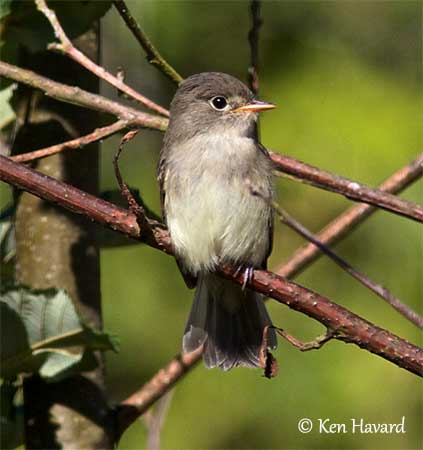 CALLS AND SONGS: SOUNDS BY XENO-CANTO
The Willow Flycatcher's common call is a mellow "whuit" given by both adults.
During the breeding season, the male can be seen on exposed perches. The territorial call is a distinctive nasal, buzzy "fitz-bew" sometimes followed by a "creet" note and "fizz-bew". The females also call to respond to males, but also when threatened.
A new call is used at the beginning of the mating season. At this period, calls and songs are long, but as the season progresses, the songs become shorter.
The flight song is a rapid series of "wheet" notes, followed by several "creet" and "fitz-bew".
In Mexico, the dawn call is described as "spt-chew".
Other upslurred and then downslurred sounds can be heard. During aggressive encounters, the birds perform bill-snapping.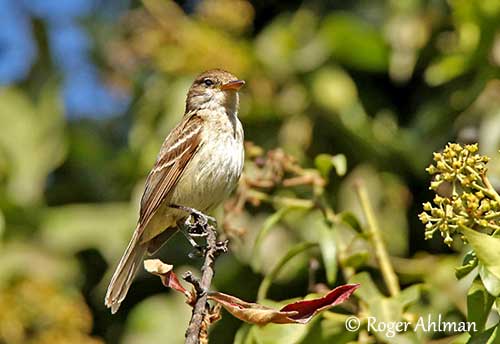 BEHAVIOUR IN THE WILD:
The Willow Flycatcher feeds primarily on insects such as wasps, bees, winged ants, beetles, flies, caterpillars, moths and other species. It also takes spiders and a small amount of berries and seeds in autumn.
It hunts from perch. Once the prey is located, the bird swoops down to catch it. Insects are also caught in mid-air or by gleaning from foliage while hovering. But both diet and hunting behaviour may vary, according to location and habitat.
During the breeding season, the male sings to defend the territory. It usually uses the highest, more exposed perch from which it sings loudly and repeatedly. The female is also known to sing.
The courtship displays are poorly known, but probably include active chases through the trees. The species is usually monogamous, although some cases of polygyny have been reported. In this case, the polygynous male divides its time between the females.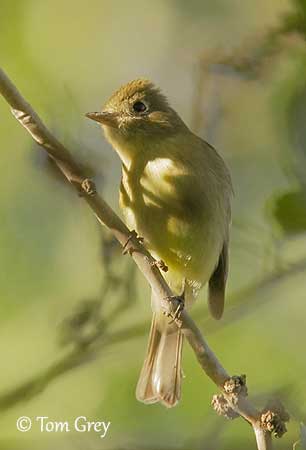 The Willow Flycatcher is a long-distance migrant. After breeding, they move southwards to spend the winter in S Mexico, Central America and N South America. It is rare in NE Ecuador. The birds migrate at night.
They leave the breeding grounds in mid-August/September and return for breeding from May to early June.
The Willow Flycatcher has weak, fluttering flight with shallow wingbeats.
REPRODUCTION OF THIS SPECIES:
The breeding season is related to the range, but the Willow Flycatcher usually breeds from May/June to August.
The female chooses the nest-site, often a deciduous shrub or tree, especially willow, or shrub or clump of ferns. The nest is built between 1,20 and 4,50 metres above the ground, but mostly 90 centimetres and 1,50 metre in tree fork.
She builds a cup-shaped structure with grass, strips of bark and plant fibres. The cup is lined with softer material such as feathers and plant down from cattails, cottonwood and willow. The nest may sometimes have some plant material dangling from the bottom.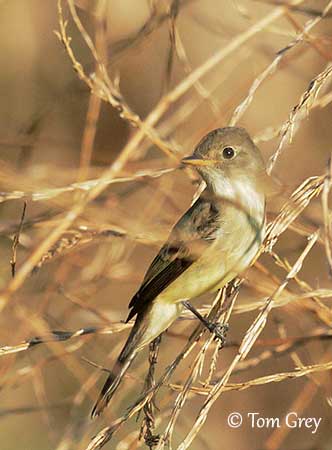 The female lays 3-4 buff to whitish eggs with brown spots. She incubates alone during 12-15 days. The chicks are precocial. They are brooded by the female but both parents feed them. They fledge 12-14 days after hatching and usually remain several days in the parent's territory.
About 9% of the Willow Flycatcher's nests are parasitized by the Brown-headed Cowbird. However, cowbird trapping in some parts of the range has lowered the parasitism and stabilized the breeding populations.
PROTECTION / THREATS / STATUS:
The Willow Flycatcher is mainly affected by habitat destruction and brood parasitism.
The population is estimated to number 3,300,000 individuals and is suspected to be stable, but the southwestern species "extimus" is currently endangered due to habitat loss, agriculture expansion and urbanisation, and also brood parasitism. The Pacific coast race "brewsteri" has also declined and is now rare and local.
But the species is not globally threatened, and the Willow Flycatcher is currently evaluated as Least Concern.