Red-footed Booby
Sula sula
Suliformes Order – Sulidae Family
BIOMETRICS:
Length: 69-79 cm
Wingspan: 152 cm
Weight: 850-1100 g
LONGIVITY: Up to 40 years
DESCRIPTION:
Red-footed Booby is the smallest of the boobies, but it is a large waterbird. Plumage is confusingly variable, but colour morphs do not segregate reproductively and geographically. Individuals representing several morphs breed in a single colony.
Adult white morph has wholly white tail and tertials, blackish carpal patch on underwing, a dark face patch and bright red feet.

Adult brown morph has a distinctive coffee-brown with whitish rump and tail, and blue-grey bill and bare skin.
Two other morphs exist: white-tailed brown and white morph with black tail.
Red-footed Booby has a long, pointed, pale blue-grey bill, with a pink bare skin at base of bill. It has long pointed wings and tail.
Juvenile is wholly brown, with blackish bill and feet. Belly is paler.
Immature white morph with varying amounts of white below, can be confused with juvenile brown, but later has darker head and neck, and border to underwing.
Both sexes are similar, but male is slightly larger than female, and with lime-green patch in front of eyes during beginning of breeding season.
The plumage of Red-footed Booby must serve two purposes, camouflage and temperature maintenance. This plumage is moulted continuously so as not to hinder the bird flight capability at any time, and it is suspended during breeding.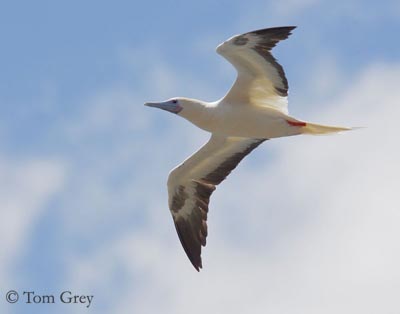 VOICE: SOUNDS BY XENO-CANTO
Red-footed Booby is usually silent at sea, but we can hear some guttural and loud screeching squawks at colony. Male and female's calls are different. Male produces mild, plaintive whistles, while female produces trumpeting honks or quacks. Juveniles sound like females.
HABITAT:
Red-footed Booby is pelagic away breeding colonies. It nests on coral atolls or volcanic islands in tropical seas.
RANGE:
Red-footed Booby breeds in Hawaii, Caribbean Sea, Atlantic, pacific and Indian Oceans, and seas north Australia. It winters throughout tropical oceans.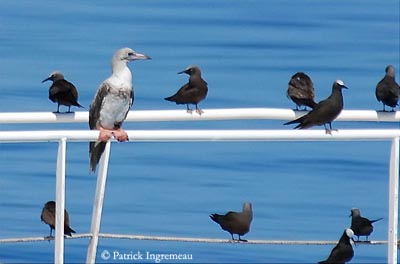 BEHAVIOUR:
Red-footed Booby is a high-diving seabird, noted for their sudden, headlong plunges after prey. It plunges dives from various heights into schools of fish at moderate depths, 4 to 10 metres. It may catch flying fish in the air, and grab prey at surface. Red-footed Booby never carries its prey in its bill. It always swallows it before flying. It can use its wings to swim deeper underwater (15 to 20 metres) to reach prey.
As Red-footed Booby nests in trees, it is protected from human disturbances, and it is the most abundant of boobies. It waits for nesting for abundant food, but when food lacks before the end of the season, many young dead. Survivors go out very far into the oceans and seas, at several thousands km from the nest. Both male and female are feeding young. If food is scarce, parents may abandon the young in order to ensure their own survival. If food is abundant, they care for young for a long time.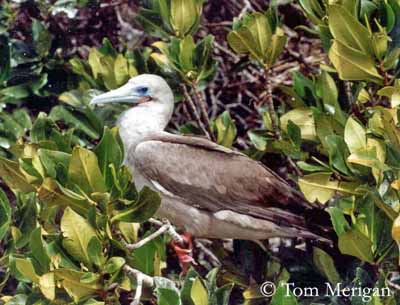 Red-footed booby performs courtship displays: they show off their wings and feet, and display postures. Movement is displayed by the "bill-up-face-away" posture. The "facing-away" and "bill-tucking" postures inhibit aggressions. Males take some postures with their tails, bills, and wings facing upward and call for mates.
FLIGHT:
Red-footed Booby flies with grace and speed. It has an agile flight action to feed, with plunge-diving to catch its prey.
REPRODUCTION:
Red-footed Booby's nest is a large open platform of twigs, lined with grass and leaves, located in a small tree or shrub. It nests in colonies. It makes its nest in the top of trees on islands and coasts in tropical regions. They can do it also in low scrub.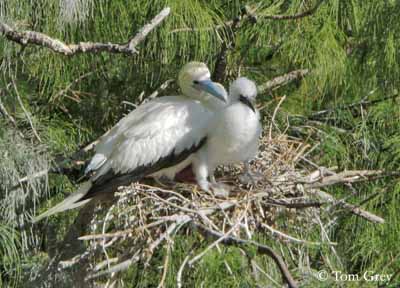 Female lays a single chalky-white egg. Incubation with feet lasts between 41 and 45 days, by both parents which change all the 24hours. Chick hatches naked and helpless. The young fledge at one month. It is fed by both parents during one to four months. They reach maturity at three years.
DIET:
Red-footed Booby feeds on squid and fish, especially flying fish.