Magnolia Warbler
Setophaga magnolia
Passeriforme Order – Parulidae Family
BIOMETRICS:
Length: 11-13 cm
Wingspan: 16-20 cm
Weight: 6-15 g
LONGEVITY: Up to 7 years
DESCRIPTION:
Magnolia Warbler has distinctive combination of yellow underparts and rump patch, grey head (blackish at sides and with white supercilium above and behind eye in summer males), whitish eye-ring, greenish mantle (blackish in summer males), and double white wing bars (fairly solid white patch in summer males).
The most notable feature in all plumages is the prominent white band in black-tipped tail (with white on inner webs, others with large white patch and large black tip, forming a dark T shape). It has white undertail coverts. Legs and eyes are dark brown.
DIET:
Magnolia Warbler feeds primarily on insects (beetles, moths, caterpillars, leafhoppers, aphids and flies. They also eat spiders and worms. In bad winters, Magnolia warbler also feeds on plant lice and berries.
PROTECTION / THREATS / STATUS:
Magnolia Warbler is a host of Brown-headed Cowbird, and the young cowbirds eject eggs and young of the host.
Hawks are eggs and young predators.
Magnolia Warbler is vulnerable to loss habitat. Spruce and fir forests are declining, populations of this species is also likely in decline. But they increase in several regions of Northeast because the increase of the habitat resulting from the maturing of abandoned farmlands.
Fr: Paruline à tête cendrée
All : Hemlock-Waldsänger
Esp : Chipe de Cola Fajeada
Ital : Dendroica magnolia
Nd : Magnoliazanger
Russe : Магнолиевая древесница
Sd: Magnoliaskogssångare
Photographs by René Lortie
His website : http://rlortie.ca/
Text by Nicole Bouglouan
Sources:
A GUIDE TO THE BIRDS OF MEXICO AND NORTHERN CENTRAL AMERICA by Steve N. G. Howell, Sophie Webb - Oxford University Press - ISBN: 0198540124
FIELD GUIDE TO THE BIRDS OF NORTH AMERICA - National Geographic Society - ISBN: 0792274512
THE HANDBOOK OF BIRD IDENTIFICATION FOR EUROPE AND THE WESTERN PALEARCTIC by Mark Beaman, Steve Madge - C.Helm - ISBN: 0713639601
All About Birds (Cornell Lab of Ornithology)
Birds of Nova Scotia (Robie Tufts)
Wikipedia (Wikipedia, The Free Encyclopedia)
What Bird-The ultimate Bird Guide (Mitchell Waite)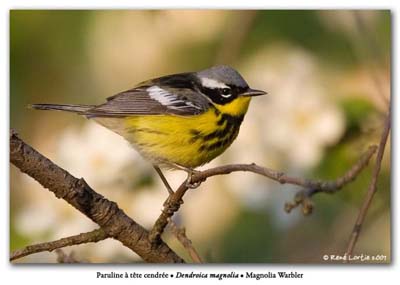 In summer plumage, male is stunningly beautiful. Streaking on underparts especially black and broad, and streaking usually apparent on mantle, except in 1st winter females.
Female is duller, with grey face and some streaks on sides.
Immature is similar to non breeding adult, without black streaking on chest.
The name of this species was created in 1810 by Alexander Wilson, who collected a specimen from a magnolia tree in Mississippi.
VOICE: SOUNDS BY XENO-CANTO
Magnolia Warbler's call is a distinctive, high, rather hard "dzip" or "tlep", sometimes repeated. Song is a rather variable, clear, ascending, whistling "weety-weety-weety-weeteo", and "wisha-wisha-wisha-witsy" or similar.
HABITAT:
Magnolia Warbler breeds in stands of young conifers, and moist coniferous forests, especially spruce or fir, but occurs in other kinds of woodlands or thickets during the migration.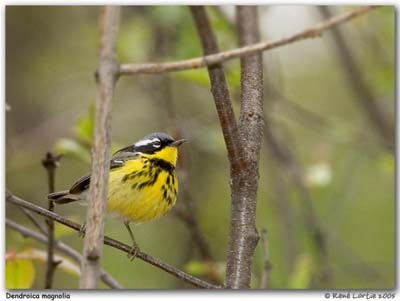 RANGE:
Magnolia Warbler breeds from NW Territories to Newfoundland, southward to central Alberta, Wisconsin and W Virginia.
It winters in S Mexico, Central America, the Greater Antilles, and other islands in the Caribbean.
BEHAVIOUR:
Magnolia Warbler is an arboreal warbler, actively foraging in interior of trees and shrubs, often flycatching and dropping to lower perches. It gleans insects from undersides of conifer needles and broadleaf foliage. It forages in the lower or middle branches of trees. It picks insects off under the bark of trunks.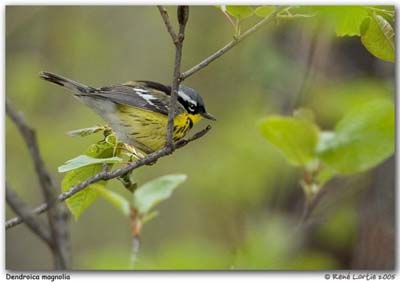 Magnolia warbler lives solitary or in pair. It may be territorial in the winter months. It lives low in the forest, and doesn't seem to be shy, unless when is guarding its young. It is very active and energetic. It sings almost constantly and often appears to be showing off its tail feathers, spreading or flicking them.
Although it usually lives alone, it doesn't seem to show any hostility towards other birds, other species or its own.
During the breeding season, male grows very competitive and tries to impress females by showing off its colours. Male may get violent with other males at this period, fighting with beak and wings.
Male sings cheerful tunes to the female which has chosen to mate with it. This song consists of three short phrases with an accented ending.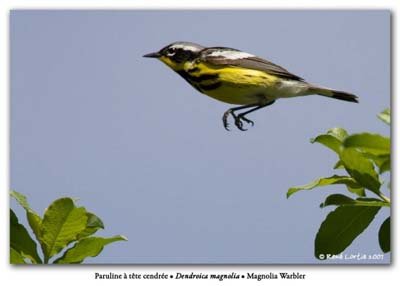 FLIGHT:
Magnolia Warbler has an agile flight, flying short distances from branch to branch to catch its prey.
REPRODUCTION:
Magnolia Warbler is monogamous. Nest is built less than 10 feet from the ground. It is built in low tree branches, hidden in the dense areas of the forest. They build a messy nest which is put together very carelessly, and is not very stable or secure. Nest is made with twigs, weeds, hay, and grass.
Female lays 3 to 5 white, creamy white or greenish white eggs, speckled with brown, very light or very dark, and produces only one brood per year. Eggs are slightly glossy. Incubation lasts about 11 to 13 days, by female. Chicks hatch helpless and with tufts of black down. They open the eyes after 3 or 4 days. They fledge at 8 or 9 days, when feathers become well developed. At this moment, they begin to find their own food.
Male and female are supplying food to the young, even after fledging. Chicks remain close to one another and to parents for about one month.