Brown-headed Cowbird
Molothrus ater
Passeriforme Order - Icteridae Family
BIOMETRICS:
Length: 15-20 cm; Wingspan: 33cm; Weight: 28-49 g
LONGIVITY: up to 13 years
DESCRIPTION: Brown-headed Cowbird is relatively small, with short and conical bill, rather long and pointed wings, and slightly rounded tail.
Adult male is uniformly glossy greenish back, with brown head and neck. It has black eyes, legs and feet. The bill is dull grey.
Adult female is brownish grey above, with a faint greenish gloss. The wings and tail are more dusky brownish, with pale feather edges. Chin and throat are paler, sometimes almost white. Female is smaller than male.
Juveniles look much like females, but are striped below.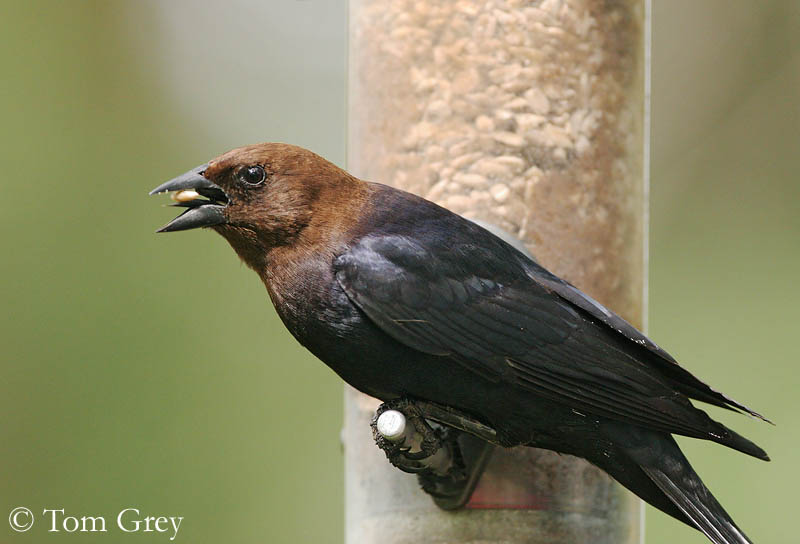 VOICE: SOUNDS BY XENO-CANTO
Brown-headed Cowbird male chooses a "singing tree" from which to sing the typical song beginning with two liquid whistles, and ending in a rapid glissando as "bub-blow-com-seee". This song is often accompanied by a "bow" or "tip-over" display towards a female or a rival male. Another vocalization is given just before or during flight. This "flight whistle" consists of two or three clear, high pitched notes.
HABITAT:
Brown-headed Cowbird prefers habitat with low or scattered trees among grassland vegetation, such as woodland edges and brushy thickets, and also meadows, fields, pastures, orchards and residential areas.
RANGE:
Brown-headed Cowbirds are partially migratory, abandoning northern parts of its range, and wintering in the south eastern United States, southern California, and Arizona, southern Mexico and the tip of Florida. It breeds from SE Alaska, through lower Canada, through the entire Continental United States.
BEHAVIOUR:
Brown-headed Cowbird's habit to lay its eggs in the nests of others species lets it free to follow the peregrinations of the bison's herds, cow, cattle and horses. Cattle kicked up insects upon which the cowbirds fed. Still associated to some extent with large mammals, Brown-headed Cowbird has now greatly expanded its range throughout the landscape, coast to coast.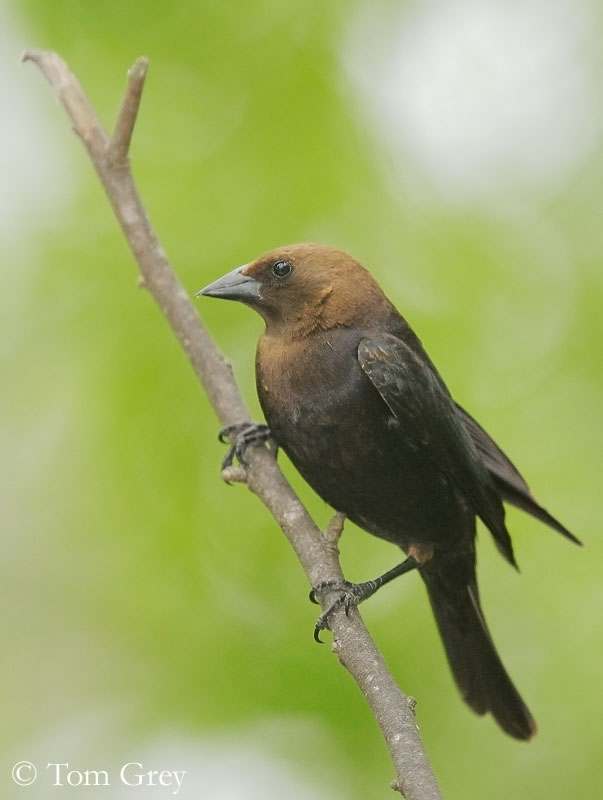 It forages on the ground by walking, tail held nearly upright, and wings drooping. It feeds away from vegetation. The cowbird rarely hops on the ground. It walks. It gets its name from its close association with cattle, which disturb insects on the ground when feeding.
Courting male ruffles feathers of upper body, bows toward female and calls. In flight, male ruffles feathers as on ground, bends head and arches the wings and sings. On elevate perch, male points bill straight up, fluffs its feathers on nape, breast and flanks, sings, then arches neck, spreads tail, raises wings and bows.
FLIGHT:
Brown-headed Cowbird travels in large winter flocks with others species. It's a short distance migrant. It quickly flaps wings out and back to body in flight.
REPRODUCTION:
Brown-headed Cowbirds are brood parasites. They have completely abandoned the tasks of building nests, incubating eggs and caring for hatchlings.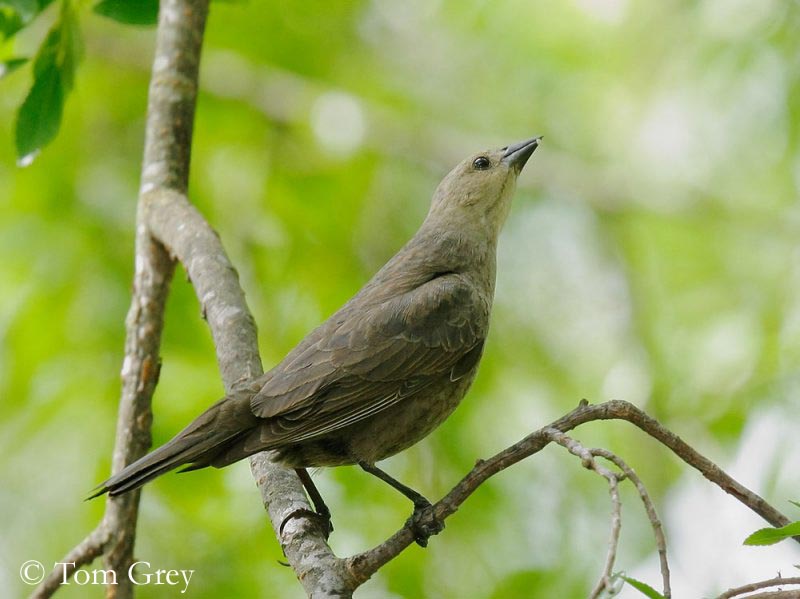 Each female lays as many as 40 eggs per year in others species' nests. The female cowbird finds these nests by watching from an observation post, by observing the nests of tree-nesting species while she walks quietly on the ground in the forest, or by crashing noisily through shrubbery with flapping wings to flush out potential victims. So the incubation and parental care of cowbirds varies greatly, depending on the nest which they are deposited.
Young cowbirds incubation time is short, 10 to 12 days. They leave the nest after 8 to 13 days, and they are fully independent from the hosts until they are about 25 to 29 days old.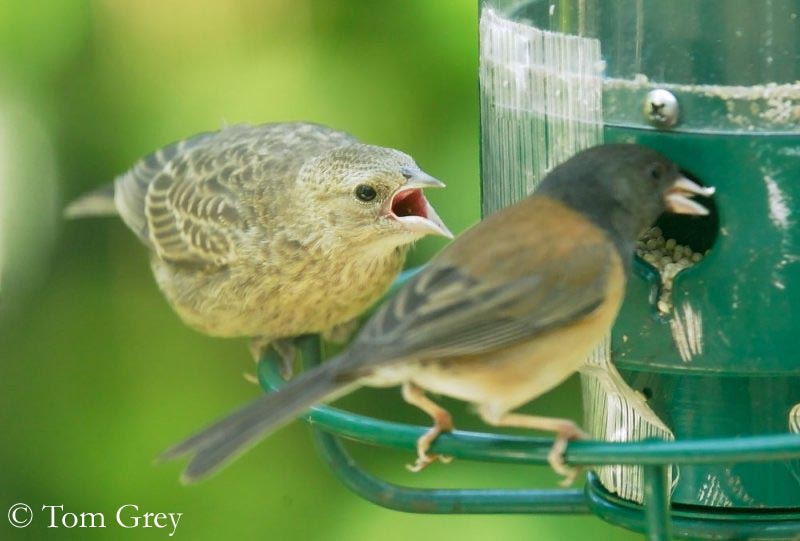 The female chooses a nest with eggs smaller than her own, and lays a single egg quickly. She doesn't evict the others eggs, although she may remove, and sometimes eats eggs from the host nest.
DIET:
Brown-headed Cowbird shifts its diet at the end of summer away from insects to grains in the fall and winter. Their main food is seeds and arthropods. They sometimes hawk slow flying insects, such as grasshoppers and beetles. They also eat other small creatures they can catch, such as spiders. They eat some berries too.
PROTECTION/ THREATS / STATUS:
Fragmentation of forests has greatly increased the Brown-headed Cowbird favourite habitat. As a result, cowbird parasitism may be one cause in the general decrease in numbers of songbirds in North America (warblers, finches and sparrows). The cowbird is common, but it has some predators, such as hawks, owls, raccoons, squirrels and snakes.
Fr: Vacher à tête brune
All: Braunkopf-Kuhstärling
Esp: Vaquero de Cabeza Castaña
Ital: Molotro testabruna
Nd: Bruinkop-koevogel
Russe: Буроголовая воловья птица
Sd: Brunhuvad kostare
Photographs by Tom Grey
His website : Tom Grey's Bird Pictures
Text by Nicole Bouglouan
Sources :
FIELD GUIDE TO THE BIRDS OF NORTH AMERICA - National Geographic Society - ISBN: 0792274512
THE HANDBOOK OF BIRD IDENTIFICATION FOR EUROPE AND THE WESTERN PALEARCTIC by Mark Beaman, Steve Madge - C.Helm - ISBN: 0713639601
Wikipedia (Wikipedia, The Free Encyclopedia)
All About Birds (Cornell Lab of Ornithology)
What Bird-The ultimate Bird Guide (Mitchell Waite)
Bird Web (Seattle Audubon Society)
CREAGUS@Monterey Bay (Don Roberson)