Long-billed Black Cockatoo
Calyptorhynchus baudinii
Psittaciforme Order – Cacatuidae Family
BIOMETRICS:
Length: 56 cm;
Weight: 630 – 750 g
LONGEVITY: Up to 50 years
DESCRIPTION:
Long-billed Black Cockatoo is endemic to south-west Australia.
This large bird has dusky black plumage. Feathers are edged with whitish, forming a pattern of fine pale crescents, most visible on nape, back, throat, breast and belly. Vent is rather black. In black wings, lesser, median and secondary coverts are edged with white too. Long black tail shows broad white band. Undertail feathers have the same pattern, with broad white rectangular band and black tips.
On the head, forehead and crown are black. Male has rounded dusky-white patch on ear coverts. Bill is large and black, with elongated hooked upper mandible. Eyes are dark brown with pinkish-red eye-ring. Black crest is short and rounded. Legs and feet are grey.
Farmers protect their crops, and are still shooting these birds, at a reduced rate, but with devastating results.
Long-billed Black Cockatoo is protected by Australian laws since 1996, and forest management is under control.
The name of Long-billed Black Cockatoo commemorates the French explorer Nicolas Baudin.
Fr: Cacatoès de Baudin
All : Langschnabel-Rußkakadu
Esp : Cacatúa Fúnebre Piquilarga
Ital : Cacatua nero codabianca
Nd : Witoorraafkaketoe
Russe : Белоухий черный какаду
Photos de Patrick Ingremeau
TAMANDUA
Texte de Nicole Bouglouan
Sources :
PARROTS OF THE WORLD – An Identification Guide – by Joseph M. Forshaw – Princeton University Press – ISBN 0691092516
HANDBOOK OF THE BIRDS OF THE WORLD vol 4 by Josep del Hoyo-Andrew Elliott-Jordi Sargatal - Lynx Edicions - ISBN: 8487334229
Avibase (Lepage Denis)

Wikipedia (Wikipedia, The Free Encyclopedia)
BirdLife International (BirdLife International)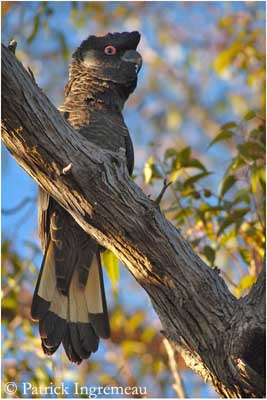 Female is similar in plumage, but she has rounded whitish patch on ear coverts. Her bill is whitish-grey with black tip, and her eye-ring is grey.
Juvenile resembles adults. It has the same bill as female, and in juvenile males, bill begins to become darker after second year.
There are two similar species:
Carnaby's Black Cockatoo (or Short-billed Black Cockatoo) – calyptorhynchus latirostris – with shorter upper mandible.
Red-tailed Black Cockatoo – Calyptorhynchus banksii – with red or orange tail band on black tail.
VOICE: SOUNDS BY XENO-CANTO
Long-billed Black Cockatoo most common call is a loud "wy-lah…wy-lah". We can also hear a whistling "whee-whee", and a low "chuck".
HABITAT:
Long-billed Black Cockatoo lives and is resident mainly in humid forest areas of south-west, in heavily forested sites. It performs some dispersion after breeding season, northwards and eastwards, but not beyond the range of Eucalypts such as Marri, Karri and Jarrah which provide its preferred food. It is sometimes recorded in orchards, farmlands and grasslands.
RANGE:
Long-billed Black Cockatoo lives in extreme south-western Australia, in relatively restricted area.
BEHAVIOUR:
Long-billed Black Cockatoo is noisy outside breeding season. They may gather in large flocks of up to 300 birds, usually when food resources are abundant. They sometimes form mixed groups with Carnaby's Black Cockatoo, but Long-billed Black Cockatoo is more arboreal, even it comes to the ground for feeding and drinking.
During breeding season, Long-billed Black Cockatoo is usually seen in pairs or family trio (pair and single dependent young). Adults are solitary nesters. They breed in the far south-west of Western Australia, within Karri trees range. Long-billed Black Cockatoos from permanent pairs.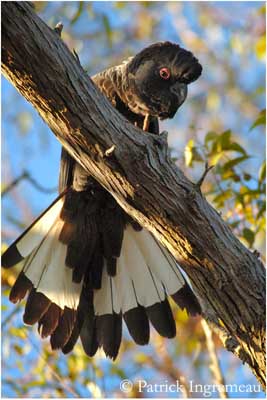 Long-billed Black Cockatoo preferred food is Marri seeds. It removes the seed from its capsule with the bill. It inserts the long upper mandible into the capsule and then, it hooks and pulls the seed out. They also damage apples and pears in orchards, and are exposed to shooting by farmers. They are considered as pests in orchards and crops.
FLIGHT:
Long-billed Black Cockatoo has strong, buoyant flight, with slow, flapping wing beats. It flies usually above treetops, and spirals down on motionless and down curved wings to alight. It raises its crest and spreads its tail after alighting.
REPRODUCTION:
Long-billed Black Cockatoo breeds in late winter and spring, from August to November or December. It nests in hollow in trees, especially in tall Eucalypts such as Karri, Marri and Wandoo. Nest interior is lined with wood chips.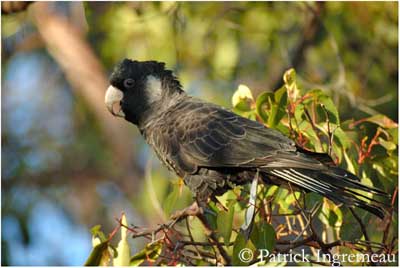 FEMALE
Female lays one or two white eggs. Incubation lasts about 28 days, by female alone. Chicks remain in the nest during about 15 to 16 weeks. Usually, only one chick survives and fledges.
Breeding adults who perform dispersion after breeding season probably return to the same nesting area each year.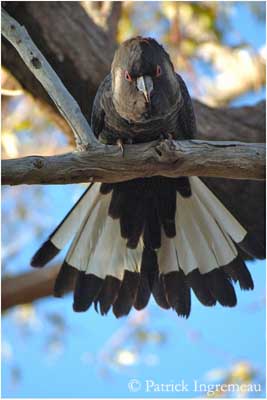 DIET:
Long-billed Black Cockatoo feeds mainly on seeds of Eucalypts, but it also consumes insect larvae, other plant seeds and occasionally nectar.
Its main food is obtained from Marri. Birds forage in Marri trees, searching into foliage and feeding on gum nuts and blossoms. It also forages on the ground, taking seeds from fallen fruits, and extracting insect larvae from the bark of fallen trees, such as large wood-boring grubs.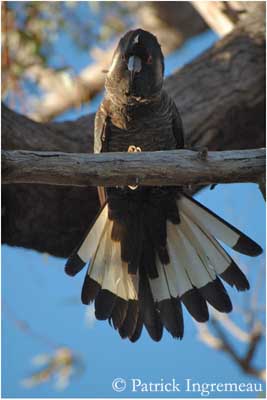 PROTECTION / THREATS / STATUS:
Long-billed Black Cockatoo's populations are suspected to be decreasing. Estimations give 10 000 to 15 000 birds, with 12 000 breeding birds. The annual reproductive rate (0, 6 young per pair) is too low.
Declines seem to be caused by clearance of the habitat for agriculture at the edge of forest patch in south-east in Western Australia, and the continuity of the population seems to depend upon a narrow strip of coastal forest.
Long-billed Black Cockatoo suffers competition for nests from geese and shelducks, and numerous hollows in trees are occupied by feral bees which can kill chicks and even brooding female.