Short-billed Black Cockatoo
Calyptorhynchus latirostris
Psittaciforme Order – Cacatuidae Family
BIOMETRICS:
Length: 53 à 58 cm
Weight: 540 à 760 g
LONGEVITY: Up to 50 years
DESCRIPTION:
Short-billed Black Cockatoo is endemic to South Western Australia.
Adult male has black plumage overall, with broad white tail-band on lateral tail feathers, and dusky-white ear-coverts. Feathers are edged whitish, giving scaled effect. Crest is short and recumbent.
Short, heavy bill is black. Eyes are dark brown, with reddish, fleshy eye-ring. Legs and feet are reddish-brown.
PROTECTION / THREATS / STATUS:
Short-billed Black Cockatoo is threatened by:
Habitat fragmentation; breeding and feeding suitable habitats have been cleared and fragmented;
By lacking of hollows in woodlands, because woodlands need about 100 years to mature and form suitable nesting-sites;
By competition for hollows with other species;
By lack of native food sources due to human developments;
By illegal poaching;
By invasive species such as Galahs and Western Long-billed Corella which extend their range.
Efforts are done for providing nest boxes, planting feeding and nesting trees, and helping re-establishing habitat for this species.
Short-billed Black Cockatoo is classified as endangered, and "Specially protected fauna".
Fr: Cacatoès à rectrices blanches
All : Weißschwanz-Rußkakadu
Esp : Cacatúa Fúnebre Piquicorta
Ital : Cacatua nero codabianca beccolargo
Photographs by Patrick Ingremeau
TAMANDUA
Text by Nicole Bouglouan
Sources:
PARROTS OF THE WORLD – An Identification Guide – by Joseph M. Forshaw – Princeton University Press – ISBN 0691092516
HANDBOOK OF THE BIRDS OF THE WORLD vol 4 by Josep del Hoyo-Andrew Elliott-Jordi Sargatal - Lynx Edicions - ISBN: 8487334229
Avibase (Lepage Denis)

Wikipedia (Wikipedia, The Free Encyclopedia)
BirdLife International (BirdLife International)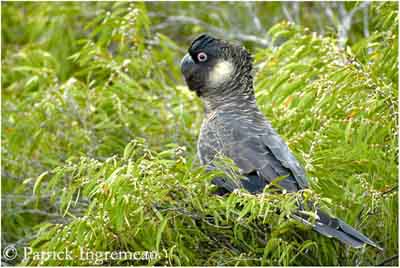 Female is similar, but with white ear-coverts. Eyes are brown, with greyish eye-ring. Heavy bill is pale grey with darker tips.
Juvenile resembles female, with dull white ear-coverts, sometimes washed yellowish, white tail band is narrower, sometimes with irregular dark blotches.
Young can breed at 4 or 5 years of age.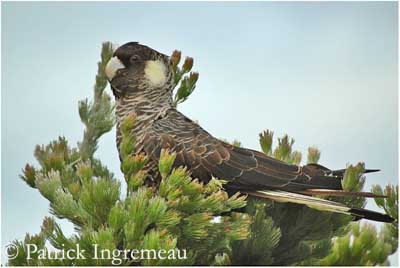 VOICE: SOUNDS BY XENO-CANTO
Most common call is a loud, wailing "wy-lah, wy-lah, wy-lah". Short-billed Black Cockatoo also utters a whistling "whee-whee", and a "chuck" of low intensity. Their common call is relatively prolonged. Younger birds have harsh begging call given in flight.
HABITAT:
Outside breeding season, Short-billed Black Cockatoo frequents Eucalyptus woodlands, farmlands with scattered trees, orchards, parks and gardens, and mainly Pines plantations.
It breeds in Eucalyptus woodlands, but land clearance and competition for hollow-nests with increasing numbers of Galahs, are important threats for this endangered species.
RANGE:
Short-billed Black Cockatoo lives in South Western Australia. It breeds mainly in drier inland.
BEHAVIOUR:
Short-billed Black Cockatoo is resident in higher rain-fall areas. Birds living in drier areas of the range move westwards after breeding season.
This species is noisy and conspicuous when birds gather in large flocks outside breeding season.
During breeding season, they are mostly seen in pairs or family trios, one young with parents.
When birds are feeding in flock, one or two birds remain perched in nearby trees, and if predator or intruder approaches, they give loud screeches as alarm calls, and the entire flock flies off.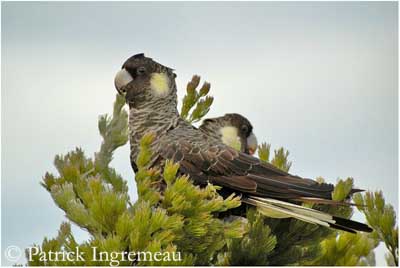 Short-billed Black Cockatoo is rather arboreal, but it may be seen low down in stunted bushes. They are active all the day in cool weather. But in summer, birds shelter in shade in foliage from midday heat, where they are invisible.
It uses its strong bill for opening capsules and cones to extract the seeds.
FLIGHT:
Short-billed Black Cockatoo has strong, buoyant flight, and performs slow, flapping wing beats. It flies above treetops and spirals down on motionless down curved wings to alight.
REPRODUCTION:
Short-billed Black Cockatoo breeds in Eucalyptus woodlands. It requires close association between breeding and feeding areas, with reasonable distance between them.
It displays strong bonds with its mate during its whole adult life. It nests in hollow in Eucalyptus and may reuse it if previous season was successful. This species breeds from July to September or November, according to the place. Nest is situated from 2 to 10 metres above the ground.
Female lays 1 or 2 white eggs. Second egg may be laid from 2 to 8 days after the first. Incubation lasts about 4 weeks, by female. She is fed at nest by male during this period.
Altricial chicks are fed mainly by female, and after 2 to 3 weeks, by both parents. Usually, only one chick survives. They fledge at about 10 to 11 weeks of age, but they depend on parents for several months.
After fledging, young and parents move to feeding areas where several family groups join the flock.
DIET:
Short-billed Black Cockatoo feeds mainly on seeds of various plants species, and it also consumes insect larvae and nectar from flowers.
It is adapted to feed on exotic species, and weeds such as wild radish and wild geranium.