Cream-backed Woodpecker
Campephilus leucopogon
Piciformes Order – Picidae Family
BIOMETRICS:
Length: 28-30 cm
Weight: 203-281 g
DESCRIPTION:
This rather large woodpecker shows conspicuous cream-coloured mantle giving the species its name.
There is little information about the Cream-backed Woodpecker.
Both male and female have similar body plumage with black upperparts and underparts, and creamy mantle of which feathers are tipped pale cinnamon. Uppertail and upperwing are black too, but the flight feathers have large pale cinnamon area towards the inner web bases. Underwing is similar. The black tail is short and made with stiff feathers.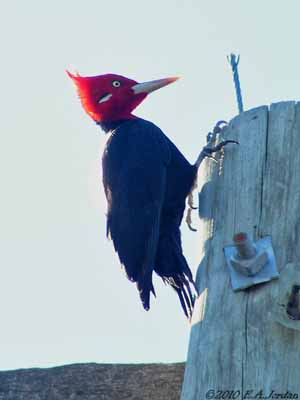 Male and female differ in head pattern and colours.
Male has bright red head with conspicuous red crest. It has a small oval black and white patch at lower rear ear-coverts.
The bill is long and straight, chisel-tipped and pale ivory-coloured. Eyes are pale yellow with blackish-brown bare eye-ring. Legs and feet are pale grey.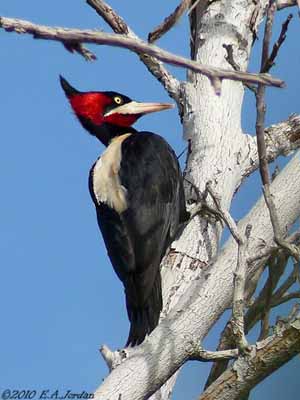 The female head is black and red with longer crest. Forehead and crown to central part of crest are black, as the area around the eyes, the upper chin and the neck. We can see a creamy cheek band bordered with black.
Juvenile has more orangey-red head.
The young male resembles adult female, but with red on crown to crest, and some red feathers in the white cheek band.
The young female has restricted red-coloured areas, only on the rear crown and crest underside.
VOICE: SOUNDS BY XENO-CANTO
The Cream-backed Woodpecker gives repeated calls "pi-ow" or "kwee-yaw". Both mates utter whirring notes between them.
Drums consist in a double rap.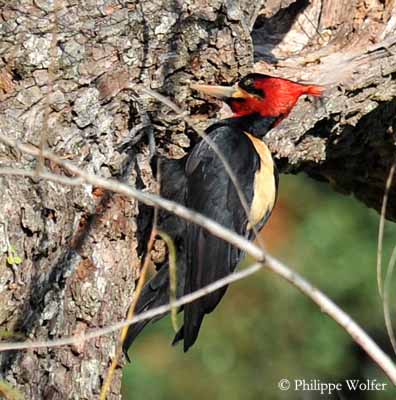 HABITAT:
The Cream-backed Woodpecker frequents the Chaco's woodlands, savannas, pastures with thickets, woodlands and transitional forests at up to 2500 metres of elevation.
RANGE:
The Cream-backed Woodpecker occurs in Argentina, Bolivia, Brazil, Paraguay and Uruguay.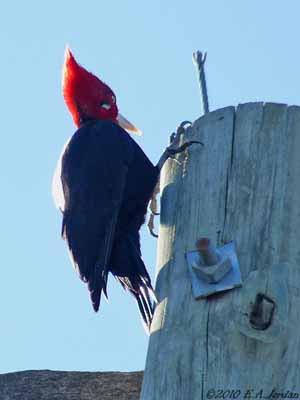 BEHAVIOUR:
The Cream-backed Woodpecker forages usually alone outside the breeding season. It feeds on beetle larvae. It performs powerful hammering in order to find its food. It can be seen in tall trees, also in open areas with isolated trees, and it descends to explore fallen logs.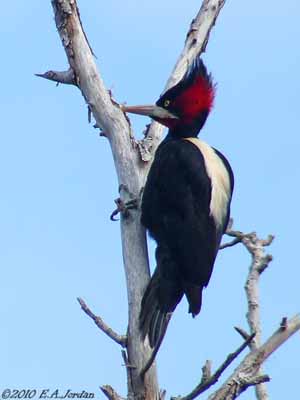 It uses less frequently pecking and probing than other woodpeckers, but it uses the main tool adapted to this type of feeding behaviour, the long tongue with the structured tip and the sticky fluid useful to catch the larvae. The tip is equipped with more or less backwards-pointing barbs, arranged in rows of single, loosely spaced barbs.
This species is resident within its wide range.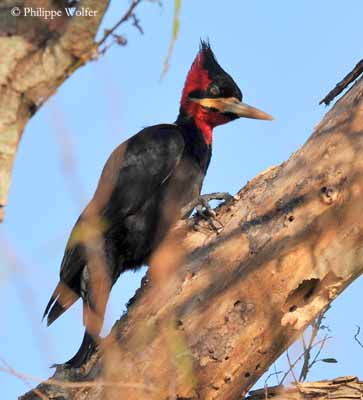 FLIGHT:
The Cream-backed Woodpecker performs an undulating flight, like most of woodpeckers.
REPRODUCTION:
Breeding season occurs in September, but also in October/November.
The Cream-backed Woodpecker is a cavity nester. The hole is built in tree or palm, at about 6-8 metres above the ground. The entrance is drop-shaped. Chicks are fed by both adults.
There is not more information about the nesting behaviour of this species.
DIET:
The Cream-backed Woodpecker feeds on beetles' larvae. It forages by strong hammering which can be heard at great distance.
PROTECTION / THREATS / STATUS:
The Cream-backed Woodpecker is probably uncommon, but the species is not threatened at this moment.