PROTECTION / THREATS / STATUS:
The Carp's Tit is described as uncommon to locally common. It has restricted range, but the low human density in this habitat is not a threat for this species.
The population is suspected to be stable and the species is not globally threatened.
The Carp's Tit is currently evaluated as Least Concern.
Fr: Mésange de Carp
Ang: Carp's Tit
All: Carprußmeise
Esp: Carbonero de Carp
Ita: Cincia di Carp
Nd: Carps Mees
Sd: carpmes
Photographers:
John Anderson
John Anderson Photo Galleries
Ken Havard
My Bird Gallery & Flickr gallery 1 & Flickr gallery 2
Dubi Shapiro
Dubi Shapiro Photo Galleries
Text by Nicole Bouglouan
Sources:
HANDBOOK OF THE BIRDS OF THE WORLD Vol 12 by Josep del Hoyo-Andrew Elliott-David Christie - Lynx Edicions - ISBN: 8496553423
Tits-Nuthatches and Treecreepers – By Simon Harrap - Bloomsbury Publishing – ISBN: 1408135183, 9781408135181 – 392 pages
The Birds of Africa: Volume VI – By Martin Woodcock, Ian Willis - Bloomsbury Publishing, 2020 – ISBN: 1472986326, 9781472986320 – 788 pages
BIRDS OF AFRICA SOUTH OF THE SAHARA by Ian Sinclair and Peter Ryan - Princeton University Press Princeton and Oxford - ISBN: 0691118159
Carp's Tit
Melaniparus carpi
Passeriformes Order – Paridae Family
INTRODUCTION:
The Carp's Tit was formerly a member of the genus Parus, but it was moved to the genus Melaniparus in 2013, following a molecular analysis showing that this new genus forms a distinct clade. This genus includes 15 African species.
The Carp's Tit is found in SW Angola and NW and CW Namibia, where it frequents Mopane and Acacia savannas. It feeds primarily on small invertebrates by active and acrobatic movements in thorn trees and smaller bushes.
The species is monogamous. The nest is built by the female in natural holes or nest box. Both parents feed the young, although helpers are reported at some nests.
The Carp's Tit is described as uncommon to locally common. The species is not globally threatened.
The name of this species pays tribute to the South African naturalist Bernard Carp (1901-1966).
DESCRIPTION OF THIS SPECIES:
Biometrics:
Length: 15 cm
Weight: 17-20 g
The Carp's Tit adult male has black body with bluish gloss on the upperparts in fresh plumage. The black tail is narrowly fringed and tipped white.
On the upperwing, the coverts are black. A solid white panel is formed by the white tips of both lesser and median coverts. The greater coverts appear like a white patch with dark centres only visible on the outer 4-5 feathers. Alula and primary coverts are black with narrow white fringes or tips. The flight-feathers are blackish-brown. The white fringes and tips form a broad, white panel on closed wings.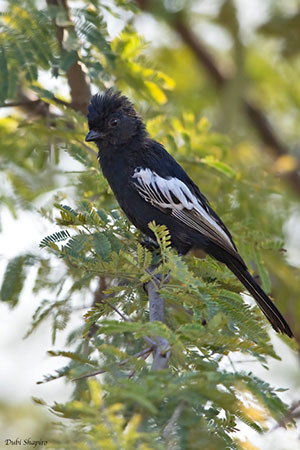 Face and underparts are brownish-black with blue gloss on neck side to belly. Thighs and undertail-coverts are narrowly fringed whitish. On the underwing, axillaries and coverts are black with white tips.
The crown is black with bluish gloss.
The bill is black with paler edges. The eyes are dark brown. Legs and feet are grey, bluish-grey or black.
In worn plumage, the bird is duller overall.
The female is very similar, but she is duller or browner on face to throat. On the wings, the white fringes are slightly narrower.
The juvenile resembles adult with blackish-brown upperparts. Crown, mantle, scapulars and breast are slightly glossed blue. Wings and tail are browner and the pale fringes on the flight-feathers are buffish-yellow.
RANGE:
The Carp's Tit is found from C to NW Namibia, extending marginally into SW Angola.
HABITAT:
The Carp's Tit usually frequents Mopane and Acacia savanna woodland, often on hills and escarpments along watercourses. In SW Angola, it can be found in tangled thickets in dense grasslands. Outside of breeding season, it occasionally visits farmhouses and suburban gardens.
The species is visible between 1,000 and 1,830 metres of elevation, depending on the range.
CALLS AND SONGS: SOUNDS BY XENO-CANTO
The Carp's Tit gives a bulbul-like « churia-churia-churia », also a squeaky, slurred "si-u, si-u", a clear, whistled "piu-piu-piu-piu-piu" and a harsh, nasal "tsi,tsi,tsi-cha-cha-cha-cha…" The contact call is a grating "jer-jer-jer-jer".
The calls are very similar to those of Melaniparus niger.
BEHAVIOUR IN THE WILD:
The Carp's Tit feeds mainly on insects, but it also eats some seeds depending on the season.
It forages in pairs or alone, but outside of breeding season, small groups of 5-6 individuals may forage together. It also joins mixed-species flocks.
It searches for insects (Hymenoptera, Isoptera and moth larvae), and also spiders. It forages in low branches in trees and gleans prey from foliage and bark crevices. It is always active and acrobatic. While feeding on seeds, it pecks or hammers at seedpods.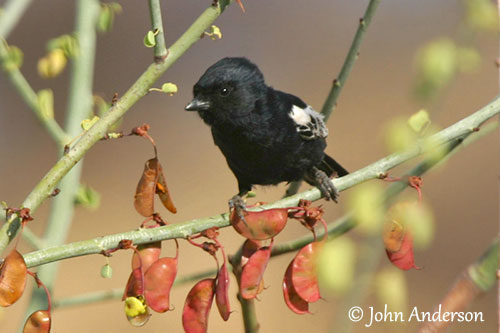 The Carp's Tit is monogamous, but it is thought to be cooperative-breeder, as groups of 2-5 birds have been reported at some nests. The territory is usually maintained year-round, but not always.
Some displays have been observed, during which the male performs courtship-feeding to the female while both mates quiver wings.
The female builds the nest in natural tree-cavity. The male provides her food while she incubates the eggs.
The Carp's Tit is resident but some seasonal movements are suspected when the birds disappear from their breeding areas to reach suburban gardens in winter.
While foraging, the Carp's Tit moves quickly from tree to tree with undulating flight. It is agile, active and acrobatic.
REPRODUCTION OF THIS SPECIES:
The breeding season takes place during and after the rainy season, usually between October and May, and also July.
This species produces only one brood per season.
The female builds the nest alone, a platform made of soft plant down, grasses, pieces of discarded snake skin, animal hair and feathers. It is placed in tree cavity or other natural holes, sometimes in abandoned woodpecker's hole, and occasionally in nest box.
She lays 2-5 white or creamy eggs and incubates alone during 13-15 days. She is regularly fed by her partner during this period. The chicks are fed by both parents, sometimes assisted by one or two helpers, usually males. However, the male rarely gives them the food directly, but it gives it to the female which feeds the chicks herself.
The young leave the nest 18 days after hatching, and they are fed by the adults for some days, at least 3-4 days.
The breeding success is closely related to rainfall, and this species may not breed in drought years.