Black-throated Grey Warbler
Setophaga nigrescens
Passeriforme Order – Parulidae Family
BIOMETRICS:
Length: 11-13 cm
Wingspan: 20 cm
Weight: 7-10 g
DESCRIPTION:
Black-throated Grey Warbler is a small warbler. Its plumage has same colours year-round.
Adult male has grey upperparts, streaked with black on back. Wings show two white wing bars.
Underparts are white, streaked with black on flanks. Undertail coverts are largely white.
Head, chin and throat are black, with white broad eyebrow and white broad moustache. We can see a small yellow spot on lores. Black bill is thin and pointed. Eyes are dark brown. Legs and feet are black.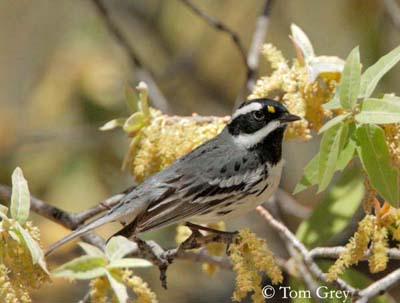 Adult female is similar but paler and duller than male. She has white chin spotted with black. Black throat is slightly mixed with white.
Both adults have same plumage all year- round, slightly washed with brownish in early autumn.
Immature resembles female. Immature female is duller with almost entirely white throat. Bill is browner than in adults.
We can find two other black and white warblers' species in North America: Blackpoll Warbler – Dendroica striata, and Black-and-white Warbler – Mniotilta varia. Both resemble Black-throated Grey Warbler, but they have slightly different black and white pattern on body and head.
VOICE: SOUNDS BY XENO-CANTO
Black-throated Grey Warbler's calls include typical "chip" note, sharp "chit" and "thick" or "tup" of medium amplitude. Flight note is a high "sip" or "see".
Varied songs include buzzy "weezy-weezy-weezy-weet" insect-like, rising towards the end.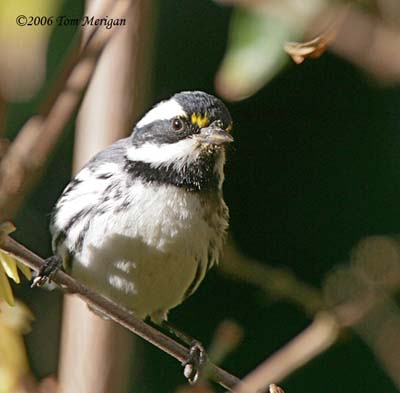 HABITAT:
Black-throated Grey Warbler breeds in coniferous or mixed woodlands with brushy undergrowth. Migrations and winter range are similar, with variety of forests, woodlands, scrubs and thickets.
RANGE:
Black-throated Grey Warbler breeds in Western US, from southern British Columbia, Idaho and Wyoming, southwards to northern Mexico.
It winters in western Mexico. Birds follow mountain range and Pacific coastline southwards.
BEHAVIOUR:
Black-throated Grey Warbler forages in trees. Female gleans in foliage and male often on twigs and medium-sized branches, and higher than female. They use gleaning, hover-gleaning and fly-catching. Both beat larger insects against branch before to swallow them. During migration, they join mixed flocks for feeding. They are nocturnal migrants.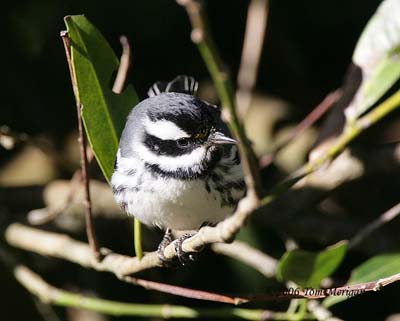 As other Dendroica species, Black-throated Grey Warbler holds territory for breeding and feeding during breeding season. Male establishes boundaries by singing from exposed perches. Intruders are chased out of territory.
They are probably monogamous, but there is no information about courtship displays.
Nest-site seems to be chosen by both mates. The female moves into the foliage, followed by the singing male. It sings almost continuously. Male doesn't help female in nest building, but it follows her closely.
Both male and female may perform distraction displays when predators threaten them or the nest.
FLIGHT:
Black-throated Grey Warbler performs weak flight with rapid wing beats. It is a short to medium distance migrant.
REPRODUCTION:
Black-throated Grey Warbler's nest is situated on horizontal branch. It is a deep open cup made with plant fibres, grass and weeds stalks. Interior is lined with feathers and hair. Nest is built at about 2,50 to 10 metres above the ground, in different trees' species such as Firs, Oaks, Pinyon Pines or Junipers. These birds are solitary nesters.
Female lays 3 to 5 creamy white eggs, with reddish-brown varied markings. Incubation lasts about 12 days, by female alone. Altricial chicks hatch nearly naked. They are fed by both parents. Young leave the nest about 8 to 12 days after hatching.
This species seems to produce only one brood per year, but second clutch may be started if first is destroyed.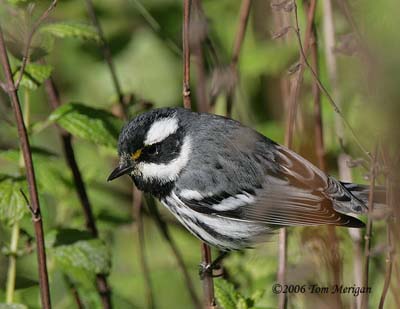 DIET:
Black-throated Grey Warbler feeds mainly on insects during breeding season, and small green caterpillars which are pests for oaks.
PROTECTION / THREATS / STATUS:
Black-throated Grey Warblers are preyed upon by birds of prey, small mammals, snakes and jays.
Populations of this species are stable or increasing. They are widespread and common in certain habitats. Human activities have little effect on populations.