Black and white Warbler – Mniotilta varia
Passeriforme Order - Parulidae Family
BIOMETRICS:
Length: 11-13 cm; Wingspan : 18-22 cm; Weight: 9-15 g
LONGIVITY: 11 years
DESCRIPTION:
B&W Warbler is entirely black and white in all plumages, except for a creamy wash on the face and flanks of many females.
It has a white median crown stripe bordered by black on the head. Also a white supercilium separated by a broad black lateral crown-stripe. It has black-spotted undertail coverts.
B&W Warbler has an elongated hind toe and claws. This adaptation allows it to move securely on the surface of the bark. It has shortened tarsi, and a long thin bill with a slightly curved culmen, adapted for probing deeply into bark crevices.
In breeding plumage, male has black throat and cheeks. In winter, it has white chin.
Female and immature have pale cheeks. Female has diffused streaks on buffy flanks. Buffy wash particularly bright on immature.
VOICE: SOUNDS BY XENO-CANTO
B&W Warbler's calls include a sharp, hard "tik", and a thinner, rather treecreeper-like "tseet". Song is a fairly slow, very high and thin, somewhat treecreeper-like series of "wee-see" couplets, with stress on first syllable, ending in a more complex series of notes. We can hear also a sharp "chip" and a high "seep-seep" in flight.
HABITAT:
B&W Warbler breeds in mature and second growth deciduous and deciduous-conifer forests, especially in damp situations, and orchards.
It winters in a variety of forests from high- elevation cloud forests, to lowland evergreen and deciduous forests, woodland edges, gardens, and coffee plantations.
RANGE:
B&W Warbler breeds from eastern North America and Canada, from north-eastern British Columbia to Newfoundland and Labrador. In United States, it breeds along the coasts from Maine, through New York, south to North Carolina and western South Carolina, and west to parts of Alabama and Mississippi.
It winters from southern Florida through the Bahamas, Mexico, Central America and the Caribbean to northern South America.
BEHAVIOUR:
B&W Warbler is diurnal and migratory. It is generally solitary, but it joins mixed-species flocks in winter and during migrations.
It is territorial and defends its space. The males sing while driving other birds from their territory. The females flush and perform a distraction display if disturbed on the nest.
B&W Warbler creeps along branches and trunks from the canopy to the ground, picking and probing with its thin bill. It can forage upside-down along the branches, and may creep downward head first. It forages from bark, and can glean dormant insect's forms. It also uses other foraging behaviours, including flycatching and foliage gleaning.
B&W Warbler arrives at its breeding grounds earlier than other warblers. It returns to the same territory year after year. The male arrives first in the spring. It establishes the territory and begins courting a mate. It pursues female intermittently over a long period of time, with much song and display of plumage. After pursuing, it will perch near the female with fluttering wings.
FLIGHT:
B&W Warbler is a long distance migrant, flying amazing distances each spring and fall.
REPRODUCTION:
The female builds the nest almost alone. It is a cup, often on the ground at the base of a tree or fallen log, and hidden under dead leaves or branches. The nest is made on leaves, coarse grass, with other fine materials used for lining.
The female lays 4 to 6 white eggs flecked with brown. Incubation lasts about 10 to 12 days, by female. Male sometimes feeds her at nest. Both parents feed the young and defend the nest. Chicks leave the nest 8 to 12 days after hatching. They remain 2 to 3 weeks in the territory after fledging. Generally, there is only one brood per year, sometimes two.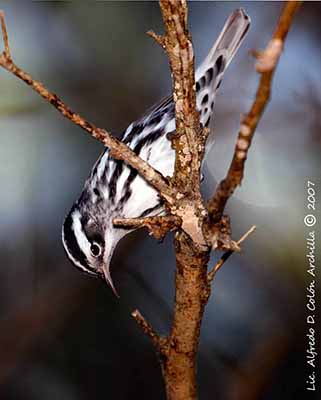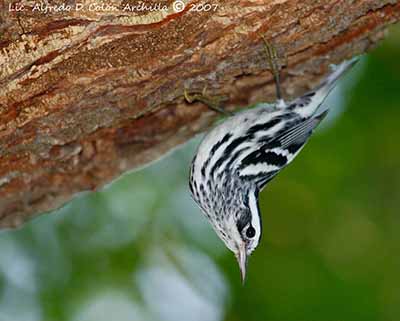 DIET:
B&W Warbler primarily eats insects such as caterpillars, flies, bugs, beetles, and also spiders, larvae and insect's eggs. It is the only North American wood-warbler that regularly forages on bark.
PROTECTION / THREATS / STATUS:
B&W Warbler is probably vulnerable to predation as a ground nesting species.
Probable nest predators include common forest bird and mammal species such as blue jays, deer mice, chipmunks, northern flying squirrels, red squirrels, raccoons and black bears.
B&W Warbler is very sensitive to the fragmentation of its forested breeding habitat. Regional declines have occurred, with cowbird parasitism, of which warbler is a frequent host. There is also evidence that pesticide use has a negative effect.
This species is not threatened or endangered. However, it's protected.