Yellow Warbler or Mangrove Warbler
Setophaga petechia
Passeriforme Order - Parulidae Family
BIOMETRICS:
Length: 12-13 cm ; Wingspan: 16-20 cm ; Weight: 9-16 g
LONGEVITY: 10 years
DESCRIPTION:
Yellow Warbler is easy to recognize. She is yellower than other warblers, with her yellow gold plumage, and reddish streaks on breast. Male and female are similar, but female may have not streaks on underparts, or very few. Upperparts are yellow gold tinged with olive green. Underparts are yellow. Wings are darker, with yellowish fringes and tips, from median feathers to great coverts, forming narrow inconspicuous wing bars.
The bill is slender and pointed. A weak yellow eye-ring contrasts with the very dark eyes. Legs are pale brown. Male is generally brighter, overall during breeding season.
Immature is similar to adult female, but paler and duller. Generally it lacks reddish streaks on breast. Yellow patches on tail are reduced.
VOICE: SOUNDS BY XENO-CANTO
Yellow Warbler has a characteristic song, soft but clear "chip". In flight, it utters a high and thin "zeet". It has a clear and sharp "tseet-tseet-tseet-sitta-sitta-see". A call "hiss" is uttered for territorial defence. Male rather sings. Female often utters a high-pitched "chip" at the end of male's song.
HABITAT:
Yellow Warbler likes wetlands where insects are abundant. Willow tree is one of the characteristics of its habitat in northern Mexico, and mangroves in South. Its habitat includes marsh and stream shores with willows, and wetlands with vegetation. Yellow warbler may live also in dry areas such as bushes, orchards and farmlands, forest edges and urban gardens. It prefers areas with scattered trees, thick shrubs and any wet and shady area.
RANGE:
Yellow Warbler lives most of year in North America, Alaska, N Canada and 2/3 N United States. Highly migratory, the Yellow Warbler winters in S California, S Florida and S Brazil, Amazon, Bolivia and Peru.

BEHAVIOUR:
Yellow Warbler perches on bush top. It is very active, coming down from perch to feed on open ground. Then, it returns to a perch, often with sweeping tail.
Female lays 4 to 5 white or slightly bluish eggs, spotted brown or purplish. Incubation lasts about 10 to 14 days, by female alone. Male feeds female while she incubates. Chicks fledge at 8 to 12 days old, but parents feed them during two weeks or more. They can breed when they are one year old.
DIET:
Yellow Warbler eats primarily insects but occasionally it feeds also on berries. It also consumes spiders. It prefers grubs of small insects and caterpillars.
PROTECTION / THREATS / STATUS:
Yellow Warbler is common, but wooded habitat loss and parasitism have caused the decline of populations.
However, numbers increase in pastures where pesticides are reduced, allowing regrowth of vegetation.
Yellow Warbler is threatened by a large variety of small predators, robbing eggs and eating chicks at nest. Adults and juveniles may be killed by birds of prey (eagles-falcons). Small predators are red squirrels, raccoons, weasels, red foxes, corvids, snakes, raptors and domestic cats.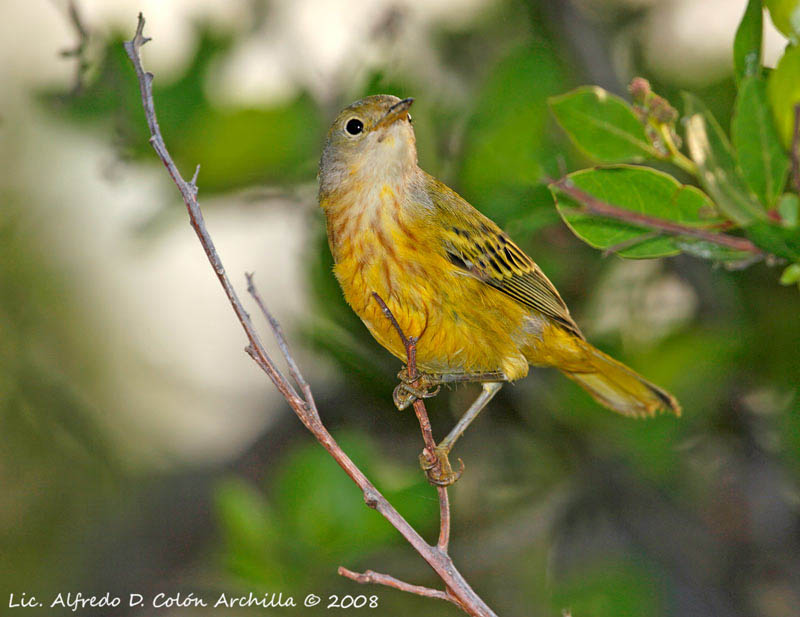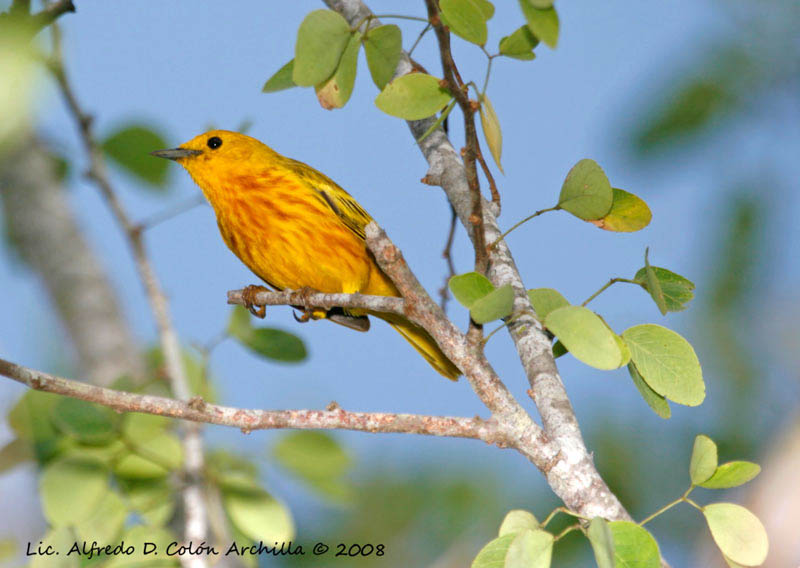 Yellow Warbler communicates by calls and songs, but also by postures, and even contact. The birds perceive their environment with their keen view, hearing and touch. It is active during the day. It has been observed joining with other bird species to attack Great Horned Owl. Female will defend the nest against a snake performing behaviour to distract the predator, or uttering nervous calls.
Yellow Warbler is often parasitized by other species, causing nest abandonment, or nest is lined again with new lining, causing lost of intruder's eggs, and sometimes those of its own eggs.
During the breeding season, the birds are highly territorial, but they rejoin small groups after nesting. Yellow Warbler is a migratory bird.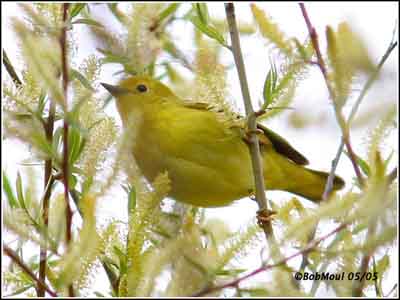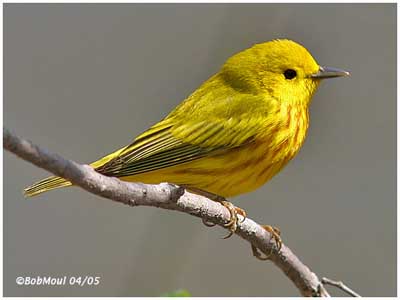 MALE
FEMALE
Reproduction begins with an elaborate courtship display, performed by the male which can sing up to 3000 different sounds per day to attract a female. Pairs are monogamous, but sometimes it may possible polygamous.
Yellow Warbler feeds by perching, hovering and catching its flying preys.
FLIGHT:
Yellow Warbler joins other warbler species to migrate. Migratory birds have longer wings than sedentary birds of Central America. It's a long distance migrant.
REPRODUCTION:
Yellow Warbler generally nests late May-early June. Female builds the nest; it is a deep open cup, carefully built in a tree or a bush, at about 20 feet above the ground. It is made with stems, bark chips, grasses, hair, vegetal down and spiders' web.