Fr: Goéland leucophée
All : Mittelmeermöwe
Esp: Gaviota Patiamarilla
Nd: Geelpootmeeuw
Sd: Medelhavstrut
Photographs and text by Nicole Bouglouan
Sources:
HANDBOOK OF THE BIRDS OF THE WORLD Volume 3 by Josep del Hoyo-Andrew Elliott-Jordi Sargatal - Lynx Edicions - ISBN : 8487334202
THE HANDBOOK OF BIRD IDENTIFICATION FOR EUROPE AND THE WESTERN PALEARCTIC by Mark Beaman, Steve Madge - C.Helm - ISBN: 0713639601
LE GUIDE ORNITHO par Grant, Mullarney, Svensson, Zetterström - Delachaux Niestle - ISBN: 2603011421
BirdLife International (BirdLife International)
Arthur Grosset's Birds (Arthur Grosset)
Wikipedia (Wikipedia, The Free Encyclopedia)
Yellow-legged Gull
Larus michahellis
Charadriiforme Order – Laridae Family
BIOMETRICS :
Length: 58-68 cm
Wingspan: 140-155 cm
Weight: 800-1500 g
DESCRIPTION:
Yellow-legged Gull is now a full species. It was formerly classified as subspecies of the Herring Gull (Larus argentatus). Its name comes from the German zoologist Karl Michaelles.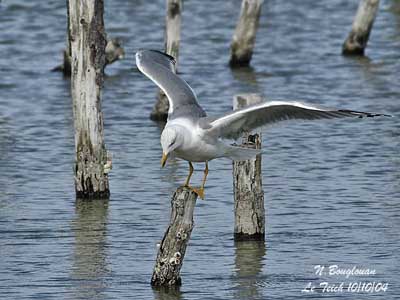 Yellow-legged Gull is proud and robust with strong breast and long bright yellow legs. Head is mostly squared, white, with very fine streaks from the eye to the hind crown.
Mantel and wings are grey. Rump and tail are white. The Yellow-legged Gull shows some black on primary tips, and several white speculums are visible at wing tips. Leading and trailing edges are white.
In autumn and winter, most of them have white head and black subterminal bar on the tail.
Underparts are pure white all year round.
The bill is shorter and thicker than in other species, often bright orange with red patch at gonydal angle on the lower mandible, extending to the upper mandible.
Eyes are yellow-grey to bright yellow. Eye-ring is red.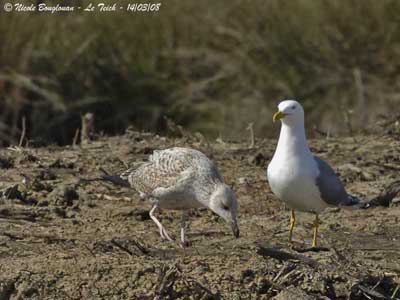 Immature has conspicuous dark bar on the tail, and the base is paler, inner primaries are dark, head and underparts are pale and bill is blackish.
It reaches the adult plumage at 4 years. The first winter has spotted brown mantel and dark eyes. The second winter has 20 to 80 % of grey feathers and pale eyes.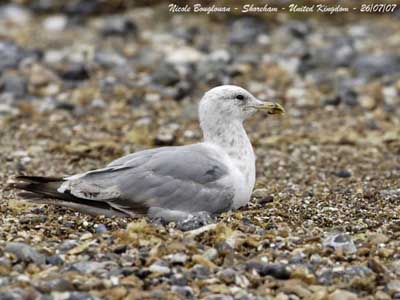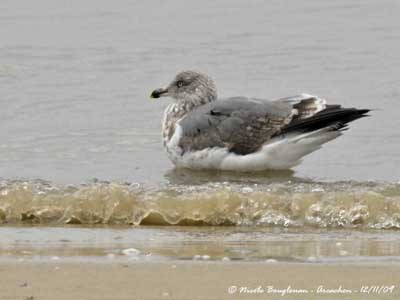 ADULT AND 1st WINTER
We can find some subspecies, including the Atlantic Island Gull (Larus michahellis atlantis) from Canary Islands, Madeira and Azores. It is smaller and it has darker grey mantel.
Races differ in size, tones of mantel and amount of black pattern on primary flight feathers.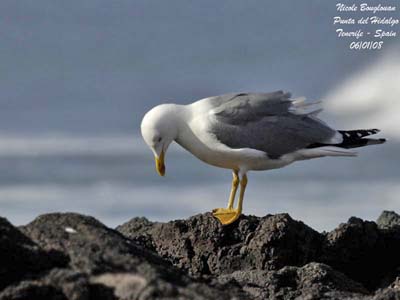 VOICE: SOUNDS BY XENO-CANTO
Yellow-legged Gull utters a loud laugh, but deeper and more nasal than in Herring Gull "kyow-yow-yow". It also utters short barks, wailing and squealing notes.
HABITAT:
Yellow-legged Gull breeds in large colonies of thousands birds on coastal cliffs and rocky islands of Mediterranean Sea and Atlantic Ocean, but also inland, including urban areas.
It also nests on rocky or sandy islands, beaches, and grassy islets with bushes on streams.
RANGE:
Yellow-legged Gull is found in Europe, Middle East and North Africa.
It breeds on Mediterranean coasts and along large rivers, lakes and Atlantic coasts from Mauritania to Portugal.
In W Europe, it is often found in coastal areas, but also locally on streams and inland lakes. In C Asia, it lives on lakes in steppes and semi-desert.
This species winters near the breeding areas or offshore, and to the Black Sea.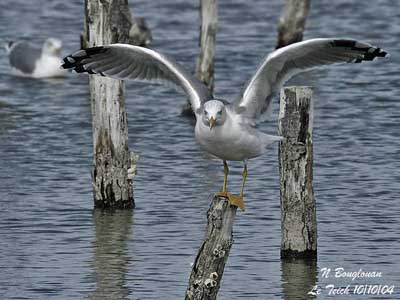 BEHAVIOUR:
Yellow-legged Gull is well adapted to humans. It often feeds at rubbish dumps and becomes common in towns where it tries to nest on monuments.
It feeds manly on fish, invertebrates, small mammals, debris, chicks and eggs, and insects. According to the range, it takes the available food items.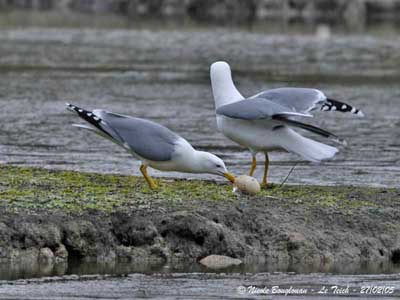 Adults follow the fishing boats and engage in piracy after aerial chase, and steal the food from other seabirds.
Yellow-legged Gull feeds by wading in intertidal areas, by diving and following fishing boats or plough.
This species is territorial, sometimes even in winter.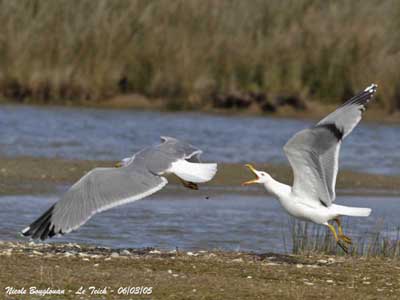 During the courtship displays, male performs courtship feeding to the female and struts close to her. It is noisy during the entire season. It gives the famous "long call" with head tossed backwards.

Once the pair is formed, both mates display and call, while courtship feeding continues. Copulation occurs during about ten days before laying, accompanied by wing-beats and calls.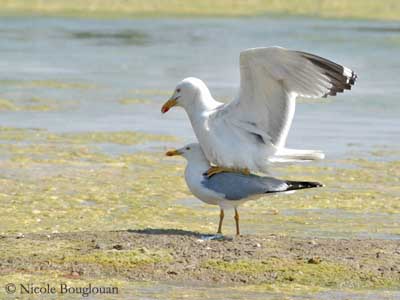 Yellow-legged Gull is sedentary but may sometimes disperse after the nesting season, according to the range.
FLIGHT:
Yellow-legged Gull performs slower wing-beats than Herring Gull. It soars like a bird of prey. They also fly in open V-shaped flocks.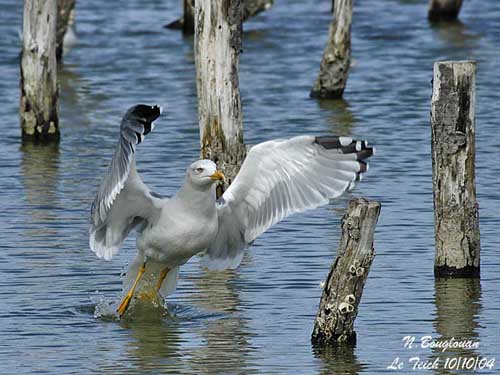 REPRODUCTION:
Yellow-legged Gull breeds in large colonies on the ground, on and between rocks, on sand or pebbles. The nest is a cup-shaped scrape, lined with grass, twigs, algae and debris.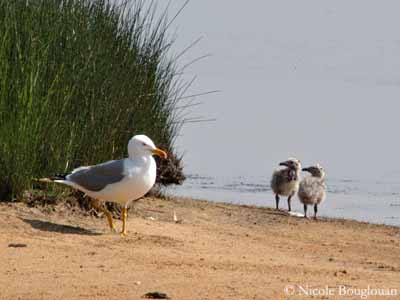 Female lays 2-3 eggs in late march-early April. Incubation lasts about 26-29 days. A few times after hatching, the chicks peck at the red gonys of parents, to get regurgitated food.
Chicks are semi-precocial and fledge about 42-48 days after hatching.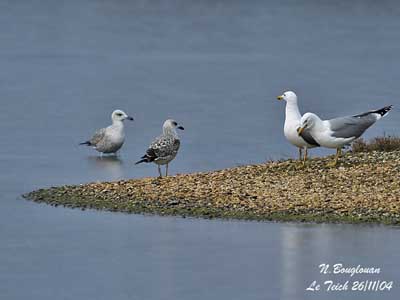 DIET:
Yellow-legged Gull feeds primarily on fish and crustaceans, and destroys the clutches of terns, petrels and shelducks. It also frequents rubbish dumps. It consumes invertebrates and according to the range, small mammals, molluscs, lizards and large insects.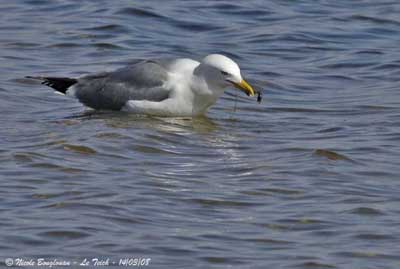 PROTECTION / THREATS / STATUS:
Yellow-legged Gull reached urban areas, cities and towns where it nests on the monuments. It is often considered as pest.
As all the seabirds, it is vulnerable to oil pollution, and locally, eggs are robbed by human communities in the eastern parts of the range.
Its habitat is often destroyed or disturbed by human developments, and mainly on breeding areas.
However, this species is not threatened at this moment.