Yellow-breasted Chat
Icteria virens
Passeriforme Order – Parulidae Family
BIOMETRICS:
Length: 18 cm
Wingspan: 25 cm
Weight: 23-31 g
LONGEVITY: Up to 8 years
DESCRIPTION:
Yellow-breasted Chat has neither the appearance nor the behaviour of any members of its family, and its taxonomic relationship with the rest of the wood-warbler species is still a matter of dispute. But recent genetic researches corroborate evidence that this bird is a wood-warbler.
DIET:
Yellow-breasted Chat feeds on small invertebrates, insects (bees, wasps, ants, grasshoppers and beetles) during breeding season, and it feeds mainly on fruit in late summer (strawberries, blackberries and grapes).
PROTECTION / THREATS / STATUS:
Yellow-breasted Chat is threatened by habitat loss, by clearing of lowlands riparian thickets and woods, for agriculture, commercial and residential development.
This species is a host of Brown-headed Cowbird, which removes the host's eggs after laying its own eggs, and many Yellow-breasted Chats desert their nests.
Fr: Paruline polyglotte
All : Gelbbrust-Waldsänger
Esp : Chipe Grande
Ital : Itteria verdastra
Nd : Geelborstzanger
Russe : Желтогрудый певун
Sd : Trastskogssångare
Photographs by Bob Moul
His website : Nature Photography
Text by Nicole Bouglouan
Sources :
A GUIDE TO THE BIRDS OF MEXICO AND NORTHERN CENTRAL AMERICA by Steve N. G. Howell, Sophie Webb - Oxford University Press - ISBN: 0198540124
FIELD GUIDE TO THE BIRDS OF NORTH AMERICA - National Geographic Society - ISBN: 0792274512
THE HANDBOOK OF BIRD IDENTIFICATION FOR EUROPE AND THE WESTERN PALEARCTIC by Mark Beaman, Steve Madge - C.Helm - ISBN: 0713639601
All About Birds (Cornell Lab of Ornithology)
Bird Web (Seattle Audubon Society)
Birds in Suriname, South America (Jan Hein Ribot)
CREAGUS@Monterey Bay (Don Roberson)
What Bird-The ultimate Bird Guide (Mitchell Waite)
Wikipedia (Wikipedia, The Free Encyclopedia)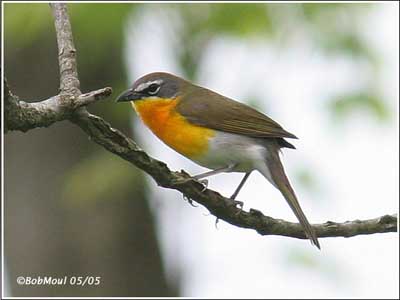 Yellow-breasted Chat is the largest warbler. It has long olive-green tail, thick, short and black bill, and white spectacles. It doesn't have wing bars or tail patches.
Male has black lores. Throat and breast are bright yellow. Belly is white, as undertail too. Upperparts are olive-green. Eyes are dark brown, with two white crescents, above and below eye. A white strip is above the black lore, and a white long patch is found on the cheek, below the black lore. Legs and feet are blackish.
Female is similar, but with grey lores in breeding season.
Immature has dusky spotting on throat and breast.
VOICE: SOUNDS BY XENO-CANTO
Yellow-breasted Chat's song is a jumble of harsh, chattering clucks, rattles, clear whistles, squawks, mews, gurgles and pops, sometimes given in hovering display flight.
Call is a sharp "chuck".
Male may sing at any time of the day, but also in the middle on the night.
HABITAT:
Yellow-breasted Chat inhabits in dense thickets and bush, in dry and open habitats, around wood edges, riparian areas, and in overgrown clearing resulting of vegetative growth in forest opening, created by storms and fire, or abandoned fields.
RANGE:
Yellow-breasted Chat breeds across eastern United States and S Canada, from Iowa to New York; southward to Texas and N Florida.
It winters in Mexico and Central America.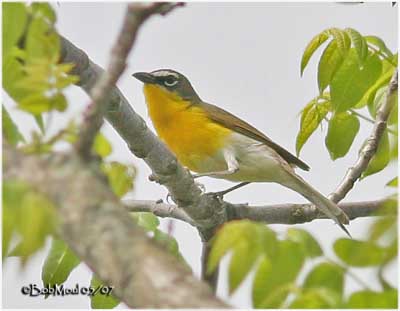 BEHAVIOUR:
Yellow-breasted Chat is a rather shy and solitary bird, more often heard than seen. It moves furtively among vegetation. It needs a dense cover for searching insects, and for nest cover. It gleans preys from shrub and tree foliage, near ground or on lower branches. Yellow-breasted Chat has a unique behaviour, it scratches on the ground and holds food in its feed before to eat.
Male often sings from the top of a shrub or a tree, or while flying.
During courtship, male sings from an exposed perch, and performs a hovering display flight, with raised head and extended legs toward ground, while singing a complex song. It hovers and drops back to the perch.
FLIGHT:
Yellow-breasted Chat has a distinctive display flight, hovering with slow and deep wing beats, dangling feet, and pumping its tail.
REPRODUCTION:
Yellow-breasted Chat breeds in low level thickets. Nest is located in a small bush, or in tangles of vines, at about 1 to 8 feet above the ground, well concealed in vegetation.
Nest is a cup made with weeds, grapevine bark and dry leaves. It is lined with fine grasses, and built by female.
Female lays 3 to 5 white or creamy, smooth and glossy eggs, speckled with reddish or purple. Incubation lasts about 11 to 12 days, by female. Chicks hatch altricial, and are fed by both parents. They fledge at about 8 to 11 days after hatching;
This species nests sometimes in loose colonies, with separate territories. Yellow-breasted Chat is usually monogamous, and may produce two broods per season.