Willet
Catoptrophorus semipalmatus
Charadriiforme Order – Scolopacidae Family
BIOMETRICS:
Length: 33-41 cm
Wingspan: 70-80 cm
Weight: 215 g
LONGIVITY: up to 9 years
DESCRIPTION:
Male and female look similar, but the female is larger. Willet is a long-legged shore bird. It has grey upperparts, white underparts, and it's lightly barred on the flanks. At rest, it appears grey. In flight, we can see its black and white wings and white tail. It has a long thick straight blue-grey bill, darker at tip, and bleu-grey legs. Eyes are black.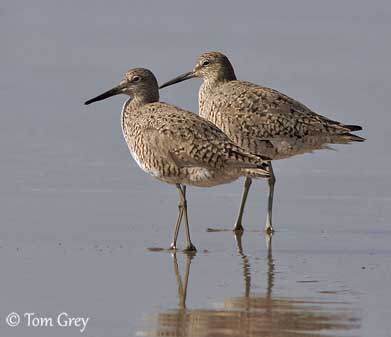 Adult breeding has grey-brown mottled white black head, neck, back and upperwing. Belly is white. It has a pale stripe above darker lores.
Adult winter has pale grey-brown head, neck, breast, back and upperwing. Belly is white. It has a pale area above darker lores. It has narrow white eye ring, and broad white stripe from eye to bill.
Juvenile has warm brown head, neck, breast, back and upperwing. It has buff notches on wing feathers, and white spots on head.
VOICE: SOUNDS BY XENO-CANTO
Willet is very noisy during the nesting time. Alarm call is a loud "week", or sharper "kip" repeated and increasing in tempo, as bird becomes more agitated. Also, willet gives a more disyllabic "kerwick". We can hear also a quieter "kuk-kuk-kuk-kuk-kuk".
HABITAT:
In natural range, willet breeds in coastal salt marshes, or around brackish or saline inland lakes. At other times, it prefers sandy beaches, tidal mudflats, salt marshes and wet meadows.

RANGE:
Central to southern Canada to Gulf of Mexico. Winters from British Columbia and Virginia, south to South America and the West Indies.
BEHAVIOUR:
Willet is a shy bird. It's often perched on trees, bushes, buildings, to watch for intruders. It bobs its head when walking and standing.
It's a habitual wader, often to belly. It can swim readily. When migrates above ocean, probably alights occasionally on water.
During the mating display, the male bows before the female, before to exchange places with her on the nest.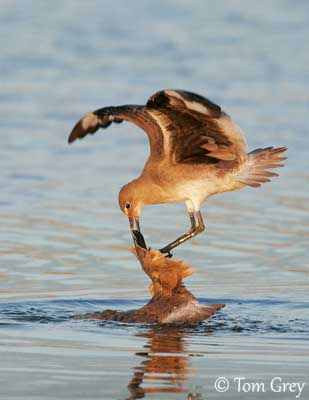 Willet is solitary bird, forming small scattered flocks. But it roosts in large flocks, with other species of shore birds.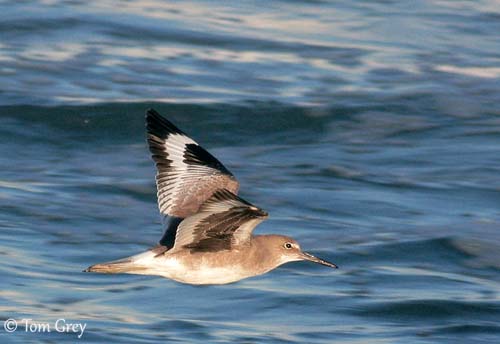 REPRODUCTION:
Sometimes, willet nests in loose colony (8 to 10 pairs scattered over 40 ha). It prefers nesting on sandy offshore islands with tall thick grasses. It nests also on upper coastal beaches and along edges of dunes, under shrubs in brushland, near inland edges of salt water, or on upper edges and other dry places in marsh. Sometimes, it's a shallow depression to deep hollows in sand, hidden in grass, to thick cup of weeds and grasses on open sand, far from grass or bushes. The nest is lined with weeds or bits of shells.
The female lays four olive, boldly spotted eggs, blotched with brown, from April to May. Incubation lasts about 22 to 28 days by female, but possibly the male at night.
The young fly when they are 22 days old.
DIET:
Willet feeds aquatic insects, marine worms, small crabs, small molluscs and fish. Also eats some grasses, tender shoots, seeds and cultivated rice.
PROTECTION / THREATS / STATUS:
Willets have become increasingly common and widespread in the past 20 years.
Willet was once hunted for food, and its populations in northern North America were greatly depleted. But, since hunting has ceased, populations are recovering and spreading in the eastern United States and Canada.
Fr: Chevalier semipalmé
All : Schlammtreter
Esp : Playero Aliblanco
Ital : Totano semipalmato
Nd : Willet
Sd : Willetsnäppa
Photographer:
Tom Grey
Tom Grey's Bird Pictures
Text by Nicole Bouglouan
Sources :
HANDBOOK OF THE BIRDS OF THE WORLD Volume 3 by Josep del Hoyo-Andrew Elliott-Jordi Sargatal - Lynx Edicions - ISBN : 8487334202
FIELD GUIDE TO THE BIRDS OF NORTH AMERICA - National Geographic Society - ISBN: 0792274512
THE HANDBOOK OF BIRD IDENTIFICATION FOR EUROPE AND THE WESTERN PALEARCTIC by Mark Beaman, Steve Madge - C.Helm - ISBN: 0713639601
All About Birds (Cornell Lab of Ornithology)
What Bird-The ultimate Bird Guide (Mitchell Waite)
Wikipedia (Wikipedia, The Free Encyclopedia)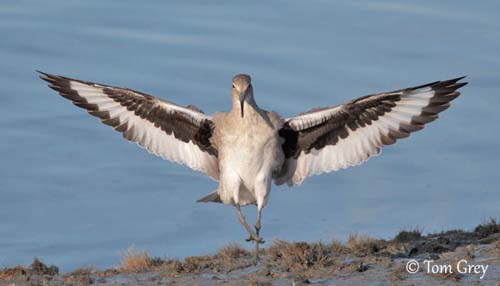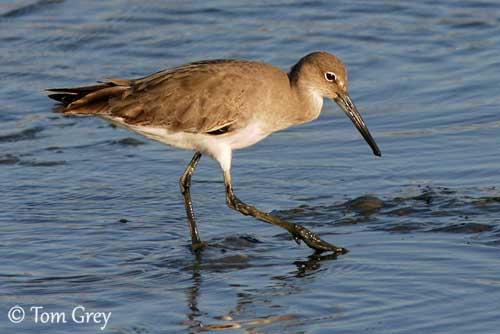 WINTER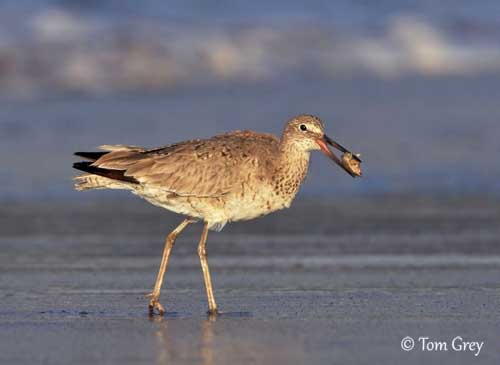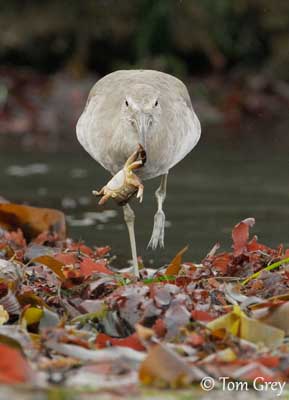 It is common on rocky shores when it feeds. It rises with a loud outcry if disturbed. To feed, it probes with bill or snatches food from the ground. Willet sometimes engages in a feeding technique called "moving", in which a bird walks forward, rapidly opening and shutting the bill, and moving the head up and down rapidly.
This bird is quite spectacular on nesting grounds. At first approach, an intruder is met by the excited members of the loose colony which unite, often circling low overhead, or alighting on treetops or other perches, all scolding vehemently "pill-will-willet-pill-will-willet", given in rapid succession. This barrage continues until the enemy retreats, followed by the birds for some distance.
FLIGHT:
Willet has a rapid flight (between 43 km/h and 56 to 64 km/h). Willet doesn't fly often, and usually flies short distances close to the ground. This short low flight includes series of rapid wing beats.