Verreaux's Eagle
Aquila verreauxii
Accipitriforme Order – Accipitridae Family
BIOMETRICS:
Length: 80-90 cm
Wingspan: 200 cm
Weight: M : 3000-4150 g – F : 3100-5800 g
DESCRIPTION OF THE BIRD:
The name of this beautiful black eagle pays tribute to the French naturalist Jules Verreaux (1807 – 1873).
The adult has black plumage overall, except on back and rump. The back shows a broad white V-shaped patch. Lower back, rump and uppertail coverts are white.
The underparts are black.
Fr : Aigle de Verreaux
All : Kaffernadler
Esp : Águila Cafre
Ital: Aquila di Verreaux
Nd: Zwarte Arend
Russe: Кафрский орёл
Sd: Klippörn
Photographers:
Didier Buysse
Vision d'Oiseaux
Steve Garvie
RAINBIRDER Photo galleries & Flickr Rainbirder
Ken Havard
My Bird Gallery & Flickr gallery 1 & Flickr gallery 2
Text and pictures of the captive bird by Nicole Bouglouan
Sources:
BIRDS OF PREY OF AFRICA AND ITS ISLANDS by Alan and Meg Kemp - Struik Publishers - ISBN: 1770073698
BIRDS OF AFRICA SOUTH OF THE SAHARA by Ian Sinclair and Peter Ryan - Princeton University Press Princeton and Oxford - ISBN: 0691118159
GUIDE DES RAPACES DIURNES – Europe, Afrique du Nord et Moyen-Orient de Benny Génsbol – Delachaux et Niestlé – ISBN : 2603013270
L'ENCYCLOPEDIE MONDIALE DES OISEAUX - Dr Christopher M. Perrins - BORDAS - ISBN: 2040185607
THE HANDBOOK OF BIRD IDENTIFICATION FOR EUROPE AND THE WESTERN PALEARCTIC by Mark Beaman, Steve Madge - C.Helm - ISBN: 0713639601
HANDBOOK OF THE BIRDS OF THE WORLD Vol 2 by Josep del Hoyo-Andrew Elliot-Jordi Sargatal - Lynx Edicions - ISBN: 8487334156
BirdLife International (BirdLife International)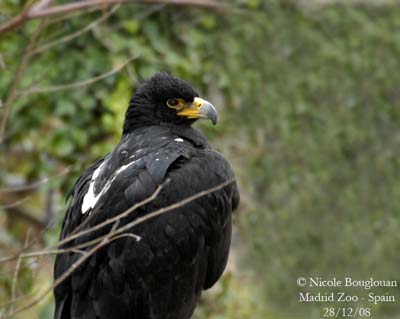 The wings show a large white panel on both sides on the primaries, extending to the leading edge.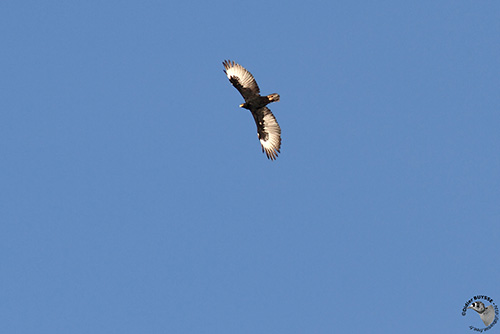 The head is black. The powerful hooked bill is grey with yellow cere and gape. The eyes are brown, surrounded by yellow eye-ring. Lores are yellow. Legs and feet are yellow with black talons.
Both sexes are similar.
The juvenile is browner, with mixed brown, rufous, black and white plumage. It also shows a pale panel on primaries, and the rump is whitish.
Head and neck are rather pale rufous. The upperwing coverts are brown with whitish edges. The back is dark brown and lacks the white V patch.
The young eagle reaches the adult plumage at four years.
BEHAVIOUR IN THE WILD:
The Verreaux's Eagle often stands horizontally on its well feathered legs. This posture makes the eagle stocky and powerful.
This species often occurs in pairs, as well perched on dead branch or exposed rock, or in flight above the territory.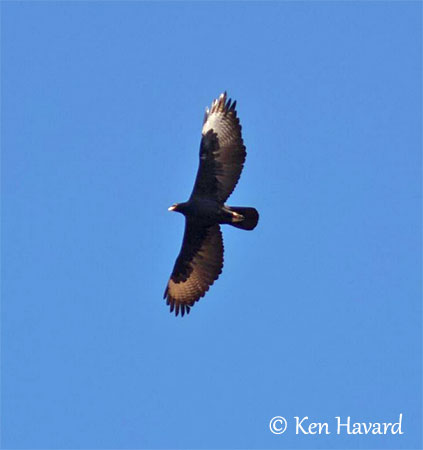 During the breeding season, the Verreaux's Eagle performs spectacular flight displays. It is a wonderful flier. It dives with closed wings, and then rises with spread wings, often followed by somersault. The males perform spectacular pendular flight displays, swinging round and over.
It is highly territorial. Pair mates for life. They roost in cliff faces.
The Verreaux's Eagle is resident in the range, but some movements are performed by young eagles.
FLIGHT:
The Verreaux's Eagle soars with full stretched wings, displaying the large primary white patch. It flies effortless, and sails along for long periods without flapping. It circles with raised wings.
When soaring in direct flight, wings are almost horizontal with slightly raised tips.
REPRODUCTION OF THIS SPECIES:
Breeding season and laying vary according to the range.
Verreaux's Eagle nests on cliff ledges and very rarely in trees. It builds a huge stick nest lined with green leaves.
DIET:
The Verreaux's Eagle's favourite prey is the Rock Hyrax (Procavia, Heterohyrax). But it also takes several medium-sized mammals (hares, birds and reptiles.
PROTECTION / THREATS / STATUS:
The Verreaux's Eagle is common in suitable habitat. But the species is vulnerable to changes in the feeding areas for overgrazing which reduces the Hyrax populations.
They are heavily persecuted in some areas, and eliminated from parts of South Africa.
The Verreaux's Eagle is currently evaluated as Least Concern.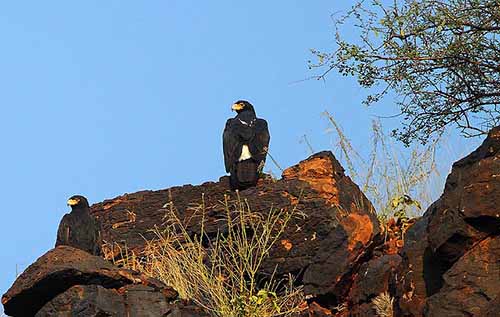 VOICE: SOUNDS BY XENO-CANTO
The Verreaux's Eagle is usually silent. During the flight displays, it gives sometimes a harsh yelping call. It also utters melodious "keee-up".
HABITAT:
The Verreaux's Eagle frequents mountainous areas with rocky gorges and hills. It may be seen from sea-level up to 5000 metres of elevation, where hyrax preys can be found.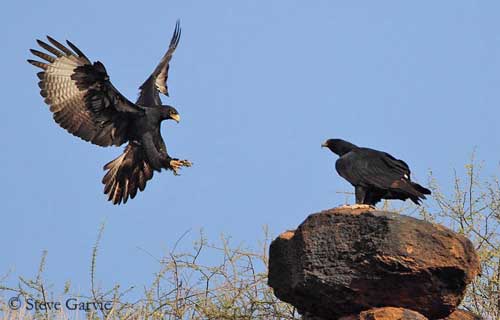 RANGE:
The Verreaux's Eagle is resident and breeds in Africa, south of the Sahara, from Sinai Desert in Egypt, to Table Mountain in Capetown.
It is also seen in Israel and Arabian Peninsula.
It is absent from western Africa.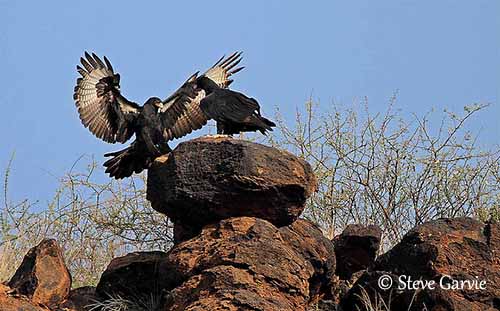 Both mates often hunt together. Their favourite preys are hyraxes and hares. This raptor may hunt from a perch and dive onto the prey which is killed on the ground. But it often hunts while flying, and once the prey is detected, it stoops from a height or swoops rapidly round rocky hillsides in order to surprise the prey, giving it no time to escape. The eagle stops with legs and talons forwards, and catches the hyrax. This species rarely comes to carrion.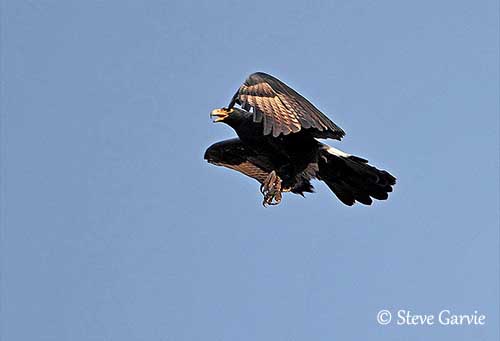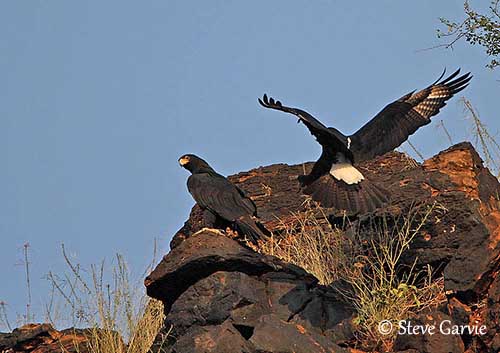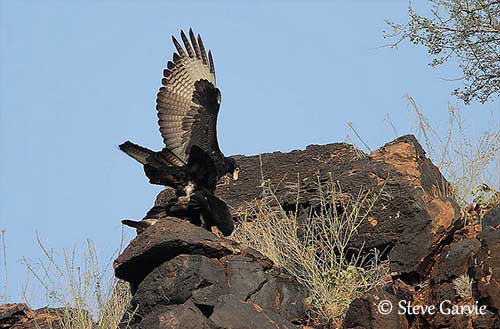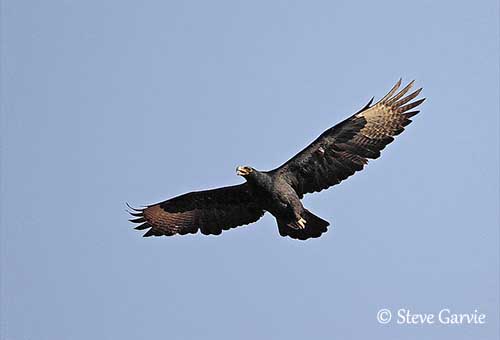 © Steve Garvie
The female lays 1-2 creamy-white eggs. The incubation lasts about 43-46 days by both adults. Only one chick survives. If there is a second chick, the elder harasses and kills it.
The nesting period lasts about 90-98 days. When fledged, the young eagle follows its parents during about 6 months.