Thekla Lark
Galerida theklae
Passeriforme Order – Alaudidae Family
BIOMETRICS:
Length: 16-17 cm
Wingspan: 28-32 cm
DESCRIPTION:
Thekla Lark is slightly smaller than Crested Lark (Galerida cristata), but both are very close and have cryptic plumage.
Breast, chin, throat and neck sides are conspicuously streaked dark brown, and contrast strongly with the creamy-white underparts.
The broad collar made with dark spots extends from neck to nape, and make easier to recognize the species.
Upperparts are brown streaked darker brown.
Thekla Lark has shorter and narrower wings. Underwing is pale grey, almost white, whereas Crested Lark has reddish-orange underwing.
PROTECTION / THREATS / STATUS:
Anarchic human developments in some areas involved the disappearance of suitable biotopes for this species. The changes in traditional agriculture for overexploitation and intensive rearing threaten little by little the Thekla Lark's habitat.
However, populations are not threatened at this moment, and numbers seem to be stable.
Fr : Cochevis de Thékla
All : Theklalerche
Esp : Cogujada Montesina
Ital : Cappellaccia di Thekla
Nd : Thekla-leeuwerik
Sd: Lagerlärka
Photographs and text by Nicole Bouglouan
Sources :
THE HANDBOOK OF BIRD IDENTIFICATION FOR EUROPE AND THE WESTERN PALEARCTIC by Mark Beaman, Steve Madge - C.Helm - ISBN: 0713639601
LE GUIDE ORNITHO par Grant, Mullarney, Svensson, Zetterström - Delachaux Niestle - ISBN: 2603011421
LES OISEAUX D'EUROPE ET D'AFRIQUE DU NORD par Hermann Heinzel, Richard Fitter, John Parslow - Delachaux Niestlé - Isbn : 2603014862
Pájaros de España (JL Beamonte)
Wikipedia (Wikipedia, The Free Encyclopedia)
BirdLife International (BirdLife International)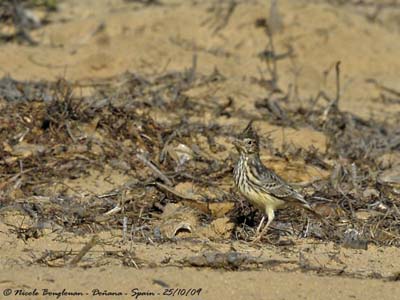 On the head, crown and nape are brown, finely spotted with darker brown. We can see a fairly long creamy-white eyebrow. Head sides show brown markings.
The brown erect crest of Thekla Lark is shorter, and appears like a fan, whereas that of Crested Lark is less bushy and more pointed, with separated feathers.
Bill is shorter, broader and stronger, with lower mandible more convex. Eyes are brown. Legs and feet are flesh-coloured.
Both sexes are similar.
Juvenile is duller, with dark brown-spotted plumage giving scaly effect. Crest is shorter than in adults.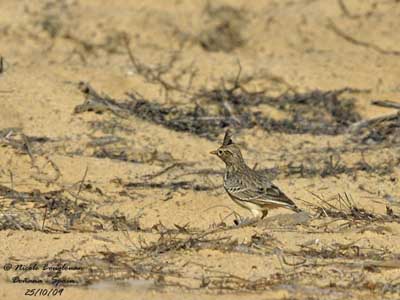 VOICE: SOUNDS BY XENO-CANTO
Thekla Lark has less varied and melodious calls. Phrases are shorter, harder and metallic. There is less flute-like sounds.
The Crested Lark's melodious whistle is reduced to "tü-ti" or "tü-ti-hi".
We can also hear a monosyllabic "brit" very typical of the species.
HABITAT:
Thekla Lark frequents low mountains, scrublands, fields with Rosemary's bushes, pastures, rocky and bushy areas, as well on plateaus as in mountainous areas, up to almost 2000 metres of elevation, but usually around 1000 metres.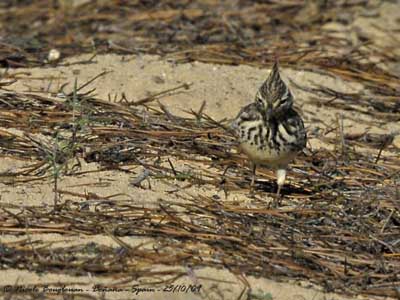 RANGE:
Thekla Lark is found in Spain, in south-eastern France and on Balearic Islands where they are fairly numerous. We can also find it in North Africa, from Western Sahara to Egypt, and there are some isolated populations in Ethiopia.
BEHAVIOUR:
Thekla Lark is sedentary in its range. It only performs some short winter dispersions.
On the ground, it walks very fast, nervously, and it stands up more often than Crested Lark. We can see the whole tarsi when it is walking, giving an impression of longer legs.
It feeds on the ground by pecking, taking seeds and insects.
It perches on scrub and trees, whereas the Crested Lark does it very rarely. It is a true Mediterranean species.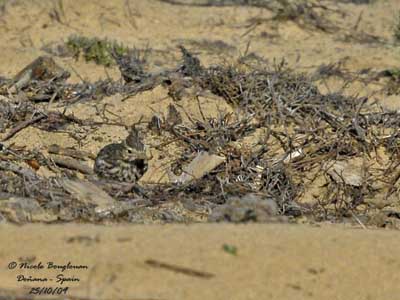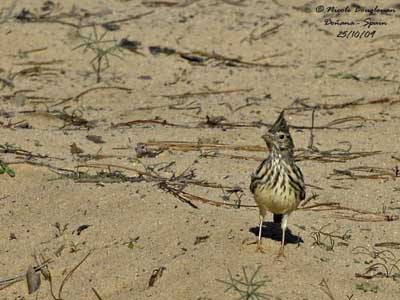 During the flight displays, Thekla Lark circles while singing.
FLIGHT:
Thekla Lark performs circular flight displays. We can see the pale grey underwing which makes the difference from the Crested Lark.
REPRODUCTION:
Thekla Lark builds the nest on the ground. It is very simple and may be protected above.
The laying starts very soon, occasionally in February, but more often in March-April.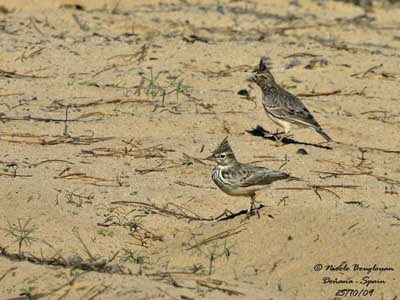 Female usually lays 3-4 yellowish or greyish-white eggs, heavily marked with grey and olive.
Incubation lasts about 12-13 days, by female. Chicks are covered in pale beige down, almost whitish. They remain at nest only 9-10 days, sometimes only 8 if disturbed. They hide into the vegetation for one week more before to perform their first flight.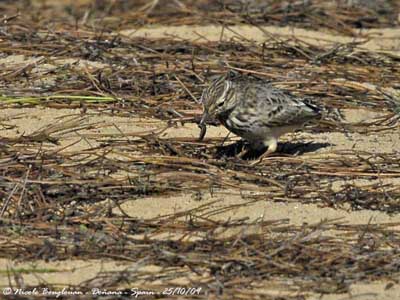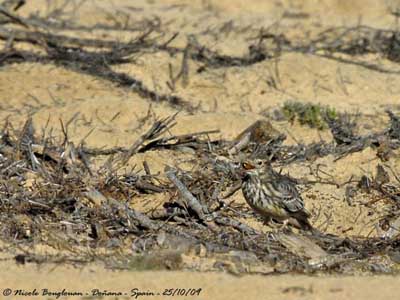 DIET:
Thekla Lark feeds mainly on seeds from forest plants and weeds, and insects too.