Sora Crake
Porzana carolina
Gruiforme Order – Rallidae Family
BIOMETRICS:
Length: 20-25 cm
Wingspan:35-40 cm
Weight: 49-112 g
DESCRIPTION:
In breeding plumage, Sora has black face and throat, and grey nape and breast. Crown is chestnut, separated by a black band coming from face. Upperparts are mottled brown on back. Underparts are barred black and white on belly.
Tail is often erected when Sora walks or flies, showing its white undertail coverts.
Sora has narrow and compressed body, adapted to weave into dense vegetation.
It has short and yellow bill. Yellowish green legs are strong, with long and thin toes, making possible to walk and run easily among wetland plants.
Sora has short and rounded wings, offering weak but possible flight into vegetation.
Both sexes are similar, with female slightly smaller than male and darker bill.
Immature is buff coloured, with white throat and pale brown breast.
Chicks are covered with black down, and have grey bill and legs.
VOICE: SOUNDS BY XENO-CANTO
Sora's call is a plaintive and rising whistle "ker-wheer", uttered night and day. It also gives a series of whinnying notes in lower pitch, speeding at the end, and a descending "wee-ker". We can also hear a sharp and high pitched "keek". They call in response to other rails. Sora's calls are heard year-round.
HABITAT:
Sora lives in dense aquatic vegetation and adjacent muddy areas, by shallow freshwater in marshes, wet meadows, or beside lakes and slow-moving rivers, at the edge of cattails and sedges. It breeds in shallow wetlands with emergent vegetation.
It winters in salt and brackish marshes.
RANGE:
Sora breeds from northern Canada, southwards to New Jersey, Illinois, Nebraska, New Mexico and central California.
It winters from southern United States to Central America and Caribbean, and to northern South America.
BEHAVIOUR:
Sora is always difficult to see, but we can hear it commonly. It is a bird very secretive, often hidden in the dense vegetation.
To feed, Sora picks from the ground, or probes the soft mud and aquatic vegetation with its bill.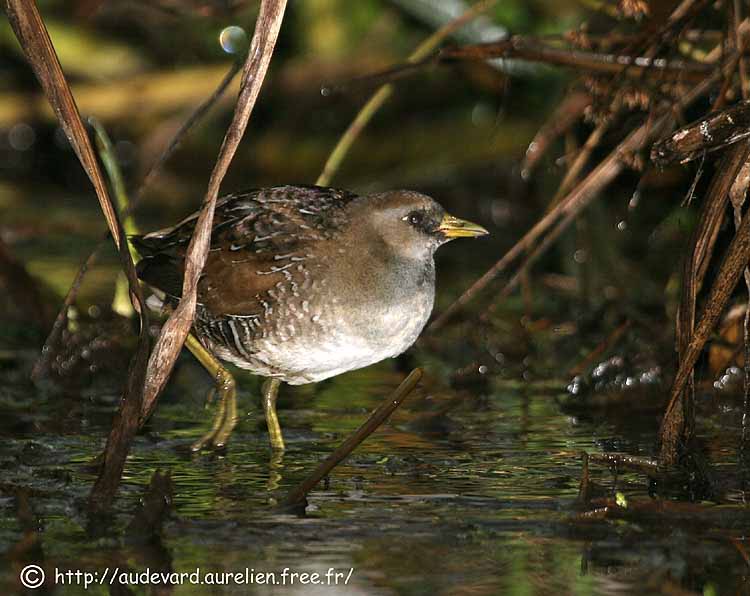 Soras arrive on breeding areas in early spring. Courtship displays consist of ritual and mutual preening and posture displays, with bowing and facing away. Pairs are monogamous and nest solitary.
They defend territory with calls and chasing. But after breeding period, Soras become gregarious and gather in large numbers.
Sora often flicks and cocks its short tail walking.
FLIGHT:
Sora flies with apparent weakness, but with high manoeuvrability. During migration, they make lengthy flights and they migrate mostly at night.
REPRODUCTION:
Sora nests in freshwater marshes, or sometimes in flooded fields. Nest is a basket of aquatic plants, supported on the stems of rushes or grasses, just above the water. It is hidden under an arch of vegetation.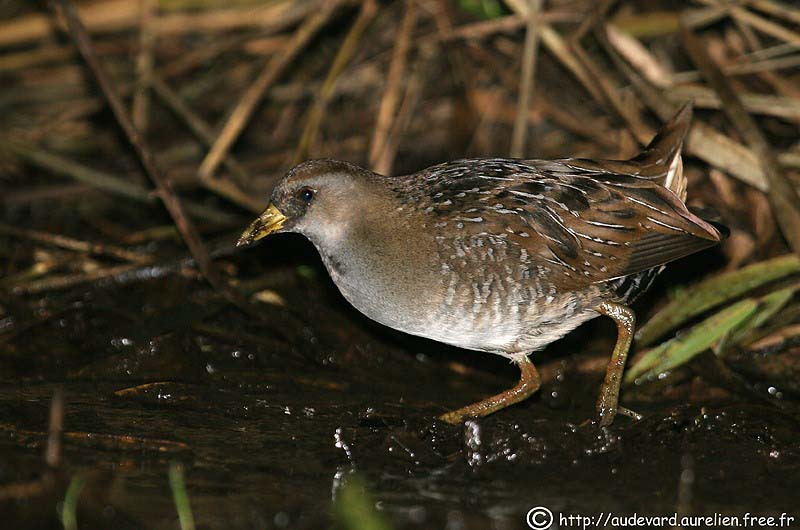 Female lays 6 to 18 red-brown eggs. Incubation lasts about 18 to 20 days, by both parents. Young are precocial and fed by both adults. They fledge at about 21 to 25 days.
Young learn to escape danger very soon, by dropping into the water and diving to safety.
Sora has high reproductive rate, maintaining a stable population. This species produces one single brood per season.
DIET:
Sora feeds mainly on seeds of aquatic plants, and wild rice, insects, aquatic invertebrates, snails, small crustaceans and spiders.
PROTECTION / THREATS / STATUS:
Sora is common and widespread, although its habitat loss. We can observe decline in some areas. They are threatened by hunting and unprotected against that.
Predators are herons, birds of prey and some mammals. Flooded is the major source of nest failure.
Fr: Marouette de Caroline
Esp : Polluela Sora
All : Carolinasumpfhuhn
Ita : Voltolino americano
Nd: Soraral
Sued: Karolinasumphöna
Photos d'Aurélien Audevard
Son site: OUESSANT DIGISCOPING
Texte de Nicole Bouglouan
Sources :
HANDBOOK OF THE BIRDS OF THE WORLD Volume 3 by Josep del Hoyo-Andrew Elliott-Jordi Sargatal - Lynx Edicions - ISBN : 8487334202
FIELD GUIDE TO THE BIRDS OF NORTH AMERICA - National Geographic Society - ISBN: 0792274512
THE HANDBOOK OF BIRD IDENTIFICATION FOR EUROPE AND THE WESTERN PALEARCTIC by Mark Beaman, Steve Madge - C.Helm - ISBN: 0713639601
What Bird-The ultimate Bird Guide (Mitchell Waite)
Animal Diversity Web (University of Michigan Museum of Zoology)
South Dakota Birds and Birding (Terry L. Sohl)