Song Sparrow
Melospiza melodia
Passeriforme Order – Passerellidae Family
BIOMETRICS:
Length: 12-17 cm ; Wingspan: 18-24 cm ; Weight: 53 g
LONGEVITY: up to 11 years
DESCRIPTION:
Both sexes are similar. Song Sparrow adult has dark brown crown, divided by a slight median line. Superciliums are greyish or whitish. Back is brown streaked with black. Underparts are whitish. Breast is streaked with blackish, with a conspicuous patch in the middle. Wings present fawn tint above, and greyish below. Long tail is rounded.
It has conical brown bill, dark brown eyes, dark brown to pinkish brown legs and feet.
Juvenile looks similar to adults, but it's duller and buffer with finer streaks on face and underparts. Face and head stripes are less distinctive.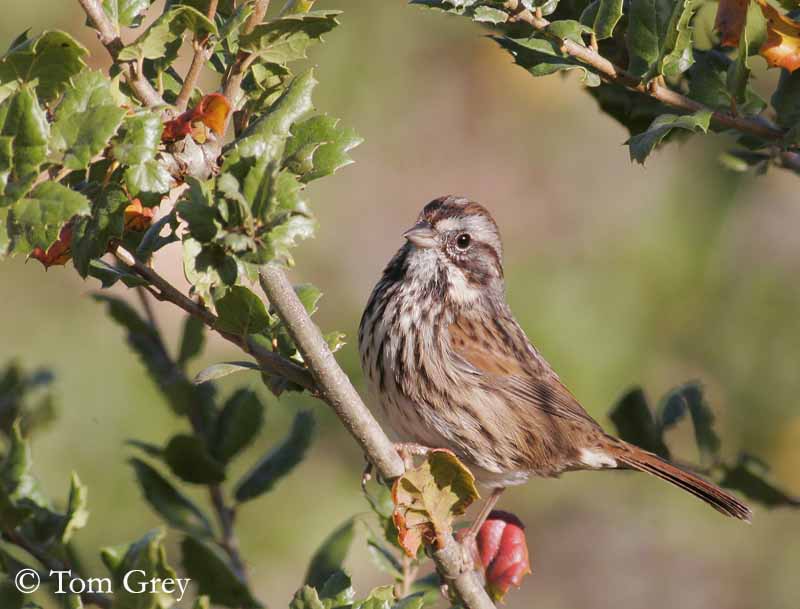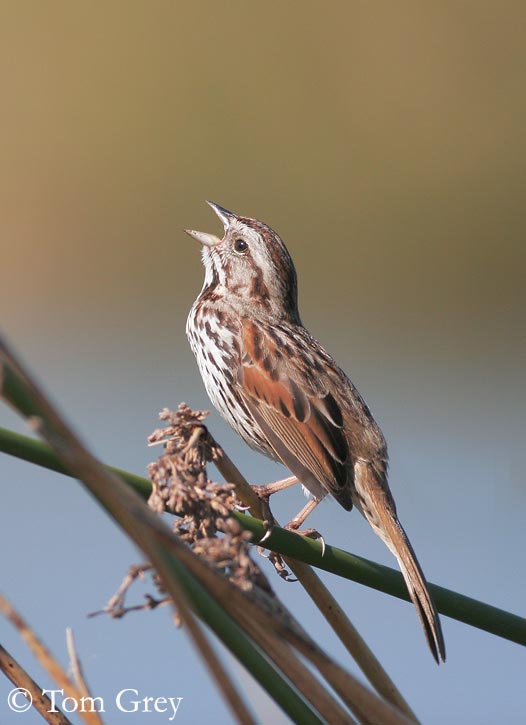 VOICE: SOUNDS BY XENO-CANTO
Song Sparrow's call includes varied series of 2 to 6 phrases, starting generally by several clear notes, followed by buzzing "tow-wee", trills and other complex notes. Call is a harsh and nasal "chimp" but we can also hear a thin "tsee".
Subspecies are numerous (39). Songs are variable, depending of populations, and specialists often identify these birds thanks to their dialects.
HABITAT:
Song Sparrow lives in open bushy areas, especially near water in dry regions. We find it in dense undergrowth near streams and ponds, in forest edges, and near hedges.
It's a partial migrant of North America. Summer residents and sedentary birds live on the breeding areas.
RANGE:
Song Sparrow breeds from S Alaska to C Canada, until Mexico and N Georgia. It winters along coast, and from S Canada to Mexico and Florida.
BEHAVIOUR:
Song Sparrow essentially feeds on ground, in or near dense undergrowths. It scratches the soil with its strong feet to extract seeds and invertebrates from the ground or under dead leaves. It hovers with slightly raised tail, and sweeping tail up and down.
During the breeding season, male sings from dawn to dusk, sometimes even during the night. Female is not only attracted by male song, but also by its manner to compose it. The more the song is complex, the more is seduced.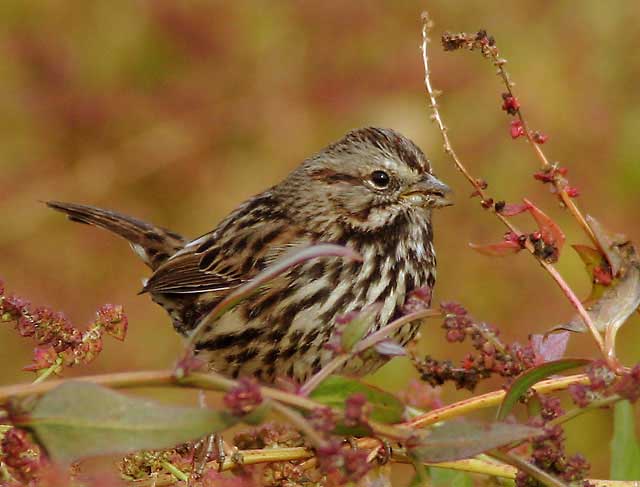 © Tom Grey
Each male defends strongly its territory, about one acre when habitat is rich. It arrives on breeding areas before female, and starts to determine its territory, puffing out its plumage, stretching and closing its wings, and singing from 3 or 4 different perches. Territory defence includes song or aggressive behaviour. Female announces her identity by her high pitched song, or a nasal chattering.
Pair forms on male territory. Female chooses male. Courtship display consists for male to swoop down on female, or on other nearly females if its own female is too far. Females are more faithful than males, and reject intruder's advances, while the mate is coming to defend them; female is not completely submitted to her mate, and pecking were observed. She opens the bill towards the male, and gives it taps before to turn its back upon.
FLIGHT:
Song Sparrow sweeps its tail up and down in flight.
REPRODUCTION:
Song Sparrow's nest is built by female in about 5 to 10 days. It's a fairly open cup, made with grasses, stems, leaves and bark chips. It's lined with fine grasses, rootlets and hair. Generally, it's located rather low in grass or bush, often on the ground under a clump of grass.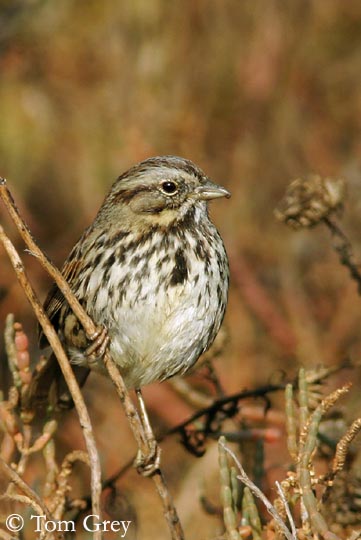 Female lays 3 to 5 blue-greenish spotted brown eggs. Incubation lasts about 10 to 14 days, by female. Chicks hatch helpless and with some black down on head and back. They open the eyes at 3 or 4 days, they can fairly fly at 17 days, and are independent at 18/20 days. Both parents feed them actively during the first 5 or 6 days, and then until they fledge, at two weeks. There are sometimes 2 or 3 broods per year. Young can breed in their first year.
DIET:
Song Sparrow feeds on seeds and fruits, but insects and invertebrates compose at least 1/3 of its diet. It is essentially herbivorous and granivorous. Along coasts, it may feed on molluscs and small crustaceans.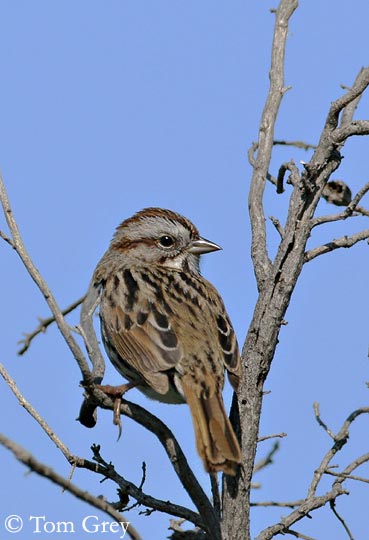 PROTECTION / THREATS / STATUS:
Song Sparrow is common in urban areas. However, some Californian subspecies living exclusively near tidal areas are threatened by habitat loss. Birds living more inland can benefit from fragmentation of forests giving them a bushy habitat throughout North American continent.