Semipalmated Plover
Charadrius semipalmatus
Charadriiforme Order – Charadriidae Family
BIOMETRICS :
Length: 17-19 cm
Wingspan: 43-52 cm
Weight: 28-69 g
DESCRIPTION:
Semipalmated Plover in breeding plumage has brown upperparts and head, and white underparts.
It shows conspicuous black collar on the upper breast, extending to the nape. Chin, throat and neck are white, extending on the rear crown, above the black collar. The forehead is white, surrounded by fine black line at the upper base of the bill, extending behind the eye.
The bill is orange-yellow with black tip. Eyes are dark brown. Legs and semipalmated feet are orange-yellow.
Fr: Gravelot semipalmé
All: Amerikanischer Sandregenpfeifer
Esp: Chorlitejo Semipalmeado
Ital: Corriere semipalmato
Nd: Amerikaanse Bontbekplevier
Russe: Перепончатопалый галстучник
Sd: Flikstrandpipare
Photographers:
Alfredo Colón
Puerto Rico Wildlife
René Lortie
http://rlortie.ca/
Bob Moul
Nature Photography
Texte de Nicole Bouglouan
Sources :
HANDBOOK OF THE BIRDS OF THE WORLD Volume 3 by Josep del Hoyo-Andrew Elliott-Jordi Sargatal - Lynx Edicions - ISBN : 8487334202
SHOREBIRDS by Peter Hayman, John Marchant and Tony Prater – Christopher Helm – 1986 – ISBN: 0747014035
FIELD GUIDE TO THE BIRDS OF NORTH AMERICA - National Geographic Society - ISBN: 0792274512
THE HANDBOOK OF BIRD IDENTIFICATION FOR EUROPE AND THE WESTERN PALEARCTIC by Mark Beaman, Steve Madge - C.Helm - ISBN: 0713639601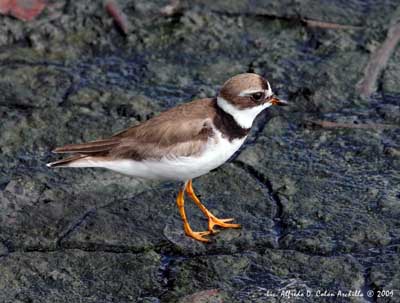 Female is similar, with brownish tinge to the black markings.
Adult in non-breeding plumage is duller, with brown markings instead black. The bill is blackish. The black breast band may be broken on the breast.
Juvenile resemble non-breeding adult, but duller, with pale edges to the upperparts' feathers, smaller and darker breast band, and duller legs.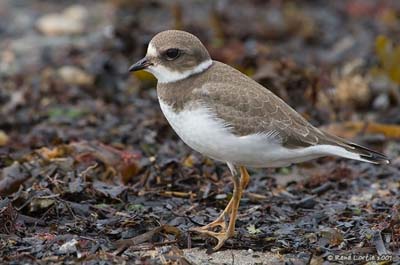 VOICE: SOUNDS BY XENO-CANTO
Semipalmated Plover utters typical whistle "chu-wiit" or "chu-wii".
While flying, the call is loud, sharp and often repeated "kerrwii-kerwii" when alarmed, it gives a shrill "chip" or "tiwit" often rapidly repeated.
HABITAT:
Semipalmated Plover frequents freshwater mudflats, but also intertidal salt mudflats, beaches, shores of lakes, rivers and ponds, plains and dunes with scattered vegetation.
RANGE:
Semipalmated Plover winters in Patagonia in South America.
It nests in arctic tundra, through Canada and Alaska.
It is a common migratory bird in spring and fall, throughout United States and southern Canada.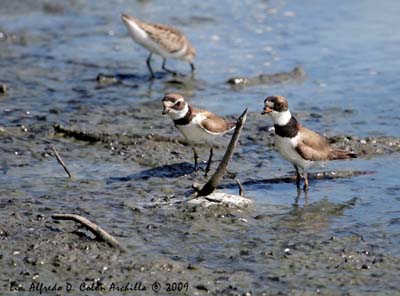 BEHAVIOUR:
Semipalmated Plover feeds by sight, and forages by using the technique "foot-trembling". It digs by brief backwards and sideways kicks, involving some quantities of sand flying around. Then, the bird pecks rapidly in the shallow holes, taking tiny preys from the surface. It feeds mainly on worms, small crustaceans and molluscs, and may also take terrestrial insects when inland. Semipalmated Plover is both diurnal and nocturnal.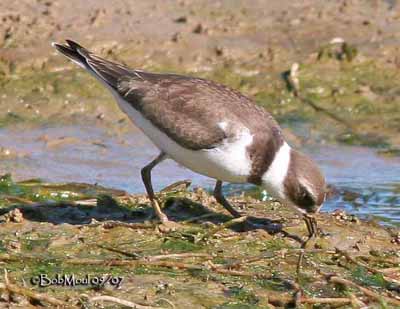 The semipalmated Plover may feed alone or in small groups. We can see the birds moving continuously and often shift their position.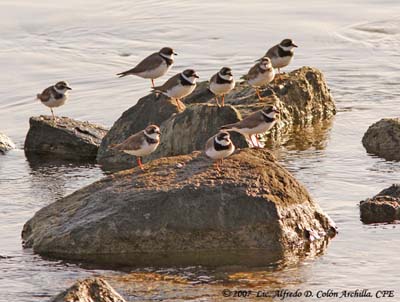 During winter, it defends the small territory, but this species is not very territorial. Old males are very aggressive during the breeding season, and engage some disputes with dropping wings and fanned tail.
Semipalmated Plover is strongly migratory, flying over very long distances to reach its wintering or breeding areas, from North to South and come back. Adults follow the same route every year, and at the same dates.
FLIGHT:
Semipalmated Plover performs rapid flight with steady wing beats.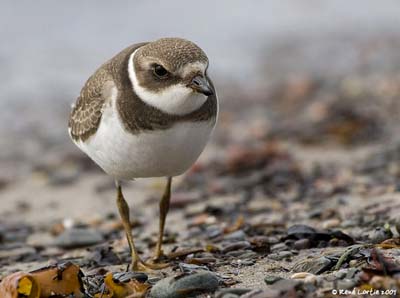 REPRODUCTION:
Breeding season occurs in spring, with laying in June.
This species nests in sandy or gravelly area, with scattered vegetation. The nest is a shallow depression lined with some debris found around the nest, some grasses and shells.
Female lays 3-4 eggs. Incubation lasts about 24-25 days by both adults.
At hatching, the chicks are pale buffy grey, finely mottled with dusky and cinnamon above. Underparts are white with blackish bordering band.
They leave the nest very soon, and are fed by both parents. They fledge between 22 to 31 days after hatching.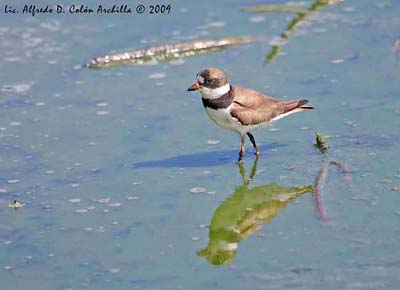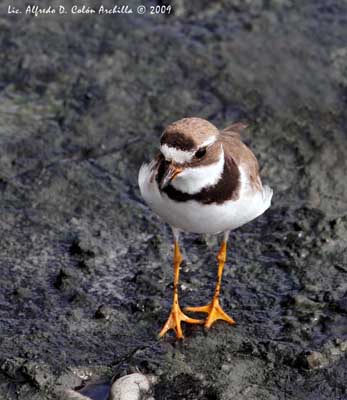 DIET:
Semipalmated Plover feeds mainly on worms, small gastropods, crustaceans and molluscs. When foraging inland, it also takes terrestrial insects such as grasshoppers, beetles and ants.
PROTECTION / THREATS / STATUS :
Semipalmated Plover was heavily hunted at the 20th century, but now, the species seems to be safe and populations have recovered good numbers.