Scarlet Tanager
Piranga olivacea
Passeriforme Order – Cardinalidae Family
BIOMETRICS:
Length : 16-17 cm
Wingspan : 25-29 cm
Weight : 23-28 g
LONGIVITY: Up to 10 years
PROTECTION / THREATS / STATUS:
Scarlet Tanager adults are hunted by birds of prey. Eggs and nestlings are eaten by blue jays, grackles, American crows, squirrels, chipmunks and snakes.
Fragmentation of North American forests has been linked to the decline of some species of migratory birds. Studies are in progress about this subject. Scarlet tanager is very sensitive to this fragmentation.
Fr: Tangara écarlate
All : Scharlachtangare
Esp : Quitrique Rojo
Ital : Piranga scarlatta
Nd : Zwartvleugel-tangare
Russe : Красно-чёрная танагра
Sd : Scharlakanstangara
Photographs by Bob Moul
His website : Nature Photography
Photographs by Tom Merigan
His website : Tom Merigan's Photo Galleries
Text by Nicole Bouglouan
Sources :
A GUIDE TO THE BIRDS OF MEXICO AND NORTHERN CENTRAL AMERICA by Steve N.G. Howell and Sophie Webb – OXFORD university Press – ISBN: 0198540124
THE HANDBOOK OF BIRD IDENTIFICATION FOR EUROPE AND THE WESTERN PALEARCTIC by Mark Beaman, Steve Madge - C.Helm – ISBN: 0713639601
A GUIDE TO THE BIRDS OF COLOMBIA by Steven L. Hilty and William L. Brown
Princeton University Press – ISBN 069108372X
All About Birds (Cornell Lab of Ornithology)
Animal Diversity Web (University of Michigan Museum of Zoology)
What Bird-The ultimate Bird Guide (Mitchell Waite)
Wikipedia (Wikipedia, The Free Encyclopedia)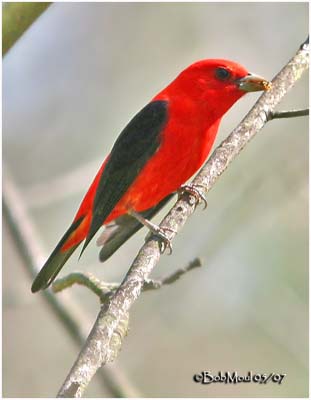 DESCRIPTION:
Adult male summer Scarlet Tanager is a striking scarlet bird with contrasting black wings, scapulars and tail. Tail is medium length, square and slightly blotched.
Adult male winter loses red coloration, resembling adult female, but differing in retaining all-black wings, scapulars and tail.
Female and first winter male has a dull olive-green above, and straw-yellow below, with dark wings and tail.
Scarlet Tanager has pale, thick and pointed bill, a complete eye-ring (broken in summer) and black eyes. Legs are dark. During moults in spring and fall, it shows mixed red and olive green in body feathers.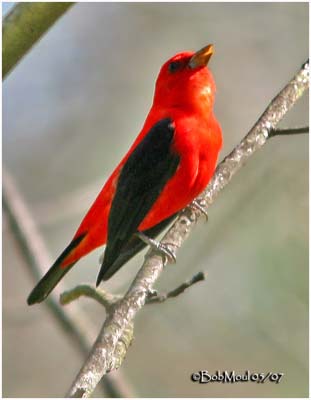 VOICE:
Scarlet Tanager's typical call is a distinctive, soft, hoarse "chip-burrr". In summer, its Robin-like song of raspy notes "querit queer query querit queer" is heard in deciduous forests. Female sings a song similar to the male's, but softer, shorter, and less harsh. She sings in answer to the male's song.
HABITAT:
Scarlet Tanager breeds in mature deciduous woodlands, sometimes mixed woodlands or pines. It can inhabit wooded parks and large shade trees in residential areas. In winter, they live in the treetops, in evergreen forests.
RANGE:
Scarlet Tanager arrives in U.S. through April, moving into the northern U.S. and Canada to breed. It winters in western and northern South America and Central America.
BEHAVIOUR:
Scarlet Tanager male arrives on the breeding areas before the female, and stake out territories in choice tall trees. It warns the other males singing frequently. Females are attracted to the singing males. The courtship display is simple. Male hops about on low perches in woods near the ground. It spreads its wings and displays its scarlet back. Often feeds its mate when the nesting season approaches.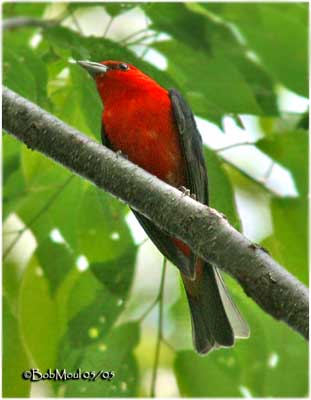 Scarlet Tanager feeds on insects, foraging in treetops, shrubs, or on the ground. It captures insects by gleaning and grabbing them while hovering. It'll hawk flying insects. Beats prey against branch to kill it.
When is threatened, the Scarlet Tanager mobs the predators. It may dive and swoop around them, calling. But it responds to American crows and merlins by becoming quiet and watchful, apparently to try to be inconspicuous.
On the wintering grounds in South America, Scarlet Tanager joins mixed species foraging flocks, with resident tropical tanagers.
FLIGHT:
Scarlet Tanager hovers to catch insects on treetops.
REPRODUCTION:
Scarlet Tanager's nest is a shallow open cup, built in a week or less by female. It's made from twigs, rootlets, coarse grass, and weed stems. It's lined with fine grasses and pine needles. It's located from 4 to 75 feet above the ground. It's placed among a cluster of leaves.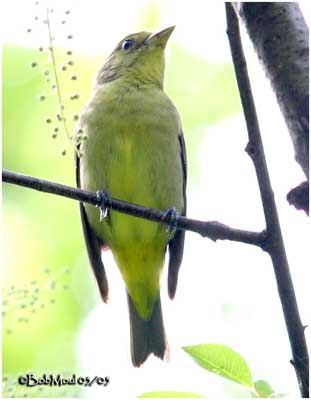 Female lays 4 to 5 pale blue-green eggs, with browns spots. Incubation lasts 13 to 14 days. They are brooded only by female, but both parents bring food to the nest. Nest is always clean; parents carry away the droppings in the bill. Young leave the nest when they are 9 to 15 days old.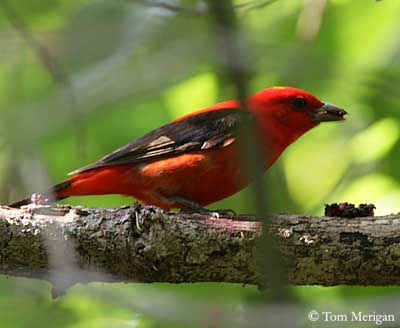 DIET:
Scarlet Tanager feeds on insects, such as aphids, nut weevils, wood borers, leaf beetles, cicadas, dragonflies, ants, termites, caterpillars of gypsy moths, parasitic wasps and bees. It eats also some fruits such as mulberries, June-berries, huckleberries and other wild fruits.