Ruby-crowned Kinglet
Regulus calendula
Passeriforme Order – Regulidae Family
BIOMETRICS:
Length: 9-11 cm
Wingspan: 16-18 cm
Weight: 5-10 g
LONGEVITY: Up to 5 years
DESCRIPTION:
Ruby-crowned Kinglet has dark greyish olive head and upperparts, and warm buff on lower underparts.
It has clean whitish areas before and after eye.
It has a straight white wing bar on greater coverts and narrow black patch at base of secondaries.
Male has a very inconspicuous red or orange crown patch. Outside the breeding season, male is similar to female, without any crown patch. Bill is very thin and dusk, legs and feet are blackish.
Juvenile male lacks crown patch, but by first autumn, is similar to adult.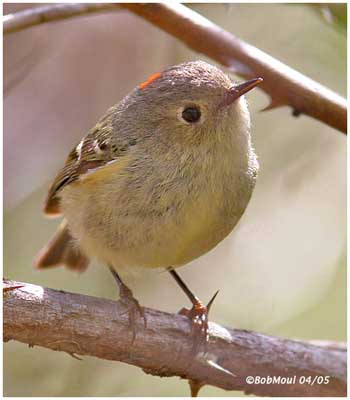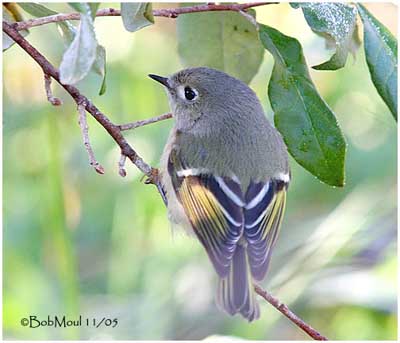 We find three subspecies spread into the wide distribution:
R.c. grinnelli in the northernmost parts of the range. It is slightly smaller and darker, with shorter wings.
R.c. calendula in the northern parts of North America. The non-breeding birds occur from centre and south of USA to Central America.
R.c. obscurus in the southernmost parts of the range. It is smaller and very darker overall, with conspicuous wing pattern.
VOICE: SOUNDS BY XENO-CANTO
Ruby-crowned Kinglet's call is a thin "ze-zeet", harsher than call of Goldcrest (regulus satrapa). Song is loud and ringing, and very different from songs of other kinglets. It begins with several thin "tsee" notes, followed by descending "tew" notes and ending with a rich warbling 'teedadee-teedadee-teedadee". Calls include a scolding "je-ditt". Song is loud and rich, and can be heard over long distances.
HABITAT:
Ruby-crowned Kinglet breeds in dry, open coniferous and mixed forests, at high elevation. In winter, is found in a variety of woodland types, including broadleaved, and also alder or willow thickets. It may be seen up to 3000 metres of elevation.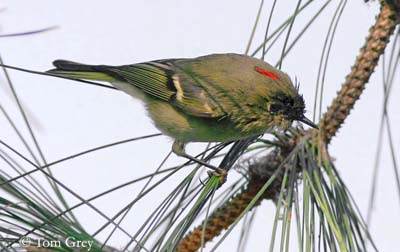 RANGE:
Ruby-crowned Kinglet breeds from Alaska to Newfoundland, southward to New Hampshire, N Wisconsin and C Alberta, southward in western mountains to S California, Arizona and New Mexico. It winters from Connecticut to S Kansas, and southward to Florida and S Mexico.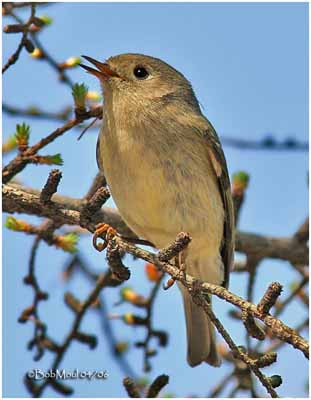 BEHAVIOUR:
Ruby-crowned Kinglet is constantly wing-flicking. It gleans food from tip of branches, also on bark. It hovers and gleans from foliage. This kinglet forages by moving among the tree branches and leaves, moving its wings to flush prey.
It also picks insects off of branches, leaves and needles of the trees. It tends to move quickly from branch to branch, searching out insects. It forages in mixed flocks.
It is monogamous, but forms new pair each breeding season.
Ruby-crowned Kinglet is migratory. They migrate slightly earlier in the fall and later in the spring, because they are less well adapted to cold. How far north they remain in any given year is typically determined by temperature.
It sings from the upper branches of a spruce to defend its territory. Males display their ruby crown during bouts of song, and during confrontations.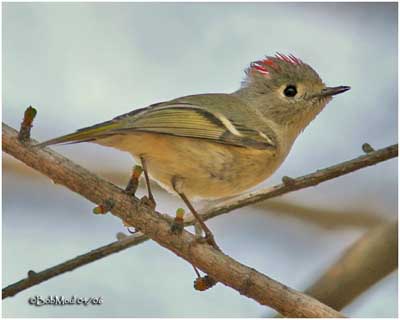 FLIGHT:
Ruby-crowned Kinglet's flight is jerky and undulating, with short bursts of wing beats.
REPRODUCTION:
Ruby-crowned Kinglet's nest is built by female, in coniferous or mixed conifers forests. Nest is usually 15 to 30 feet high in a conifer. It is made with moss, grass, lichen, bark, strips, twigs, rootlets, needles and spider webs. It's lined with soft materials, feathers, plant down and hair. It is deep and suspended under a horizontal branch, on the outer edge. It is usually well hidden and protected from above by an overhanging branch.
Female lays 5 to 11 eggs. Incubation lasts approximately 12 days by female, while the male brings food to her at nest. Young are altricial and fledge about 12 days after hatching. Female broods the young for a few days after hatching.
Both parents tend the young while they are in the nest and for a period after fledging. Young leave the nest about 16 days after fledging. Male continues to feed the young for another 10 days, but female may leave the breeding territory.
They raise only one brood a year.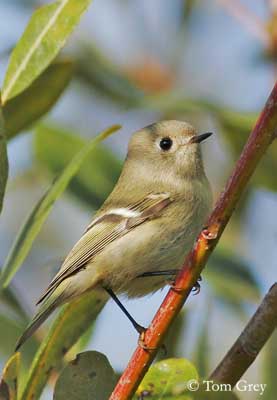 DIET:
Ruby-crowned Kinglet's diet consists mostly of insects (flies, wasps, beetles) and spiders, and insect's eggs, especially which are stuck to the undersides of leaves and twigs. In winter, they also eat some seeds, sap, and berries (Wax Myrtles, poisoning Ivy and Red Cedar).
PROTECTION / THREATS / STATUS:
Ruby-crowned Kinglets are widespread and common, but populations are sensitive to harsh winters.
Male
Female