Rose-ringed Parakeet
Psittacula krameri
Psittaciforme Order – Psittaculidae Family
BIOMETRICS :
Length : 38-42 cm
Wingspan : 42-48 cm
Weight : 95-140 g
LONGEVITY: Up to 30 years
DESCRIPTION:
Rose-ringed Parakeet has yellow-green plumage, long, graduated tail and broad, rounded and hooked pinkish-red bill.
Male shows black bib, narrow black and pink collar, extending from the bib, around the cheeks, to the nape sides where it tapers into a fine point. This half collar is bordered behind by narrow pink line extending across the nape, below an indistinct bluish crescent on the hind crown.
Flight feathers are darker green above than below where they are mostly grey. The tail has bluish-green central rectrices, and ochraceous undertail feathers.
PROTECTION / THREATS / STATUS:
Rose-ringed Parakeet is relatively common, and now, it may be found in the large urban parks in the world.
Fr: Perruche à collier
All : Halsbandsittich
Esp : Cotorra de Kramer
Ital : Parrocchetto dal collare
Nd : Halsbandparkiet
Russe : Ожереловый попугай
Sd: Halsbandsparakit
Texte et photos de Nicole Bouglouan
Sources:
HANDBOOK OF THE BIRDS OF THE WORLD vol 4 by Josep del Hoyo-Andrew Elliott-Jordi Sargatal - Lynx Edicions - ISBN: 8487334229
PARROTS OF THE WORLD – An Identification Guide – by Joseph M. Forshaw – Princeton University Press – ISBN 0691092516
BIRDS OF AFRICA SOUTH OF THE SAHARA by Ian Sinclair and Peter Ryan - Princeton University Press Princeton and Oxford - ISBN: 0691118159
L'ENCYCLOPEDIE MONDIALE DES OISEAUX - Dr Christopher M. Perrins - BORDAS - ISBN: 2040185607
THE HANDBOOK OF BIRD IDENTIFICATION FOR EUROPE AND THE WESTERN PALEARCTIC by Mark Beaman, Steve Madge - C.Helm - ISBN: 0713639601
Wikipedia (Wikipedia, The Free Encyclopedia)
What Bird-The ultimate Bird Guide (Mitchell Waite)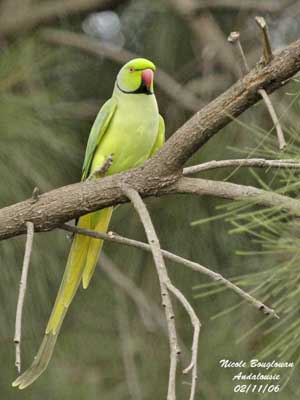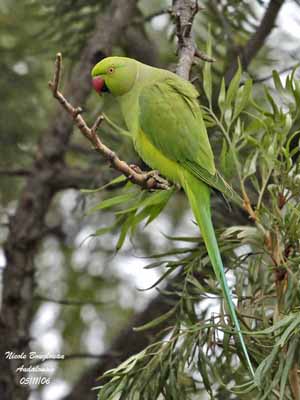 Female has only a dull emerald-green collar, and lacks blue, pink and black on the head.
Juvenile resembles adult female, but it shows yellower plumage, tail is shorter and the pink bill is pale-tipped.
VOICE: SOUNDS BY XENO-CANTO
The Rose-ringed Parakeet's typical call is a loud shrill, "kii-a" or "kii-ak" while flying, or when perched on a tree. Other loud calls may be heard, such as "kyik-kyik-kyik".
In captivity, it is a very good imitator for home noises, and it is able to produce some words.
HABITAT:
Rose-ringed Parakeet is common in cultivated areas, urban parks and gardens, open countryside with trees, palm-trees thickets, dry and open forest. It also may be found in semi-desert areas and second grow open jungles, mainly in lowlands. It frequents semi-desert savannahs with short grass, open bushy areas, wooded valleys and evergreen forests.
This species is now common in the large urban parks.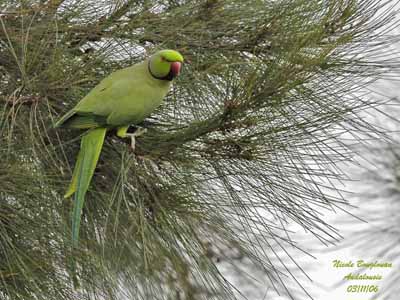 RANGE:
Rose-ringed Parakeet ranges from Central Africa to Uganda, southern Asia, India and Sri Lanka.
It has been introduced in Middle and Far East, North America, England, the Netherlands, Belgium and Germany. It is very cosmopolitan.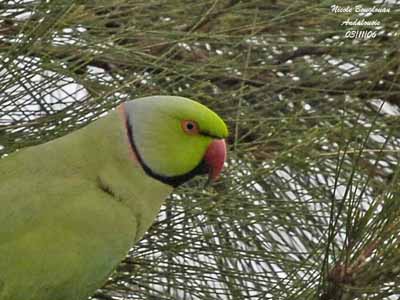 BEHAVIOUR:
Rose-ringed Parakeet is a foolhardy and opportunistic bird. It has been introduced as cage-bird, but this species is able to adapt very well. It lives in more or less large groups in most of the big cities.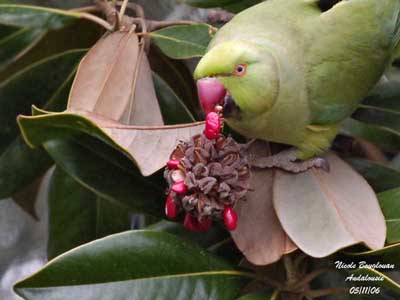 In their native areas, they gather in order to invade grain and fruit crops, and they also may be found in granaries where they open the grain sacks with their hooked bills. They often quarrel around these food sources.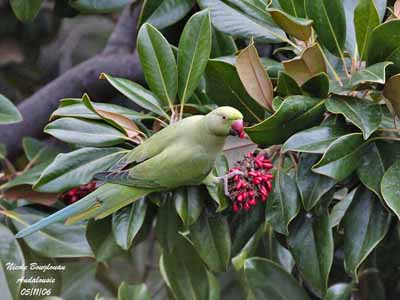 During the breeding season, the groups disperse. Some courtship displays show the female rolling the eyes while twittering, and drawing semi-circles with the head while she moves the wings. At the same time, the male struts. They touch their beaks, and the male performs courtship feeding to the female while it raises one leg. At this moment, both birds utter soft sounds.
The Rose-ringed Parakeet is monogamous.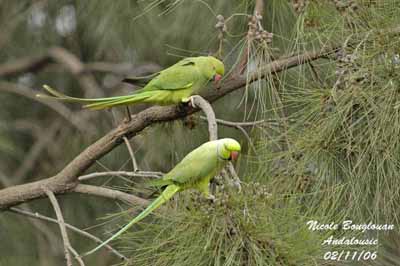 FLIGHT:
Rose-ringed Parakeet performs fast and direct flight, with rapid wing beats. In flight, the dark flight feathers are conspicuous.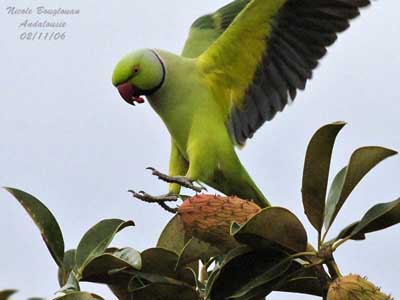 REPRODUCTION:
The Rose-ringed Parakeet's nest is a hole in tree. But when they live in towns, they can nest in any available high cavity, such as a crevice in a wall, under a roof, an old magpie nest… The nest is lined with rotten wood.
Female lays 3 to 4 eggs. Incubation lasts about 22 to 24 days, by both parents, but mainly by female. She raises the young too, sometimes helped by the male.
The young fledge about 40-45 days after hatching. They reach the adult plumage at 18 months, and complete adult plumage at 32 months of age.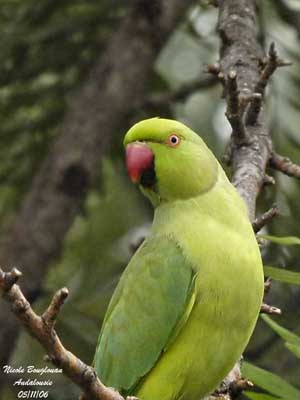 DIET:
The Rose-ringed Parakeet feeds on seeds, berries, flowers and nectar. After the breeding season, in some places, they arrive in groups and feed on grain, rice and maize in cultivated areas, but they also devastate orchards and coffee plantations. In California, they consume pecan nuts, buds and varied fruits.