Fr : Merle à plastron
All : Ringdrossel
Esp : Mirlo de Capa Blanca - Mirlo Capiblanco
Ital: Merlo dal collare
Nd: Beflijster
Sd: Ringtrast
Photographers:
Jose Luis Beamonte
Pájaros de España
Steve Garvie
RAINBIRDER Photo galleries
Text by Nicole Bouglouan
Sources:
HANDBOOK OF THE BIRDS OF THE WORLD Vol 10 by Josep del Hoyo-Andrew Elliott-David Christie - Lynx Edicions - ISBN: 8487334725
THE HANDBOOK OF BIRD IDENTIFICATION FOR EUROPE AND THE WESTERN PALEARCTIC by Mark Beaman, Steve Madge - C.Helm - ISBN: 0713639601
THE COMPLETE BOOK OF BRITISH BIRDS – Written by "Royal Society for the Protection of Birds" experts - Préface de Magnus Magnusson - Michael Cady- Rob Hume Editors - ISBN: 0749509112
ENCYCLOPEDIE DES OISEAUX DE FRANCE ET D'EUROPE – de Peter Hayman et Rob Hume - Flammarion – ISBN : 2082009920
THRUSHES by Peter Clement and Ren Hathway – HELM - ISBN: 0713639407
Ring Ouzel
Turdus torquatus
Passeriforme Order – Turdidae Family
BIOMETRICS:
Length: 23-24 cm
Weight: 90-138 g
DESCRIPTION:
The Ring Ouzel is a mountain species, often seen on the slopes between 1300 and 2500 metres of elevation.
Very similar to our Common Blackbird in behaviour, but its song is less melodious.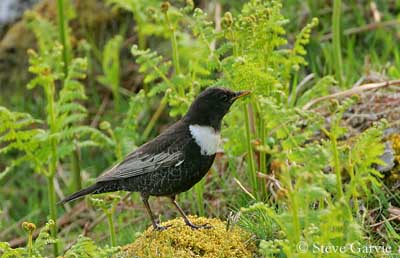 TORQUATUS
The adult male of the nominate race T.t. torquatus has black plumage overall, except the conspicuous white crescent-shaped breast band.
Mantle, scapulars, belly and flanks show fine grey scaled effect, due to the narrow whitish fringes. The underwing is pale greyish-white.
On the upperwing, the flight feathers and the wing coverts have pale greyish-white edges.
The bill is yellow. The eyes are dark brown. Legs and feet are grey-brown.
The female is very similar, but she has browner plumage on the head and to scapulars and throat. The breast band is narrower and less contrasted than in male.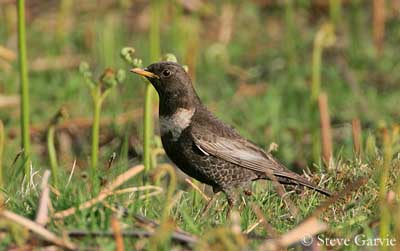 TORQUATUS
The juvenile resembles female, but it has grey-buff streaked upperparts. The breast band is absent or very faint. The chin is whitish.
The subspecies T.t. alpestris shows broader white fringes below, giving a heavy scaled effect.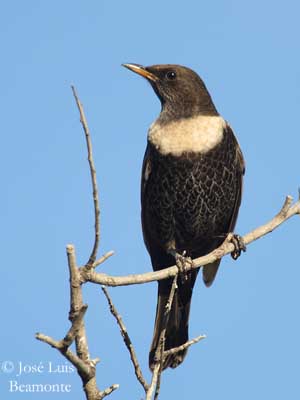 Female - TURDUS TORQUATUS ALPESTRIS - Male
The subspecies T.t. amicorum (not displayed) has larger breast band and more whitish panel on the upperwing, due to broader edges and feather tips.
VOICE: SOUNDS BY XENO-CANTO
The Ring Ouzel sings from an exposed perch. Its typical call is a loud "tac-tac-tac" becoming harsher in alarm "chrech-rech-rech-rechra".
On the ground, it gives soft "tchuk-tchuk-tchuk". In the migrating flocks, we can hear some chuckling.
The typical "ssii" is uttered as warning of aerial predator, and in flight, it gives some "zrrp" or "tsierk".
The song is a series of varied phrases including only 2-4 fluty melancholy notes "pi-rii, pi-rii, pi-rii, pi-rii" and also "trruu-trruu-trruu-tjii-tjii-tjii".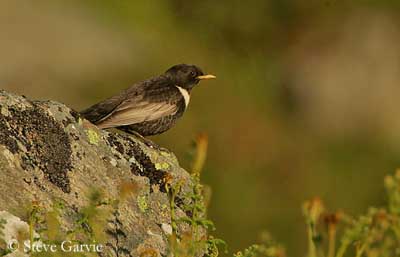 TORQUATUS
HABITAT:
The Ring Ouzel frequents the mountain steppe with conifer tree's species and bushy scrub in alpine regions, dry upland slopes, heather moorland with stony and grassy patches, mountainous meadows with shrubs and scattered trees and low shrubs above the tree-line on the rocky slopes.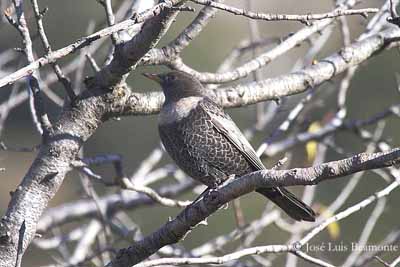 ALPESTRIS
It breeds in mixed heather and grass lands in Britain, where there are boulders, gullies and small crags, but also in flat areas with low vegetation and some trees and bushes.
This species occurs from the sea-level up to 1200 metres in Europe, 600-2000 metres in C Europe, between 1300 and 3000 metres in Turkey and 1200-2700 metres in North Africa in winter.
RANGE:
The Ring Ouzel breeds in W and C Europe and in the Caucasus area.
It winters southwards in S Europe, N Africa, S Turkey, C and S Iran.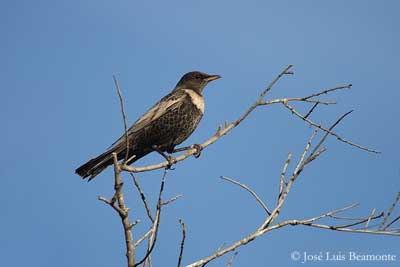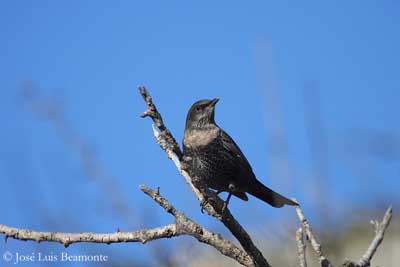 TURDUS TORQUATUS ALPESTRIS
BEHAVIOUR:
The Ring Ouzel, as most Turdidae species, feeds mainly on invertebrates, seeds and fruits. Several insects are taken, including adults, larvae and caterpillars. It also catches spiders, snails, slugs, small lizards and salamanders. It consumes numerous berries and fruits in late summer and in autumn.
Insects and other invertebrates are the typical food during the nesting period.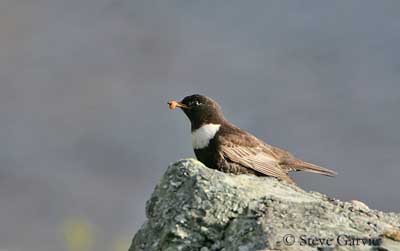 TORQUATUS
The Ring Ouzel runs on the short grass and pecks around, but it does not probes for worms as other thrushes. It is often seen alone or in pairs. During migrations, they may form large flocks, sometimes mixed with other thrushes, mainly at food sources such as fruiting trees.
It roosts on rocky or open areas, but also in conifers.
The Ring Ouzel perches on rocks, bushes and trees. This species is territorial and calls loudly. It is very excited if some intruders approach to the nest-site. It becomes aggressive and flies at them repeatedly.
The territories are established in early May, and some displays occur between male and female. They fluff out their feathers, the male performs short flights while singing softly and then, it perches on exposed rock to display the white breast band while it raises the tail.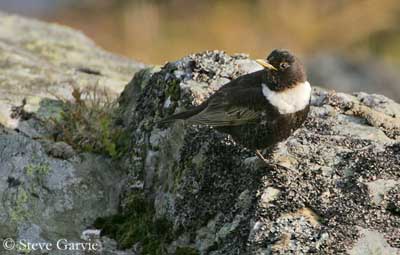 TORQUATUS
The Ring Ouzel is migratory. The birds of N Europe winter in S Spain and NW Africa.
The C European birds "alpestris" winter south to the southernmost parts of the breeding range, and often move into the Mediterranean Basin and NW Africa. The eastern populations of "alpestris" move towards SE to the Balkan Peninsula.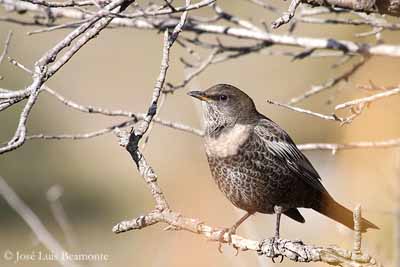 ALPESTRIS
FLIGHT:
The Ring Ouzel has direct flight and can fly for some distance. Its flight appears stronger than that of the Common Blackbird. Usually, deep wing-beats are used in erratic flight periods. When disturbed, it flies low into gullies, crevices and hills.
REPRODUCTION:
The breeding season varies according to the range.
The Ring Ouzel is solitary nester, but several territories can be established along streams, and the nests are usually well spaced, about 160-200 metres apart.
The nest can be placed on the ground, on ledge, in crevice, on earth bank, in shrub or in small tree (at about 3-4 metres above the ground). It is a bulky cup built by the female, and made with dry grass, stems, moss and leaves mixed with mud and lined with softer grasses.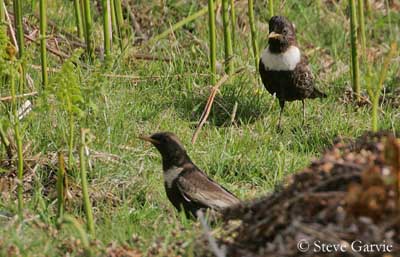 The female lays 4-5 pale blue or greenish-blue eggs with fine brownish markings. The incubation lasts about 13-14 days, mainly by the female, but the male may sit on the nest for shot periods.
The young fledge 14-16 days after hatching and still depend on parents for at least 12 days, but sometimes more. They can fly at about 18 days.
This species can produce two broods per season, but mainly in the southern parts of the breeding range.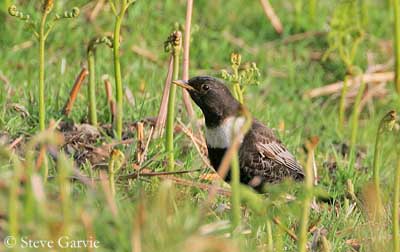 TORQUATUS
DIET:
The Ring Ouzel feeds on invertebrates, adults, larvae and caterpillars of several species such as bugs, flies, moths, beetles, millipedes, and also spiders, snails, slugs and earthworms. It can take sometimes small lizards and salamanders. After the breeding season, numerous berries, fruits and seeds are taken. It feeds mainly on the ground.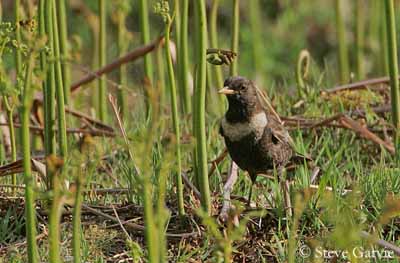 TORQUATUS
PROTECTION / THREATS / STATUS:
The Ring Ouzel is locally common. This species is threatened by human disturbances and climatic changes making some preys rarer, but also by degradation of the habitat due to the deforestation in the wintering areas in S Spain and NW Africa, and hunting of the NW European migrants.
However, this species is not globally threatened at this moment.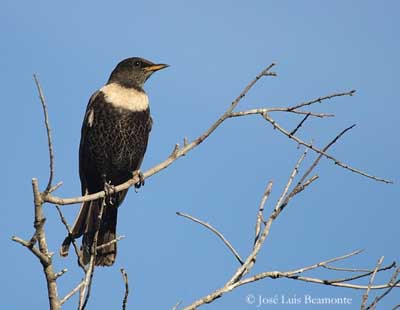 ALPESTRIS