Pine Warbler
Setophaga pinus
Passeriforme Order – Parulidae Family
BIOMETRICS:
Length: 13-14 cm
Wingspan: 19-23 cm
Weight: 9-15 g
LONGEVITY: Up to 6 years
DESCRIPTION:
Pine warbler male is greenish olive on upperparts, without streaking. Throat and breast are yellow, with dark streaks on side of breast. Belly and undertail coverts are white. Wings show two white wing bars.
Bill is relatively large and dark. The bird presents indistinct eye crescents. Legs and feet are dark.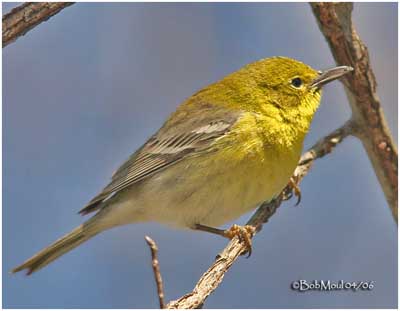 Sexes are similar, but female is duller, with more brownish on back.
Immature is duller than adults. It is brownish-olive above, with whitish wing bars. Juvenile male is dull yellow below. Female is largely white. Both have brown wash on flanks.
VOICE: SOUNDS BY XENO-CANTO
Pine warbler's song is a twittering musical trill, varying in speed; it is monotonous, consisting of a continued tremulous sound "trr-rr-rr-rr". During breeding season, song becomes more distinct "twe-twe-twe-twe-twe-twe".
HABITAT:
Pine warbler is common in pine in summer. It breeds in a variety of mature pine forests and plantations.
It winters in mixed woodlands.
RANGE:
Pine Warbler breeds locally from SE Manitoba and Minnesota, eastward to Maine and New Brunswick, southward to Gulf Coast, from E Texas to Florida.
It winters in SE United States, from Oklahoma to Virginia, and southward.
BEHAVIOUR:
Pine warbler can be found slowly foraging at almost any level of the forest, from the ground to the treetops. It forages by moving among branches and needles of the trees, searching for food.
Pine warbler is the only warbler eating large quantities of seeds. It hops along branches, upside down at branch tips.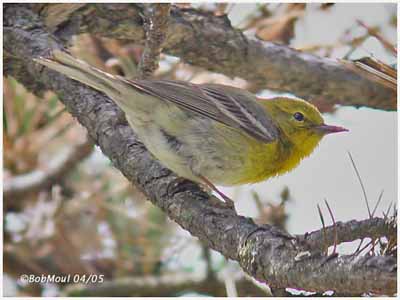 It opens seeds placing them in bark crevices and hammering with bill.
At times, it moves sidewise along the branch 3 to 4 steps, and turning about, goes on in the same manner, until it has reached a twig, which it immediately examines. It is an active warbler.
It gives chase to an insect on wing. It spies out some small species concealed among vegetation. It leaves the top of a tree, flies downward, and alights on the trunk, and it ascends again, changing its position at every remove. It also visits the ground in quest of food, and sometimes goes to water, to drink or bathe.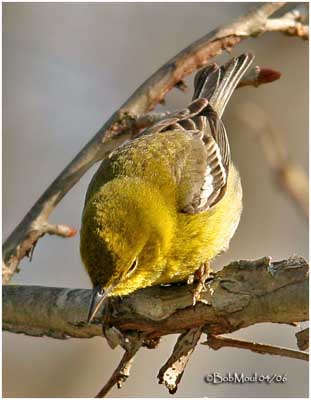 FLIGHT:
Pine warbler has a short flight, and exhibits undulating curves of considerable elegance. It migrates entirely by day, flying from tree to tree, and seldom making a longer flight than is necessary for crossing a river.
REPRODUCTION:
Pine warbler's nest is an open compact cup, well concealed among pine needles, near the tip of a horizontal branch, about at 25 to 40 feet and higher. Nest is built by female, with bark strips, pine needles, twigs and other plant materials, bound together with spider web or caterpillar silk. It is lined with hair, feathers and fine materials.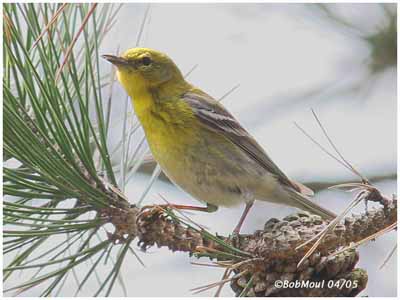 Female lays 3 to 5 brown-spotted white eggs. Incubation lasts about 10 days, by female. Chicks are altricial and fledge at about 10 days after hatching.
Pine warbler is monogamous, and reaches its sexual maturity at one year.
DIET:
Pine warbler feeds mainly on insects and spiders, but also pine and grass seeds, and some fruit and berries.
It seems to give a preference to a little red insect of the coleopterous order, which lives in the leaves or stipules of the pine.