Ovenbird
Seiurus aurocapilla
Passeriforme Order – Parulidae Family
BIOMETRICS:
Length: 11-14 cm ; Wingspan: 19-26 cm ; Weight: 16-28 g
LONGEVITY: up to 9 years
DESCRIPTION:
Ovenbird recalls a skulking, plump, short-tailed pipit, in plumage and ground feeding habits.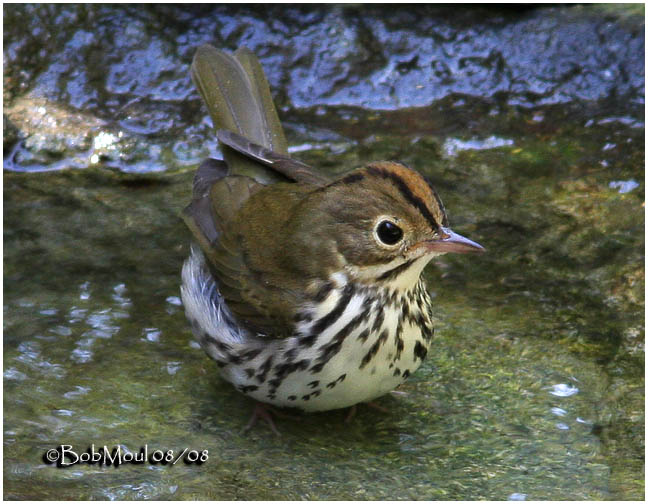 In all plumages, it has unstreaked dull olive brown upperparts, whitish underparts with heavy dark pipit-like streaking on breast and flanks, and a rufous median crown-stripe, bordered prominently on either side by a blackish lateral crown-stripe. It has a conspicuous whitish eye-ring, but lacks conspicuous supercilium. Legs are pinkish. Bill is thin and pointed.
Both sexes are similar. Immature is like adult, but duller.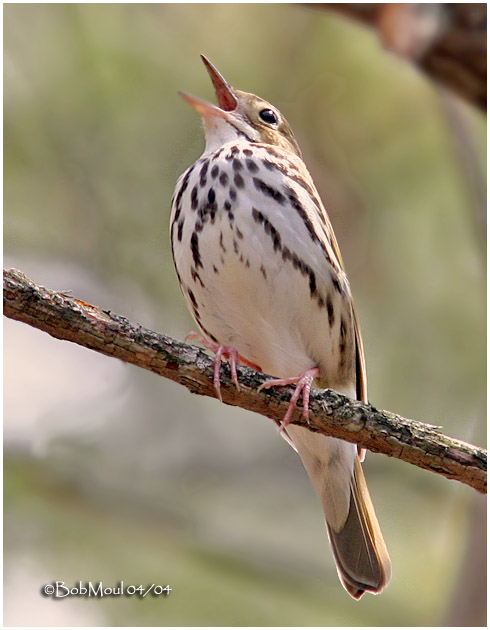 VOICE: SOUNDS BY XENO-CANTO
Ovenbird's call is a sharp, clicking "chuck" or "tsuk", repeated when agitated. Song is a monotonous but clear 'teacher-teacher-teacher…" or a variant "teach-teach-teach…" rising in volume as it proceeds.
HABITAT:
Ovenbird breeds in deciduous, closed-canopy woodland, with rather dry open ground and much leaf litter at the forest floor. It is found also locally in rather open mixed or coniferous forest, including swampy situations.
It winters in primary and second growth forests.
RANGE:
Ovenbirds breeds from SE Yukon, eastward to Newfoundland, southward to Wyoming, Nebraska, Arkansas and Georgia.
It winters in Florida, the Caribbean, Mexico, Central America, and northern South America.
BEHAVIOUR:
Ovenbird has a characteristic tail-pumping behaviour. It walks sedately on open ground, under trees or bushes, searching insects or worms in the leaf litter, turning over leaves with the bill, flicking tail suddenly upwards and depressing it slowly, and bobbing its head.
When it becomes nervous, it raises its crest slightly, showing the orange colour of the median crown, and it tends to skulk under dense undergrowth, but when it flushes, it usually flies upwards to a branch.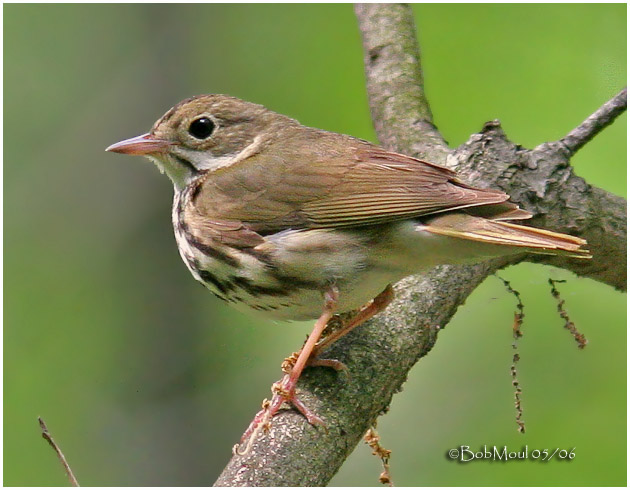 On its breeding grounds, Ovenbird uses the uplands and moderately sloped areas. Neighbour males Ovenbirds sing together. One male start singing and the second will join in immediately after. They pause, and then sing one after the other again, for up to 40 songs. They rarely overlap the song of their neighbours.
Ovenbird is generally monogamous, although multiple mates have been documented. Male performs displays above and near female. Often, it pursues female in a wild courting flight, singing. Then, it drops beside her and gives its affective by a series of hops, it droops its head and tail while elevating its wings.
Ovenbirds migrate by day, resorting at night to the deepest swamps.
FLIGHT:
During the flight display, male ascends 10 to 60 feet above the treetop level, and hovers and flutters with spread wings and tail while singing.
REPRODUCTION:
Ovenbirds breeds generally in mature deciduous or mixed forests. Ovenbird's nest is built as on the ground on leaf-covered floor, or just above the ground in a dump of low plants or shrubs. Often near of an opening in the forest. It is dome-shaped, like a Dutch-oven, and is the source of its name. Female builds the nest. It is made with dried grass, leaves, moss, and other vegetative matters, and hair. It is hidden with leaves, branches and litter placed on the roof. Entrance is a small slit on the side.
Female lays 3 to 6 white eggs with brown and grey markings. Incubation lasts about 11 to 13 days by female. She flushes when threatened, and then, she performs a distraction display.
Chicks hatch helpless with sparse down. They fledge at about 8 to 11 days. Both male and female feed the young.
This species may produce occasionally two broods per year.
DIET:
Ovenbirds feed on insects, crickets, ants, caterpillars, aphids, moths and beetles. They also eat spiders, earthworms, slugs and snails. In winter, it may eat seeds and other vegetation.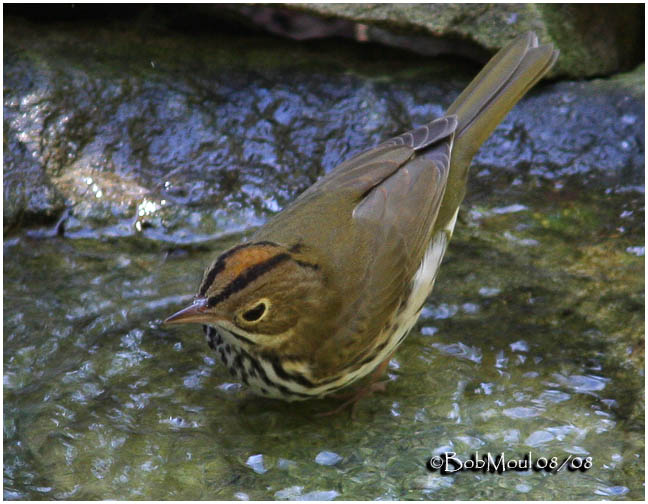 PROTECTION / THREATS / STATUS:
Ovenbirds are sensitive to forest fragmentation of their breeding habitats and wintering grounds. Fragmentation of forests decreased suitable breeding sites, and increased cowbird parasitism.
Towers, windows and human structures take a large toll on migrating birds.
Eggs and chicks are preyed upon by snakes, red squirrels and skunks.