Northern Mockingbird
Mimus polyglottos
Passeriforme Order - Mimidae Family
BIOMETRICS:
Length: 21-26 cm; Wingspan: 31-35 cm; Weight: 45-58 g
LONGIVITY: up to 20 years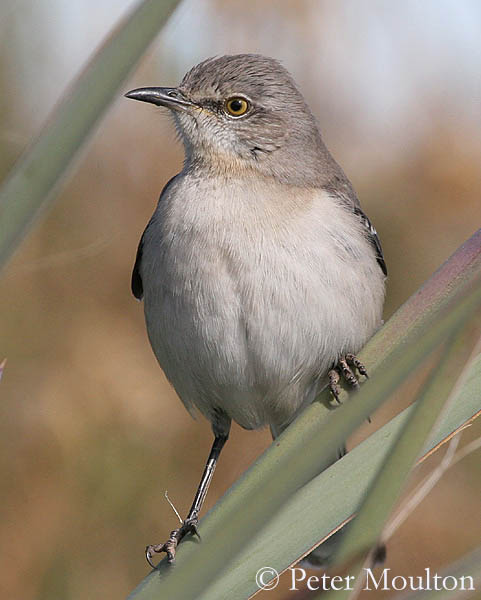 DESCRIPTION:
Northern Mockingbird is a medium-sized songbird. It has thin and dark eyeline and yellow to orange eyes. Bill is thin and black, with brown base. It has two white wing bars and large patches on the wings, very easy to see when flying. Tail is long with white outer feathers, and black central tail feathers. Upperparts are pale grey, underparts are whitish. Legs are long and dusky.
Both sexes look alike.
Juvenile resembles to adult, but is browner above and has large pale brown spots on underparts, from throat to upper belly and flanks.
VOICE: SOUNDS BY XENO-CANTO
Northern Mockingbird's usual call is a loud "tchak". Song is highly varied, often melodious sting of phrases, many imitative of other birds that are typically repeated three or more times each. Often sings continuously for long periods. Its call is a harsh, dry "chew". Often sings at night. Both sexes sing in fall, claiming feeding territories.
Northern Mockingbird is nicknamed "American Nightingale", for its long and complex, but melodious song. It's able to mimic many other birds (more than 200) and dogs, cats, humans and mechanical sounds.
HABITAT:
Northern Mockingbird lives in thickets, woodland edges, parks and gardens, favouring more open areas, open grounds and shrubby vegetation. It's also found in towns.
RANGE:
Northern Mockingbird is resident from southern Canada, southwards to southern Mexico and the Caribbean. It is introduced in Bermuda and Hawaii. It breeds from northern California, eastern Nebraska, Southern Ontario and Atlantic Canada southward to southern Mexico.
BEHAVIOUR:
Northern Mockingbird is highly territorial, and may attack any intruder. Very aggressive, it chases off other birds and mammals. It is often seen chasing large birds such as crows and hawks away from its nest.
It flicks wings up and down in territorial and courtship displays, flashing white wing patches.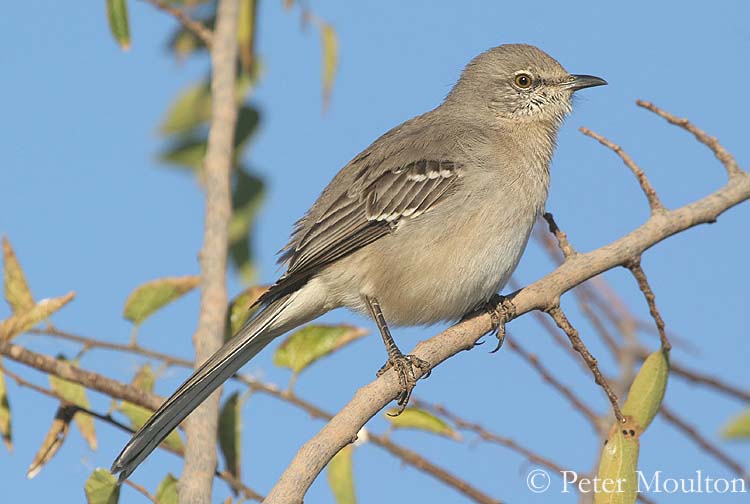 DIET:
Northern Mockingbird feeds on fruits, berries, spiders and insects (beetles, ants, bees, wasps, and grasshoppers), also earthworms and small lizards.
PROTECTION / THREATS / STATUS:
Northern Mockingbird is common and widespread. Populations may be declining in heart of the range, but range is expanding northward.
Predators are owls and hawks.
Fr: Moqueur polyglotte
All : Spottdrossel
Esp : Sinsonte Común
Ital : Mimo poliglotto
Nd : Spotlijster
Russe : Многоголосый пересмешник
Sd : Nordlig härmtrast
Photographs by Pete Moulton
Pete Moulton Photography
Photographs by Alfredo Colón
Puerto Rico Wildlife
Text by Nicole Bouglouan
Sources:
FIELD GUIDE TO THE BIRDS OF NORTH AMERICA - National Geographic Society - ISBN: 0792274512
THE HANDBOOK OF BIRD IDENTIFICATION FOR EUROPE AND THE WESTERN PALEARCTIC by Mark Beaman, Steve Madge - C.Helm - ISBN: 0713639601
BIRDS OF THE GREAT BASIN – by Fred A. Ryser - Univ of Nevada Pr -ISBN: 0874170796
All About Birds (Cornell Lab of Ornithology)
What Bird-The ultimate Bird Guide (Mitchell Waite)
Wikipedia (Wikipedia, The Free Encyclopedia)
Animal Diversity Web (University of Michigan Museum of Zoology)
Northern Mockingbird is an aggressive feeder, chasing down a grasshopper on a lawn running, hopping and lunging at the prey, or flying just above the ground behind a large wasp.
It is monogamous for one season, and sometimes it mates for life. During the spring courtship displays occur, with acrobatic flights, male chasing female, calling with soft "hew". They perch next to each other and take off again. Other displays include jumping from a perch, flapping wings to ascend perhaps one metre, and then parachuting with open wings back down to the perch again.
Nets is built low to the ground in shrubs and trees, and the accessibility of the nests make them vulnerable to molestation, and nesting birds may abandon the eggs if disturbed during incubation. But rarely abandon the nest once eggs have hatched.
FLIGHT:
Northern Mockingbird flies with slow wing beats. We can see its large white wing patches when it is flying.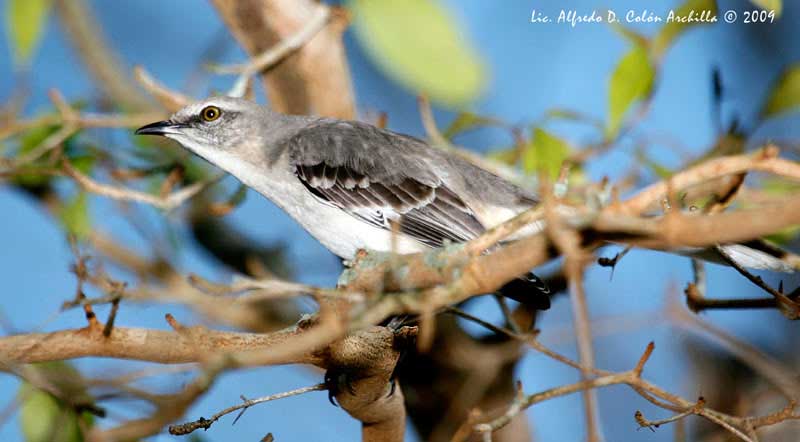 REPRODUCTION:
Northern Mockingbird uses several nests during the breeding season, laying 2 or 3 eggs in each nest. Each pair produces 2 or 3 broods per season, and the male cares for the fledglings while female incubates next clutch.
Nest is built low to the ground, in shrubs and trees, between 1 and 3 metres high, mostly by the male. It uses dead twigs and the interior is lined with grasses, dead leaves and paper, foil, plastics and even shredded cigarettes filters. Nest is an open cup.
Female lays 2 to 3 smooth eggs. They are greenish-blue heavily marked with brown spots. Incubation lasts 12 to 13 days by female, while male forages for food and defends the territory. Both parents feed the chicks. When they are 12 days old, young venture from the nest, and hop around on the ground or in low shrubs. They are fed by parents up to five times per hour. Parents will continue to care them for several days until they learn to forage for themselves.