Northern Bald Ibis
Geronticus eremita
Pelecaniformes Order – Threskiornithidae Family
BIOMETRICS:
Length: 70 à 80 cm
Wingspan: 125 à 135 cm
LONGIVITY: Up to 25 years
DESCRIPTION:
It is a very rare ibis.
Northern Bald Ibis is larger, bulkier and even blacker overall than Glossy ibis, with shorter neck and legs.
Adult has bare reddish head, long curved red bill, red legs, a scruffy ruff of long feathers about neck, and a purplish "shoulder patch" on wing coverts. Bluish-purple feathers cover the rest of the body, and are long and glossy with a metallic green hue. It has longer tail which looks rather drooping at rear end.
Fr: Ibis chauve
All : Waldrapp
Esp : Ibis Eremita
Ital : Ibis eremita
Nd : Heremietibis
Russe : Ибис лесной
Sd : Eremitibis
Photographers:
Didier Buysse
Vision d'Oiseaux
Jean-Claude Jamoulle
A la rencontre des Oiseaux
Text by Nicole Bouglouan
Sources:
HANDBOOK OF THE BIRDS OF THE WORLD vol 1 by Josep del Hoyo-Andrew Elliot-Jordi Sargatal - Lynx Edicions - ISBN: 8487334105
BIRDS OF AFRICA SOUTH OF THE SAHARA by Ian Sinclair and Peter Ryan - Princeton University Press Princeton and Oxford - ISBN: 0691118159
THE HANDBOOK OF BIRD IDENTIFICATION FOR EUROPE AND THE WESTERN PALEARCTIC by Mark Beaman, Steve Madge - C.Helm - ISBN: 0713639601
BirdLife International (BirdLife International)
Wikipedia (Wikipedia, The Free Encyclopedia)
HABITAT:
Northern Bald Ibis lives in arid or semi-arid hilly country, with cliffs and gorges for nesting, feeding in adjacent dry fields, and along rivers or streams. They breed also on coastal cliffs.
RANGE:
Historically found throughout central Europe, North Africa and the Middle-East, Northern Bald Ibis was thought to be confined to Morocco at the Souss Massa National Park, until an additional colony was rediscovered in Central Syria in 2002.
FLIGHT:
Northern Bald Ibis's flight shape is different from Glossy Ibis: legs do not project beyond tail, and has more "fingered" wingtips, and shorter neck and bill. Flight action is slower. It flies with short but effective and soft wing beats. It may soar with bell-shaped wings during long flights. They fly in V formation.
REPRODUCTION:
Northern Bald Ibis nests in colonies of around 5 pairs to 40 individuals. Nests are made from a loose platform of branches, sticks and stems, and sometimes papers. It is lined with grass, and situated on cliff ledge or in cave.
Female lays 2 to 4 eggs from March to April. Incubation lasts 24 to 28 days. Chicks have greyish brown above, paler below. They fledge about 43-47 days after hatching, and get sexual maturity at 3 years old.
DIET:
Northern Bald Ibis feeds on insects (grasshoppers, crickets, beetles, and locusts), small reptiles, frogs, fish, birds, small mammals and scorpions, and sometimes some carrion.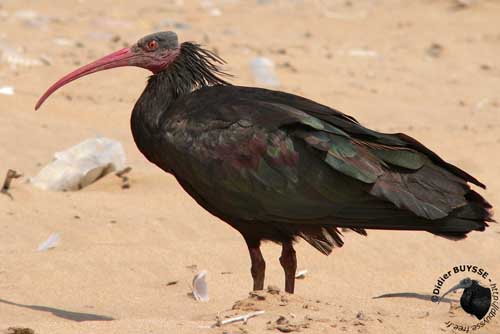 Juveniles have a dark appearance and grey feathers on their heads.
First summer is more like adult, but bare parts are duller, and plumage not highly glossed, still lacking "purplish shoulder". Head and neck appear greyish, with less elongated nape feathers.
VOICE: SOUNDS BY XENO-CANTO
Northern Bald Ibis is usually silent away from breeding colonies or roosts. We can hear some brief and guttural "brump" and hoarse and sonorous "huoh".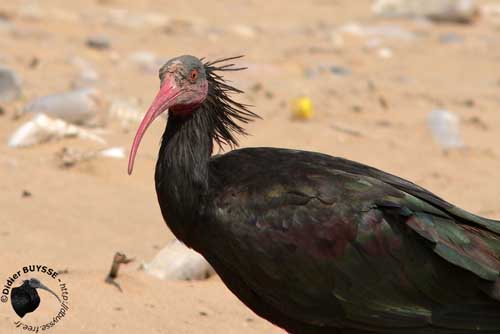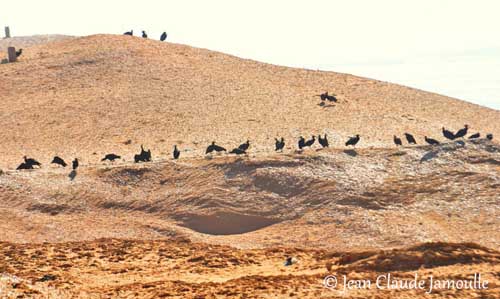 BEHAVIOUR:
Northern Bald Ibis is gregarious, foraging in large and loose flocks. They feed by pecking at the ground, or by probing into cracks and fissures in the earth. They feed during the day. They roost and nest in cliff, adjacent to watercourses or along the sea.
Northern Bald Ibis is migratory, but wintering areas aren't very well known. East populations migratory, are wintering in areas not well known, but largely in North-eastern Africa though to be chiefly in highlands of Ethiopia. West populations are dispersive southwards after breeding, but most of the birds winter in Morocco.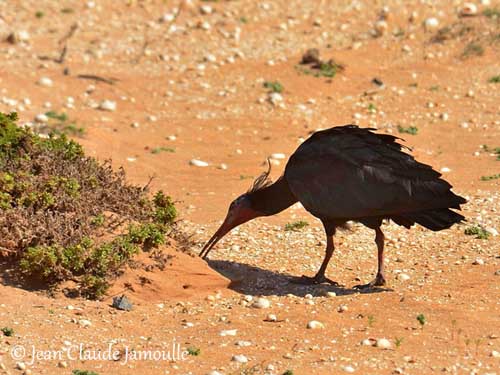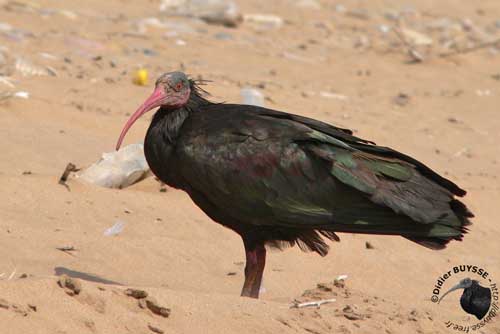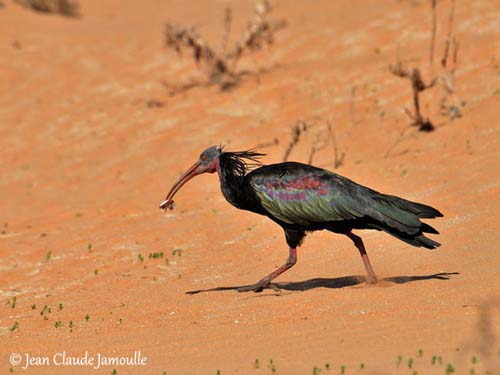 PROTECTION / THREATS / STATUS:
Northern Bald Ibis are critically endangered. Human disturbances, habitat loss, pesticides poisoning, these beautiful birds have only one chance, reproduction in captivity. These captive populations are flourishing, and it is therefore suitable to go ahead with experimental projects to test procedures for reintroduction of this bird, but this is neither a simple nor an easy project.
Northern Bald Ibis is staging a spectacular come-back in Moroccan heartland, thanks to an on-going emergency conservation programme launched by the RSPB (Royal Society for the Protection of Birds) on behalf of Birdlife International, supporting the Moroccan water and forests' Souss Massa National Park.
The bird's population has risen by 15 pairs since 2002. The birds breeding at the Souss Massa National Park are the only ones in the world apart from a remnant and genetically distinct population of 3 pairs recently discovered in Syria, with this year raised 7 young.