Marbled Duck or Teal
Marmaronatte angustirostris
Anseriforme Order – Anatidae Family
BIOMETRICS:
Length: 38-48 cm
Wingspan: 63-67 cm
Weight: 450-590 g
DESCRIPTION:
Marbled Teal adult male has grey head and neck, finely streaked white, with blackish-brown patch around the eye extending to the nape, where we can see a short crest made with some longer feathers.
DIET:
Marbled Teal feeds mainly on vegetation, aquatic plants (seeds, roots, tubers, green parts). It also consumes some aquatic insects, larvae, molluscs and worms.
PROTECTION / THREATS / STATUS:
Marbled Teal's populations are VULNERABLE.
Declines were very important the former century. Destruction and habitat loss, hunting and lead poisoning are the main causes.
The Marbled Teal is common in captivity.
Fr : Sarcelle marbrée
All : Marmelente
Esp : Cerceta Pardilla
Ital : Carganella marmorizzata
Nd : Marmereend
Russe : Мраморный чирок
Sd: Marmorand
Photographs and text by Nicole Bouglouan
Sources:
HANDBOOK OF THE BIRDS OF THE WORLD vol 1 by Josep del Hoyo-Andrew Elliot-Jordi Sargatal - Lynx Edicions - ISBN: 8487334105
GUIDE DES CANARDS, DES OIES ET DES CYGNES – de Steve Madge - Delachaux et Niestlé - ISBN: 2603013769
THE HANDBOOK OF BIRD IDENTIFICATION FOR EUROPE AND THE WESTERN PALEARCTIC by Mark Beaman, Steve Madge - C.Helm - ISBN: 0713639601
Arthur Grosset's Birds (Arthur Grosset)
Wikipedia (Wikipedia, The Free Encyclopedia)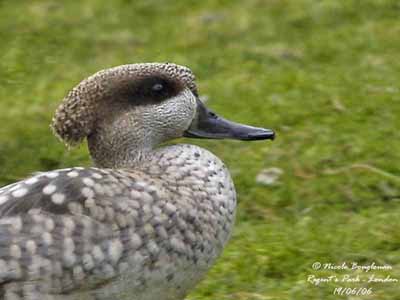 Upperparts are dark grey-brown, with conspicuous pale spots.
Underparts are paler, brownish-grey with narrow darker streaks.
Tail is pale buffy-grey, with white-tipped rectrices. Primary and secondary feathers are silvery-grey, without any speculum.
Bill is blackish with pale grey base and tip. Eyes are brown. Legs are olive-brown with blackish webbed feet.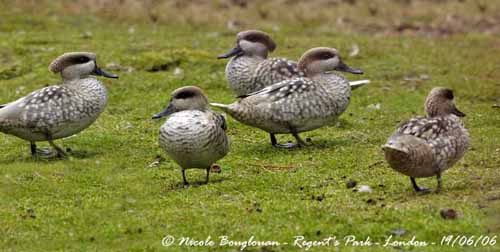 Marbled Teal female is similar, but with shorter crest.
Juvenile is duller, with less conspicuous spots.
Nestlings are grey-brown with white markings above. Underparts and head sides are pale greyish, and we can see darker eyeline. Bill and legs are greenish-grey.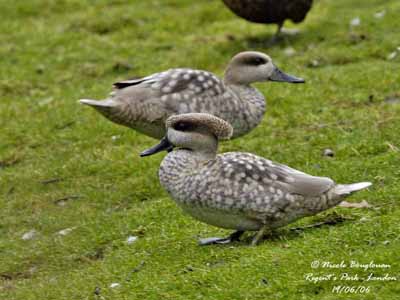 VOICE:
Marbled Teal is relatively silent, except during the courtship displays. Male gives nasal "jeep" and female a similar "pleep-pleep".
HABITAT:
Marbled Teal frequents shallow fresh or brackish waters, in swampy lakes with dense vegetation.
During winter, it frequents more often open waters and temporary wet areas.
RANGE:
Marbled Teal lives in southern Spain and North Africa and from Middle East to west China.
It is partially migratory, and performs some dispersions during winter through the Mediterranean Basin, North Africa, Middle East and north-western India.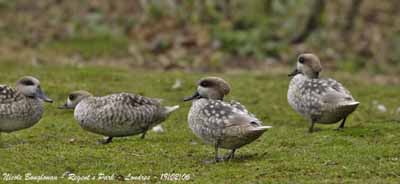 BEHAVIOUR:
Marbled Teal is usually seen in pairs or small groups, and sometimes in flocks during winter.
This species is monogamous and pair-bonds are strong during one season. Pairs form during winter, before to migrate to the breeding areas.
The male leaves the female while she is incubating, but both mates form a pair again in autumn or winter.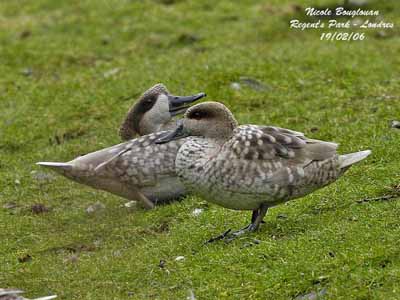 To feed, Marbled Teal filters the mud, dabbles and pecks at the surface, and may dive occasionally. During the day, it dawdles into emergent vegetation or rests on partially submerged branches. It is more active at dusk and dawn.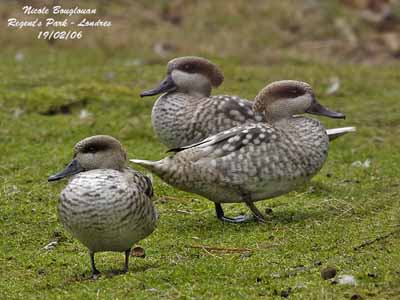 FLIGHT:
Marbled Teal performs rather slow and low flight, showing less agility than in other small dabbling ducks, and takes flight less easily from water.
REPRODUCTION:
Breeding season occurs from May to July.
Marbled Teal breeds alone or in small groups. This species produces only one clutch.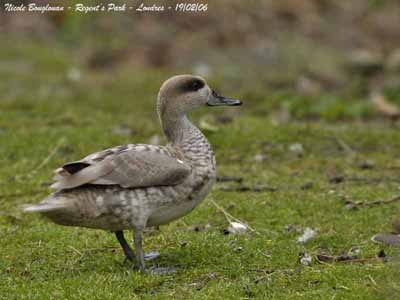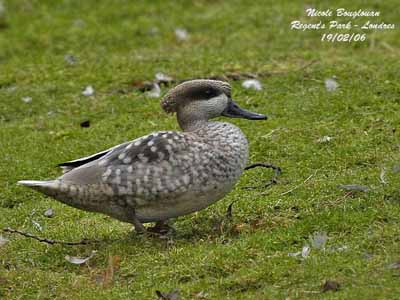 Nest is on the ground, relatively close to the water, concealed in roots, bushes or tussocks. We can see sometimes a kind of tunnel or gallery at the entrance.
Nest is a shallow depression lined with grasses and down. Sometimes, it may resemble to a hut covered with roots. Female builds the nest.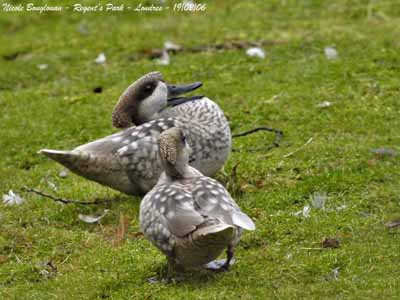 Then, she lays 7 to 14 creamy or yellowish eggs, of up to 30 grams in weight. Incubation lasts about 25 to 27 days, by female. Male leaves the nest at this period. Chicks hatch synchronously and fledge about 55-56 days later. Female rears the young alone, but sometimes, the male comes back and takes part to the nesting duties. Young reach their sexual maturity at one year.
Several females may lay in the same nest or in the tunnel whose floor is sometimes covered by eggs.