Magnificent Hummingbird
Eugenes fulgens
Apodiforme Order – Trochilidae Family
BIOMETRICS:
Length: 11 à 14 cm
Wingspan: 18 cm
Weight: M : 7,7 g – F : 6,4 g
DESCRIPTION:
Magnificent Hummingbird is a large hummingbird.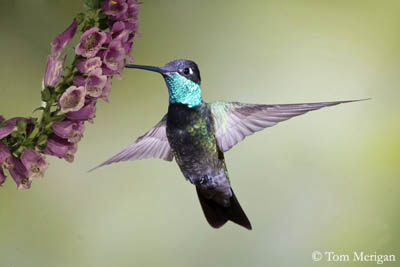 Adult male has green upperparts and iridescent purple crown. It has metallic green throat, with black or dark green breast and upper belly. Lower belly is brown. Vent is whitish. Tail is dark green and notched.
It has black, long and thin bill. Eyes are dark with white post ocular spot. Legs and feet are dark grey.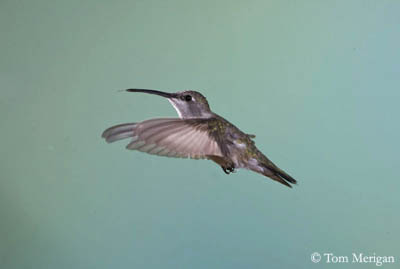 Female has green upperparts, but duller than male, and lacks purple crown, but she has a white stripe behind the eyes. She has dark rounded tail with greyish-white tips on outer feathers. Underparts are greyish.
Juvenile male is an intermediate between male and female.
Juvenile female resembles adult female, with grey-buff fringes on upperparts.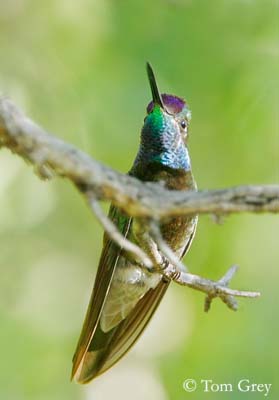 CHANT: SOUNDS BY XENO-CANTO Magnificent Hummingbird sings from a perch. Its call is a loud, sharp "tchik" or "tcheep", repeated several times. We can also hear a soft, buzzy, gurgling warbler, and a guttural 'drrrk".
HABITAT:
Magnificent Hummingbird lives at the edges of montane oak forests, pine and oak forests associated with scrubby areas, clearing with flowers, desert grasslands, open woodlands and streamside.
RANGE:
Magnificent Hummingbird breeds from SW Arizona, through Mexico and Central America to western Panama.
It winters in its breeding range except Unites States, in northern and parts of Central Mexico.
BEHAVIOUR:
Magnificent Hummingbird feeds low to high on exposed perches, from where it performs flycatching sallies to catch small insects. It also feeds on nectar from varied flowers.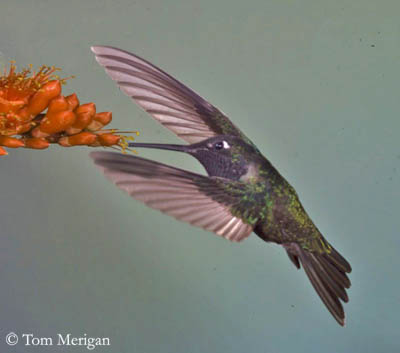 Magnificent Hummingbird defends strongly and aggressively its feeding area. Males may fight in midair, birds mounting higher and higher, doubling and hiding, until one of them makes its escape.
Female defends nest site, diving perpendicular at the intruder, even human.
FLIGHT:
Magnificent hummingbird flies more slowly than other small hummingbirds. Sometimes, it may glide. Its flight is exceedingly rapid at times, but it often flies slowly, allowing seeing the wings during the wing beats.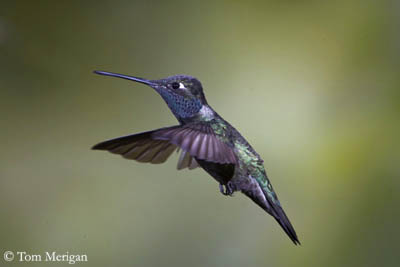 REPRODUCTION:
Magnificent Hummingbird female builds the nest. It is usually firmly attached to the limb. It is a uniform oval shape, made with bits of fine moss and lichens bound with silk of spider webs, and lined with soft plant materials and feathers. It is saddled on a horizontal limb of a tree.
Female lays 2 white eggs. Incubation lasts about 15 to 19 days, by female. Chicks hatch altricial, and they are fed by female. Young fledge at about 20 to 26 days of age.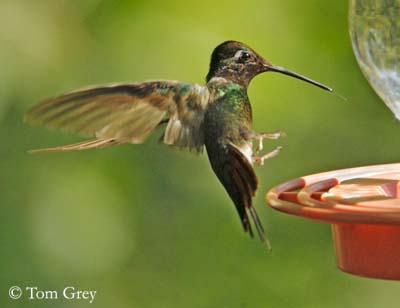 DIET:
Magnificent Hummingbird feeds mainly on nectar from flowers and feeders, and small insects.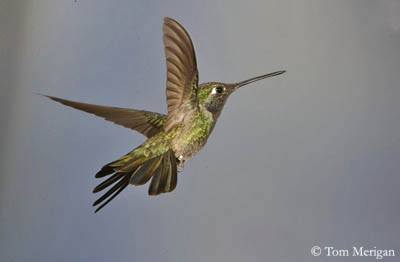 PROTECTION/ THREATS / STATUS:
Magnificent Hummingbird is threatened by habitat loss in Mexico and Central America, but at this time, populations are not globally threatened.