Fr: Glaréole malgache
Ang: Madagascar Pratincole
All: Madagaskarbrachschwalbe:
Esp: Canastera Malgache
Ita: Pernice di mare del Madagascar
Nd: Madagaskarvorkstaartplevier
Sd: madagaskarvadarsvala
Mal: kekakeka, Viko-viko, Vorombato
Photographers:
William Price
PBase-tereksandpiper & Flickr William Price
Alan & Ann Tate
AA Bird Photography
Text by Nicole Bouglouan
Sources:
HANDBOOK OF THE BIRDS OF THE WORLD Vol 3 by Josep del Hoyo-Andrew Elliott-Jordi Sargatal - Lynx Edicions - ISBN : 8487334202
Wildlife of Madagascar par Ken Behrens,Keith Barnes - ISBN: 140088067X, 9781400880676 – Editeur: Princeton University Press, 2016
Birds of Madagascar and the Indian Ocean Islands Par Roger Safford, Adrian Skerrett, Frank Hawkins – ISBN: 1472924118, 9781472924117- Editeur: Bloomsbury Publishing, 2015
Birds of Madagascar: A Photographic Guide Par Pete Morris, Frank Hawkins – ISBN: 0300077556, 9780300077551- Editeur: Yale University Press, 1998
The Birds of Africa: Volume VIII: The Malagasy Region: Madagascar, Seychelles, Comoros, Mascarenes - Par Roger Safford, Frank Hawkins – ISBN: 1408190494, 9781408190494- Editeur: A&C Black, 2013
Birds of the Horn of Africa: Ethiopia, Eritrea, Djibouti, Somalia and Socotra Par Nigel Redman, Terry Stevenson, John Fanshawe – Helm Fields Guides – Editeur: Bloomsbury Publishing, 2010 – ISBN: 1408135760, 9781408135761
Madagascar Pratincole nesting in limestone caves
Madagascar Pratincole
Glareola ocularis
Charadriiformes Order – Glareolidae Family
INTRODUCTION:
The Madagascar Pratincole is endemic breeder in Madagascar, but it migrates to the E coast of Africa after breeding.
It is an elegant bird, both in flight and on the ground. It forages mostly in flight but it also catches insects on the ground, and often large ones.
The Madagascar Pratincole breeds on Madagascar, usually in small, loose colonies of less than 20 pairs established on rocky islets in coastal waters and rivers. It performs post breeding movements and spends some months on the E coast of Africa where it frequents a variety of aquatic habitats from lakes and rivers to estuaries.
The Madagascar Pratincole is threatened by changes in the habitat for agriculture expansion both in breeding and non-breeding ranges. This species is currently listed as Vulnerable.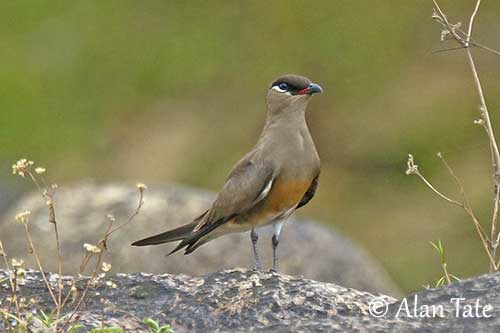 DESCRIPTION OF THE BIRD:
Biometrics:
Length: 23-25 cm
Weight: 82-103 g
The Madagascar Pratincole adult has dark olive brown upperparts but the rump is white. On the wings, the flight-feathers are black. The tail has shallow fork with black and white sides.
On the underparts, chin, throat and breast are brown, shading to rufous on upper belly, whereas the lower belly is white. On the underwings, the coverts are pale chestnut and we can see a white spot near the bend of the wing, sometimes visible at rest on closed wings.
On the head, forecrown and top of the head are dark chocolate-brown. Lores and ear-coverts are black, contrasting with a white line below and behind the eye.
The short, hooked bill is black with red base. The eyes are dark brown. Legs and feet are dark grey.
Male and female are similar.
The juvenile has the upperparts streaked reddish to tan. The reddish breast is streaked dark. The white line near the eye is absent.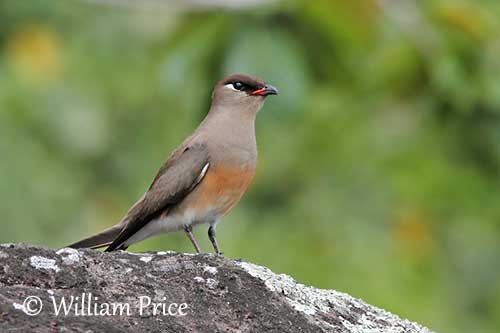 RANGE:
The Madagascar Pratincole occurs throughout the island except in extreme S and SW. It reaches the coasts of E Africa after breeding and occurs from S Somalia to N Mozambique, mainly in coastal Kenya and Tanzania.
HABITAT:
The Madagascar Pratincole frequents a variety of open habitats, coastal and inland, such as short grassland, riverbanks, sand-bards at river mouths, beaches, rivers and coastlines with emergent rocky islets and dead trees used for resting and nesting. The species is visible from sea-level up to 1,500 metres of elevation.
CALLS AND SONGS: SOUNDS BY XENO-CANTO
The flight call of the Madagascar Pratincole is a descending "vik vik, vikavik, vikavik" but when it is feeding on the wing, it mostly gives some piercing "vee tee veet-veet ee veet-veet ee veet"
We can also hear a tern-like "kitt-kirr", a short, sharp, repeated "twik" and a falling series of repeated "kik".
It calls frequently when perched and continuously in flight.
BEHAVIOUR IN THE WILD:
The Madagascar Pratincole feeds mainly on insects such as Neuropterans, Hemipterans, beetles and flying ants. It also takes small terrestrial crustaceans and consumes the seeds of aquatic plants, especially Nymphaea. The chicks are fed on insect larvae.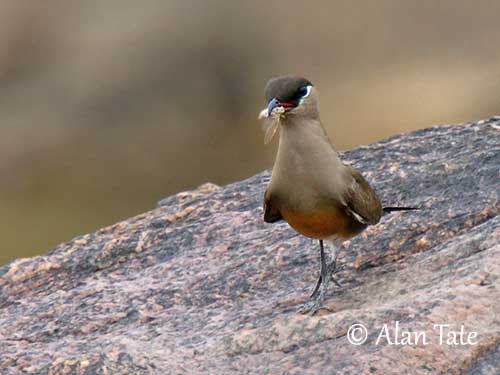 It forages mainly in flight and usually in flocks of 10-50 birds. However, it is also found alone or in pairs.
The flocks are attracted by emergences of flying prey. They hunt by flying low over water or ground, but also at great height.
It forages during the day and in late afternoon, and also around and after sunset, sometimes in almost complete darkness. Along beaches, groups can be seen running while hunting for small crustaceans.
The Madagascar Pratincole breeds in loose colonies on emergent rocks at sea or in rivers. They are probably monogamous and defend a small territory. The courtship displays are not described.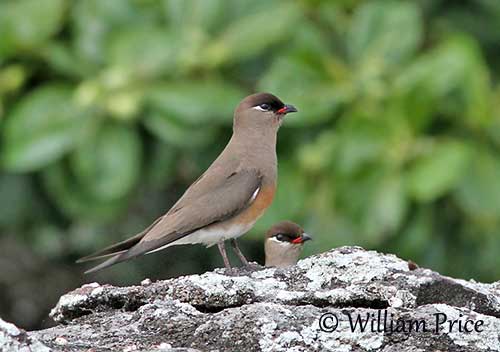 It is endemic breeder but it performs post breeding dispersions. It moves to W Madagascar after breeding, and it is absent from the island between May and August and reaches the E coast of Africa. It returns to the breeding areas in September.
In flight, the long, pointed wings and the forked tail are conspicuous. The flight is easy and tern-like.
REPRODUCTION OF THIS SPECIES:
The laying occurs between October and December, but mostly in November.
The small, loose colonies may include up to 20 pairs, but sometimes only two. The nests are about 30 metres apart. The colonies are established on rocky islets in coastal waters or in large rivers.
However, the Madagascar Pratincole may also nests in limestone cavities too.
The nest is a shallow depression with only a few small sticks.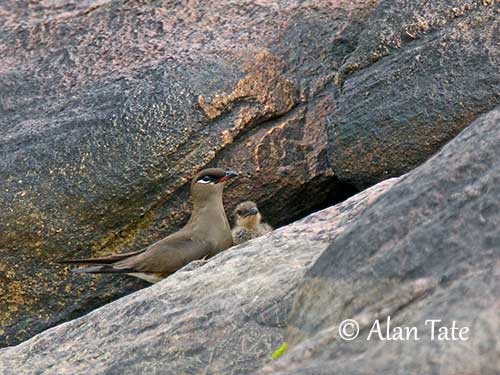 The female lays 1-2, sometimes 3 yellowish-white eggs with dense dark markings.
There is no information about the nesting behaviour, but other pratincoles incubate during 17-20 days. Both parents feed the chicks with insects. The young remain with the adults for several months.
PROTECTION / THREATS / STATUS:
The Madagascar Pratincole is threatened by modification of its habitat in the breeding range, but also in Africa for agriculture expansion. The species is present is several protected areas in Madagascar.
The population is estimated to number 5,000/10,000 individuals, equating roughly to 3,300/6,700 mature individuals. This population is declining due to habitat loss.
The Madagascar Pratincole is currently listed as Vulnerable.