Long-tailed Shrike
Lanius schach
Passeriforme Order – Laniidae Family
BIOMETRICS:
Length: 23 à 27 cm
Weight: 50 à 53 cm
DESCRIPTION:
Long-tailed Shrike has dark grey head and mantle, and chestnut back and rump. Wings are blackish with small white primary patches, conspicuous in flight. Long tail is black and graduated. Outer tail feathers are rufous. Undertail is greyish.
Underparts are whitish, with chestnut breast sides and flanks.
Head is grey with black mask covering forehead, eyes and ear coverts. Strong, hooked bill is blackish. Eyes are brown. Legs and feet are grey.
Both sexes are similar.
Juvenile is duller than adult, with streaked body sides.
DIET:
Long-tailed Shrike feeds on wide variety of large insects and small mammals, birds, birds' eggs, fish, lizards, amphibians, crabs, and any small living animal that can be caught. It may occasionally consume fruits.
PROTECTION / MENACES / STATUS:
Long-tailed Shrike populations are not threatened.
Fr: Pie-grièche schach
All : Schachwürger
Esp : Alcaudón de Cabeza Negra
Ital : Averla dorsorossiccio
Nd : Langstaartklauwier
Russe : Длиннохвостый сорокопут
Sd : Rostgumpad törnskata
Photographs by Didier Buysse
His website : Vision d'Oiseaux
Text by Nicole Bouglouan
Sources:
HANDBOOK OF THE BIRDS OF THE WORLD Vol 13 by Josep del Hoyo-Andrew Elliot-Jordi Sargatal - Lynx Edicions – ISBN: 9788496553453
LES OISEAUX DE THAILANDE par Roland Eve et Anne-Marie Guigue - Times Editions - ISBN: 9812042008
THE HANDBOOK OF BIRD IDENTIFICATION FOR EUROPE AND THE WESTERN PALEARCTIC by Mark Beaman, Steve Madge - C.Helm - ISBN: 0713639601
Wikipedia (Wikipedia, The Free Encyclopedia)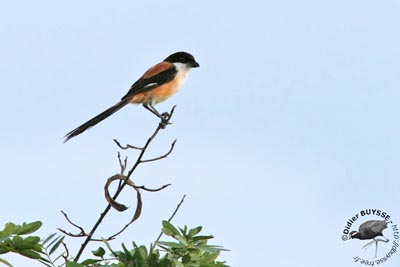 Lanius schach is the largest and lives in China. We can find subspecies living in other places and showing different colours.
Lanius schach Erythronotus lives in central Asia and the Indian Subcontinent. It is smaller and duller, and with narrower black band on forehead.
Lanius schach Caniceps lives in southern India and Sri Lanka. It is paler with less rufous above.
Lanius schach Tricolor from Himalayan regions has black head, smaller greyish area on back and deep rufous upperparts.
Lanius schach Longicaudatus lives in Thailand and has very long tail.
In some areas, Lanius schach has a melanistic form named Lanius schach Fuscatus.
VOICE: SOUNDS BY XENO-CANTO
Long-tailed Shrike is very vocal during pair formation. Its song is known as melodious, and the bird is able to perform mimicries.
Its alarm call is raucous and sharp "guerlek-guerlek", followed by some barks "yaou-yaou".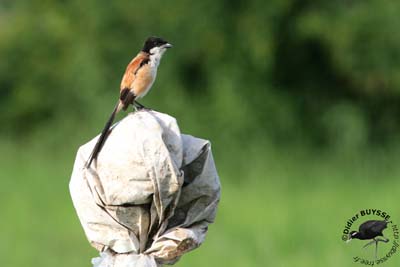 HABITAT:
Long-tailed Shrike frequents open areas, lightly wooded countries, scrublands and cultivated fields. It may be found up to 3000 metres in China.
RANGE:
Long-tailed Shrike breeds from central Asian to Chinese pacific Coast, southern Asia and New Guinea.
BEHAVIOUR:
Most of populations are resident, and only northern birds migrate towards more temperate areas after breeding season.
Long-tailed Shrike is often seen alone. It feeds mainly on insects taken on the ground, but it can hawk preys while flying. It may sometimes pirate other birds in order to steal them their preys. It often impales some preys on a sharp point like a thorn. Then, it rips the prey with its bill.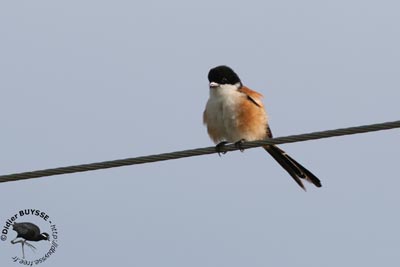 Long-tailed Shrike is highly territorial, defending nesting-site vigorously. It can be very aggressive towards birds of its own species. During courtship period, male pursues rivals and is very quarrelsome and noisy.
They are monogamous. Breeding season varies, according to the geographical areas.
FLIGHT:
Long-tailed Shrike has an undulating flight, but its dash is straight and steady.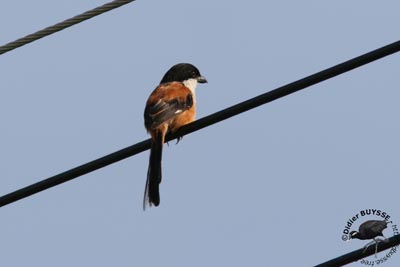 REPRODUCTION:
Long-tailed Shrike's nest is located in tree or in thorny bush. It may be situated at about 3 to 12 metres above the ground. Nest is a bulky, deep cup, made with twigs, roots and stems. It is lined with fine grass and rootlets. Nest is built by both adults.
Female lays 4 to 6 eggs. Incubation lasts about 13 to 16 days, by female. Young fledge about 14 to 19 days after hatching. They remain in parental territory for one or two months more.
Long-tailed Shrike's nest is often parasitized by Cuckoos.