Little Black Cormorant
Phalacrocorax sulcirostris
Suliformes Order – Phalacrocoracidae Family
BIOMETRICS:
Length : 55 à 65 cm
Wingspan : 95 à 105 cm
Weight : 520 à 1200 g
DESCRIPTION:
Little black Cormorant has black plumage overall. Upperparts show greenish sheen on back and upper wings, and distinct scaly pattern. Rounded tail is glossy black.
Underparts are black.
In breeding plumage, adults show white flecks on head and neck. On the back, green sheen turns more bronze.
Hooked bill is grey and slender. Eyes are emerald green. Short legs and webbed feet are blackish.
Both sexes are similar.
Juvenile resembles adults, but with browner plumage. It reaches its sexual maturity at about two years.
They roost and feed in large flocks.
Little Black Cormorant is mainly sedentary, but it can perform some dispersion from inland waters to coastal areas, according to temporary flooding or dry season.
In breeding season, usually male chooses the nest-site and performs some displays from it. It can perform repeated lifting of wing tips, throwing the head back until it touches the rump, with open bill and calling. Displays stop when female joins the male, landing close to it. Then, male starts to collect nest materials and female builds the nest.
FLIGHT:
Little Black Cormorant has powerful flight, with regular wing beats, sometimes interspersed by occasional glides.
When flying over water, it flies low over the surface, but over land or in longer flights, it can fly at greater heights.
REPRODUCTION:
Little Black Cormorant can breed at any time in the year, according to weather conditions and food resources.
It nests in colonies, sometimes at boundaries of Ardeidae colonies. We can find some few birds, but also up to 1000 pairs.
Little Black Cormorant's nest is placed in fork of trees, usually over water, but also lower in bushes. Both sexes build the large stick nest, with also twigs and reeds. Interior is lined with leaves, grass and bark.
Female lays 3 to 4 eggs, sometimes six. Incubation lasts about 23 to 35 days, shared by both parents. Chicks are altricial and naked at hatching. They are covered in black down later.
Both adults feed the young. They are brooded during the first days if weather is cold, and shaded in hot weather.
Young fledge from 50 to 80 days after hatching, according to the species, and they gather in crèches. Adults feed them for 2 to 3 months, sometimes more.
DIET:
Little Black Cormorant feeds mainly on fish, but it also consumes crustaceans and aquatic invertebrates.
PROTECTION / THREATS / STATUS:
Little Black Cormorant is common and widespread in Australia, and has benefited from dams and reservoirs, providing feeding and breeding habitat.
Fr: Cormoran noir
All : Schwarzscharbe
Esp : Cormorán Totinegro
Ital : Marangone minore nero
Nd : Zwarte Aalscholver
Russe : Малый чёрный баклан
Photographs by Patrick Ingremeau
TAMANDUA
Text by Nicole Bouglouan
Sources:
HANDBOOK OF THE BIRDS OF THE WORLD vol 1 by Josep del Hoyo-Andrew Elliot-Jordi Sargatal - Lynx Edicions - ISBN: 8487334105
Birds in backyards (Birds Australia and Australian Museum)
Wikipedia (Wikipedia, The Free Encyclopedia)
New Zealand birds and birding (Narena Olliver)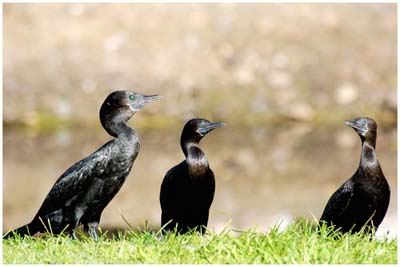 © Patrick Ingremeau
VOICE: SOUNDS BY XENO-CANTO
As other cormorants, Little Black Cormorant is mostly silent outside breeding season. Calls are often associated with breeding and nesting behaviours. They can utter calls at roost or during disputes.
Little Black Cormorant can make croaking, barking and gargling sounds. Male is usually more vocal than female which only gives soft hissing sounds.
HABITAT:
Little Black Cormorant frequents mainly freshwater wetlands, inland open waters such as lakes and ponds, swamps, reservoirs, and even urban parks.
It frequents sometimes estuaries, also lagoons and mangroves.
RANGE:
Little Black Cormorant lives in Australia, Tasmania, and northern New Zealand. But it is also found in Indonesia and New Guinea.
BEHAVIOUR:
Little Black Cormorant feeds mainly on fish, crustaceans and aquatic invertebrates. Preys are caught underwater. It dives and swims, pursuing its prey, propelled by its large webbed feet.
When diving, it closes its special nictitating membranes, for eye's protection. It regurgitates pellets containing the indigestible parts of its preys.
As other cormorants, Little Black Cormorant has not waterproof plumage, and it is regularly seen perched on dead branch, drying the outstretched wings after fishing.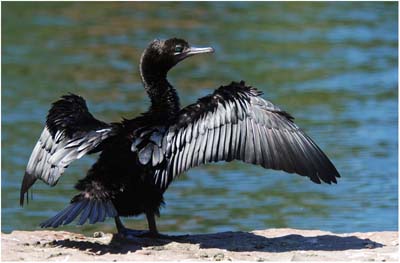 © Patrick Ingremeau