Least Tern
Sternula antillarum
Charadriiformes Order – Laridae Family
INTRODUCTION:
The Least Tern is the smallest tern found in North America with a length of 22-24 centimetres. This migratory species winters in Central America, the Caribbean and northern South America. Three subspecies share the wide range.
The Least Tern feeds mainly on small fish of several species, but marine invertebrates and occasionally insects are also part of the diet. This species breeds in colonies, and very large ones are reported with 1,500 to 3,000 nests in some parts of the distribution.
The Least Tern has slightly decreasing population in North America, due to human disturbance on beaches and recreational areas. Interior population is affected by habitat loss through management of water levels and flooding.
All races are vulnerable, but currently, the species is still evaluated as Least Concern.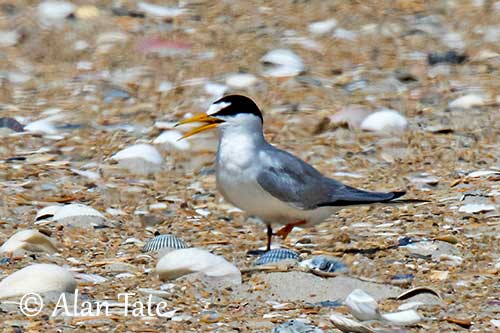 DESCRIPTION OF THE BIRD:
Biometrics:
Length: 22-24 cm
Wingspan: 48-51 cm
Weight: 47 g
The Least Tern in breeding plumage has white forehead contrasting with black crown, nape and eye line.
The upperparts are grey. On the upperwing, the two outermost flight-feathers are black. Rump and forked tail are pale greyish-white.
The underparts are white.
The bill is yellow with black tip. The eyes are dark brown. Legs and feet are yellow/orange, sometimes washed greyish or pinkish.
Male and female are similar, but the female is slightly smaller than male.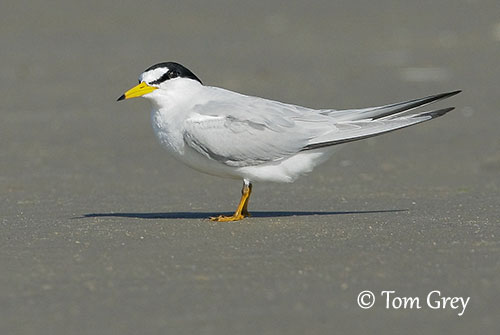 The non-breeding adult has less black on head, with black only on back of head and a line through the eye. Bill, legs and feet become dusky to black.
The juvenile resembles non-breeding adult but it usually has more brownish grey upperparts and less black on head.
SUBSPECIES AND RANGE:
The Least Tern has three subspecies.
S.a. browni is found in C California (San Francisco Bay) to Baja California and W and S Mexico. It winters along W and S Mexican coasts.
This race is deeper grey above and greyish-white below. It frequently lacks the black bill tip.
S.a. athalassos is found in N Great Plains to Texas and N Louisiana. It winters to N Brazil.
S.a. antillarum (described above) occurs in E USA coast, from Maine S to Texas, and to Honduras and through Caribbean to N Venezuela. It winters to N Brazil.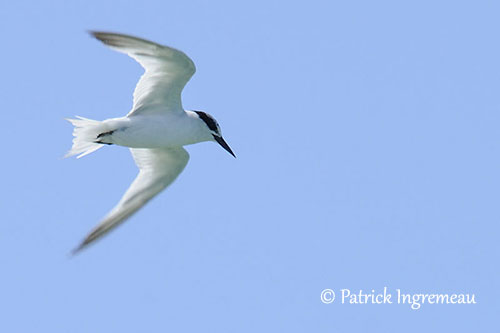 Non-breeding adult
HABITAT:
The Least Tern frequents a variety of aquatic habitats including sandy coastlines, estuaries, lakes and rivers. This species usually breeds on open sandy or gravelly beaches, or other open shoreline areas. It breeds more rarely inland on river valley sandbars. It may occasionally nest on gravel rooftops of buildings.
It forages mainly over lagoons, marshes and estuaries, and sometimes beyond the surf zone. Inland, it feeds in rivers, streams, marshes, ponds and reservoirs.
CALLS AND SONGS: SOUNDS BY XENO-CANTO
The Least Tern may produce several calls, usually more melodious and higher-pitched than other tern species. We can hear variable "kip-kip-kip" and "kid-ick, kid-ick", and also rasping "zr-e-e-e-p".
These calls are usually given in rapid succession, and only 2-3 calling terns can sound like a large flock.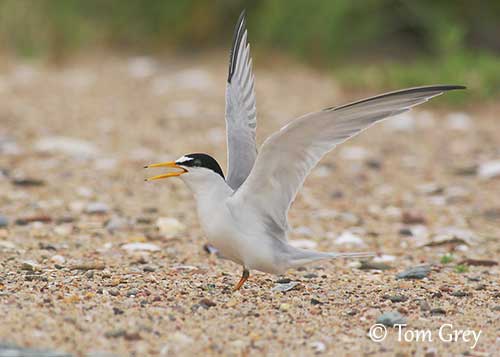 BEHAVIOUR IN THE WILD:
The Least Tern feeds usually on small fish, crustaceans, insects caught in flight, small molluscs and marine worms, depending on season and location.
Small fish is caught by skimming the water surface, but also by plunge-diving from up to 10 metres after prolonged hovering. Surface-dipping or aerial hawking is occasionally used.
During the breeding season, they feed relatively close to the colonies, within a few hundred metres.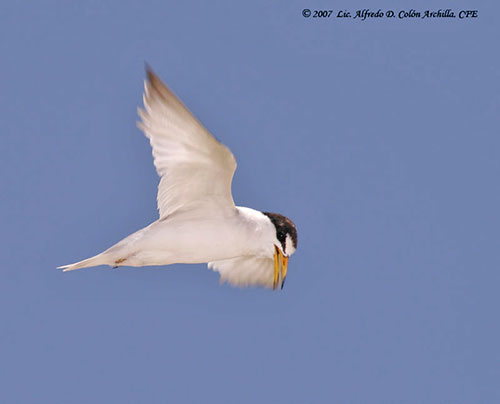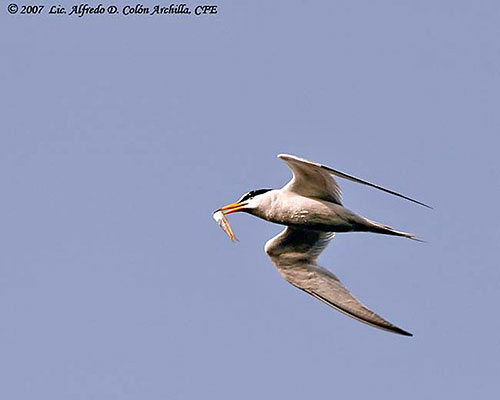 The Least Terns arrive at the breeding sites between early April and early June. The adults display during 2-3 weeks and become very noisy. They have to find a mate, select a nest-site and strengthen the pair bonds.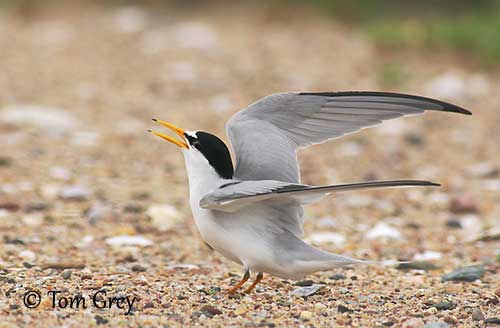 The courtship displays include the "fish flight" involving two birds making an aerial display with acrobatics and chases, with at the end a fish transfer between the birds. They also adopt a variety of postures accompanied by vocalizations. Courtship feeding is common and occurs on the ground.
The Least Tern breeds in colonies, but sometimes also in isolated pairs. They become aggressive and strongly defend the nest-site by screaming and diving at intruders.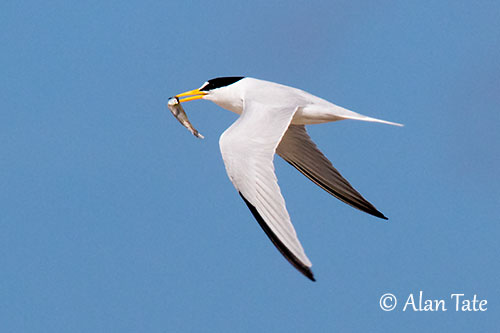 This species is strongly migratory. It leaves the northern breeding grounds in late August/early September to reach their southern wintering areas.
The Least Tern has fast, buoyant, graceful flight with rapid wingbeats. It is often seen flying low over the water with deep, quick wingbeats.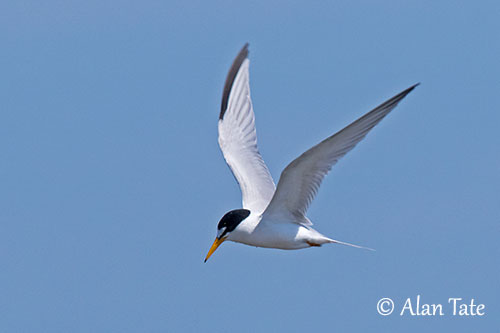 REPRODUCTION OF THIS SPECIES:
The breeding season varies according to the range, starting in April in Florida and Texas, in May in the West Indies, and mid-June in the interior.
The Least Tern breeds in colonies of 5/200 pairs but much larger colonies of up to 1,500/3,000 nests are reported respectively on Long Island and in Mississippi. The nests can be 3-20 metres from each other, sometimes less than 1 metre. In interior, they are often more than 100 metres apart, or the terns nest solitary.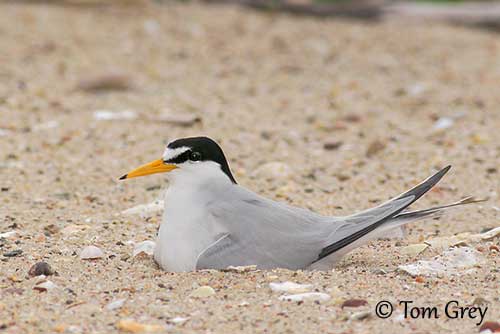 The Least Tern breeds on open ground in sandy area or gravelly patch, and occasionally on gravel roofs. The nest is a shallow depression on the ground, lined with small twigs, small stones and debris found around the nest.
The female lays 1-3 buff to pale green eggs with dark blotches, making them very similar to the surrounding ground.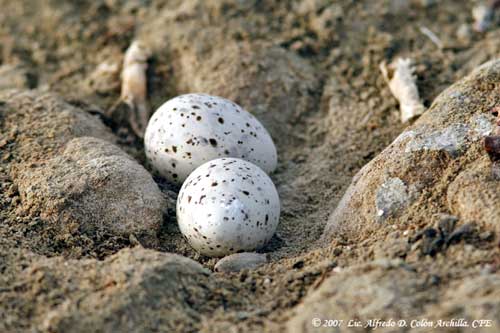 Both adults share the incubation during 19-24 days. At hatching, the chicks have greyish white to buff down, or they are heavily spotted. They leave the nest a few days after hatching and remain hidden in the surroundings. They are fed by both parents. They are able to fly at 19-20 days, but they remain in family group for 2-3 months.
This species produces a single brood per year, but two are sometimes laid in south. A replacement clutch is laid if the first attempt fails.