Lark Sparrow
Chondestes grammacus
Passeriforme Order – Passerellidae Family
BIOMETRICS :
Length: 15-17 cm
Wingspan: 28cm
Weight: 24-33 g
LONGEVITY: up to 7 years
DESCRIPTION:
Lark Sparrow is a medium-sized sparrow. Adult male has streaked, grey brown upperparts. Underparts are whitish, with dark central spot on breast. In all ages, cornered tail is long and black with white edges, conspicuous in flight.
On the head, we can see black, white and chestnut stripes, and white eye ring. Cheeks and crown sides are chestnut, with white eyebrow. Eyes are black. Legs and feet are pinkish brown. Conical bill is two tones, black and whitish.
Both sexes are similar.
Juvenile is duller than adults, with breast, sides and crown streaked.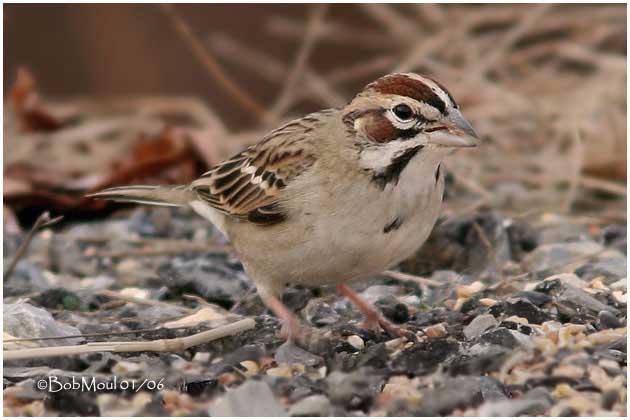 VOICE: SOUNDS BY XENO-CANTO
Lark Sparrow's call is a sharp 'tsip", often a rapid series. Song often begins with loud and clear notes, then, we can hear a series of rich and musical notes, and trills and buzzes. In flight, call is a thin "sit". Male often sings at night.
HABITAT:
Lark Sparrow lives in meadows, roadsides, farms, open woodlands and open areas with scattered trees.
They winter and migrate in similar areas, but also in brushy fields and semi-arid areas.

RANGE:
Lark Sparrow breeds in a large range, from southern central Canada, southwards to northern Mexico, westwards to California coast, and eastwards to Mississippi River and western Indiana.
It winters in California, and from Texas southwards through Mexico.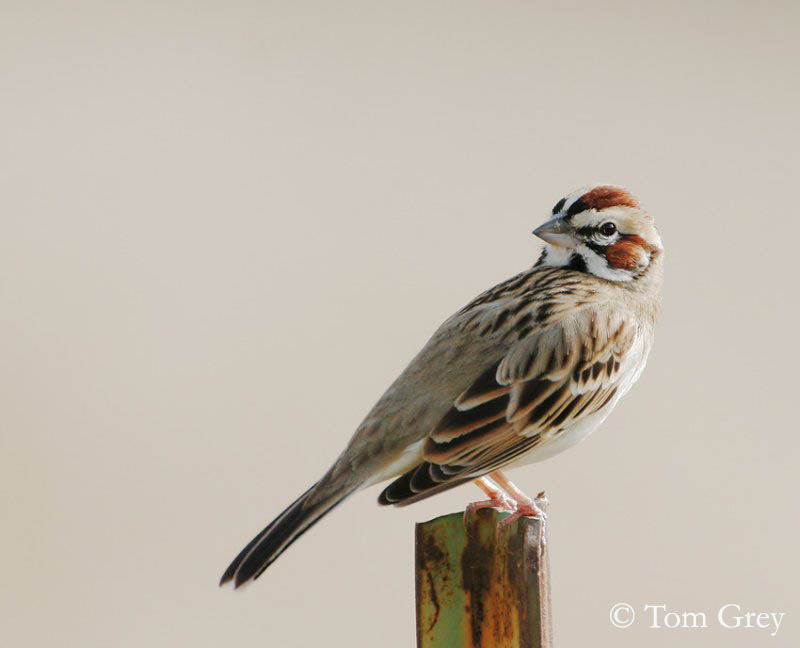 BEHAVIOUR:
Lark Sparrow feeds on seeds and insects, foraging on ground in open areas. It walks on the ground rather than hops. But it hops during courtship display. Lark Sparrow is very gregarious, feeding in flocks even during breeding season.
Courtship displays are spectacular. Male crouches on ground, holding its tail up at 45 degrees angle from the ground. Then, it spreads tail feathers, showing white tips, and it struts with dropped wings, wingtips almost on the ground. It struts back and forth, while pointing its bill up in the air, with fanned tail and fluttering wings. If female accepts it, male gives her a small twig before copulation.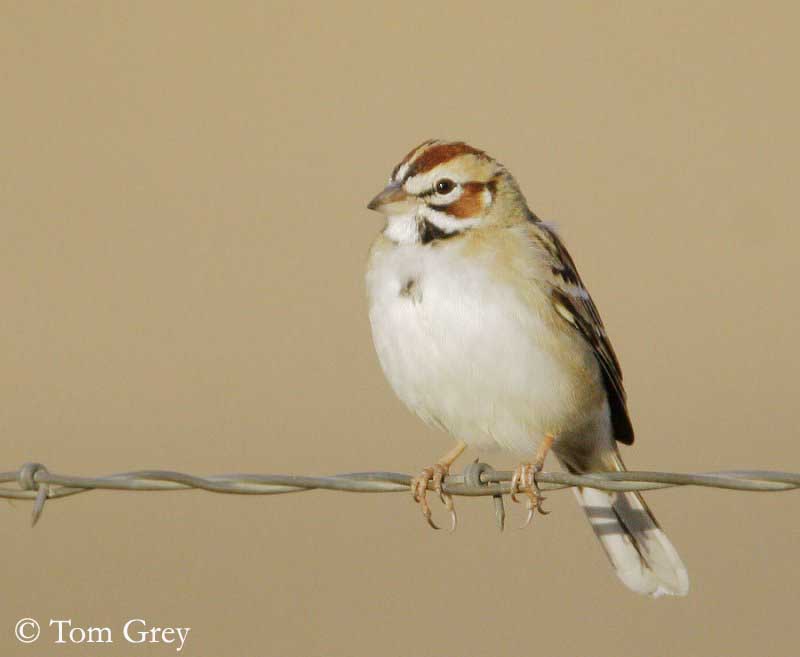 Lark Sparrow is easy to disturb. When it is alarmed, it flies to a fence or a branch. Male sings from an exposed perch, at the edge of woodland.
Lark Sparrows and Mockingbirds (Mimus polyglottos) nest in the same kind of habitat. It seems that both may share a nest, building it alternately, and females laying their own eggs in the same nest. They incubate one after another, remaining on near branches while the other incubates.
FLIGHT:
When flushed, Lark Sparrow will fly long distances.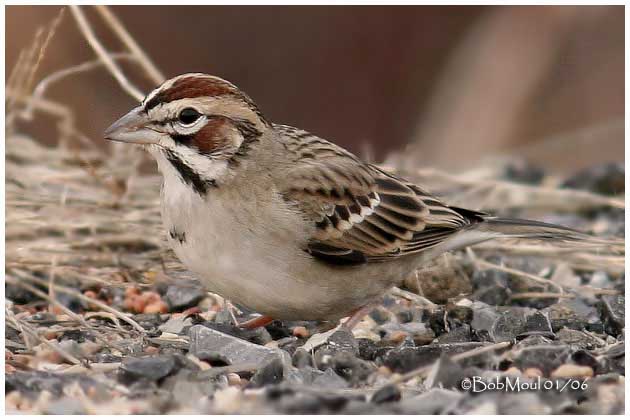 REPRODUCTION:
Lark Sparrow male put some twigs at potential nest sites. If female approves of a place, she builds the nest, on the ground, at base of tall weed or other plant, or in a shrub or rocky crevice.
Nest is an open cup, made with grass, weeds, twigs and bark. It is lined with fine grass, rootlets and hair.
Female lays 4 to 5 eggs. Eggs are white, bluish white, or brownish white, with various dark spots. Incubation lasts about 11 to 12 days, by female. Chicks hatch altricial, and are fed by both parents. Young leave the nest at about 9 to 12 days of age, and they hide in shrubby area.
This species may produce up to two clutches per season.
DIET:
Lark Sparrow feeds mostly on seeds and insects, mainly grasshoppers.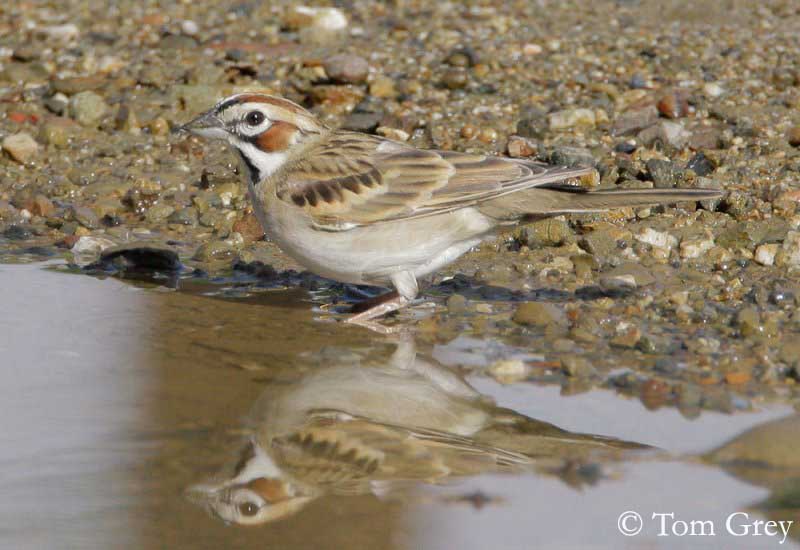 PROTECTION / THREATS / STATUS:
Lark Sparrow populations are not threatened or endangered, but deforestation to make agricultural areas may be an important threat for the species.
Lark Sparrow hosts for Brown-headed Cowbird.
Pesticides used to control grasshoppers are potential threat.
Fr: Bruant à joues marron
All : Rainammer
Esp : Sabanero Arlequín
Ital : Passero calandra
Nd : Streepkopgors
Sd : Lärksparv
Photographs by Tom Grey
His website: Tom Grey's Bird Pictures
Photographs by Bob Moul
His website: Nature Photography
Text by Nicole Bouglouan
Sources :
FIELD GUIDE TO THE BIRDS OF NORTH AMERICA - National Geographic Society - ISBN: 0792274512
THE HANDBOOK OF BIRD IDENTIFICATION FOR EUROPE AND THE WESTERN PALEARCTIC by Mark Beaman, Steve Madge - C.Helm - ISBN: 0713639601
All About Birds (Cornell Lab of Ornithology)
What Bird-The ultimate Bird Guide (Mitchell Waite)
Bird Web (Seattle Audubon Society)