Hudsonian Godwit
Limosa haemastica
Charadriiforme Order – Scolopaciade Family
BIOMETRICS:
Length: 36-42 cm
Wingspan: 66-76 cm
Weight: 195-358 g
DESCRIPTION:
Hudsonian Godwit is a large shorebird, with a long, slightly upturned bill with dark tip and reddish base, and long blackish legs.
Adult summer has deep red colour extending from breast to vent, and breast and flanks are heavily barred, with some fine streaks on belly. Sides of head and neck are pale-greyish, with heavy dark streaking, contrasting with red breast. Tail is black with a wide white band near the base.
Adult winter has unstreaked ashy-grey upperparts, head, neck and breast, and a short pale supercilium. It has dark wing linings and narrower white wing stripe than Black-tailed Godwit. It's very distinctive in flight.
Juvenile is similar to non breeding adult, but browner and with pale tips to back feathers.
Fr: Barge hudsonienne
All: Hudsonschnepfe
Esp: Aguja Café
Ital: Pittima di Hudson
Nd: Rode Grutto
Sd: Hudsonspov
Photographs by Bob Moul
His website: Nature Photography
Text by Nicole Bouglouan
Sources:
HANDBOOK OF THE BIRDS OF THE WORLD Volume 3 by Josep del Hoyo-Andrew Elliott-Jordi Sargatal - Lynx Edicions - ISBN : 8487334202
FIELD GUIDE TO THE BIRDS OF NORTH AMERICA - National Geographic Society - ISBN: 0792274512
THE HANDBOOK OF BIRD IDENTIFICATION FOR EUROPE AND THE WESTERN PALEARCTIC by Mark Beaman, Steve Madge - C.Helm - ISBN: 0713639601
GUIDE DES LIMICOLES de D. Taylor - Delachaux et Niestlé - ISBN : 2603014080
SHOREBIRDS by Peter Hayman, John Marchant and Tony Prater – Christopher Helm – 1986 – ISBN: 0747014035
All About Birds (Cornell Lab of Ornithology)
What Bird-The ultimate Bird Guide (Mitchell Waite)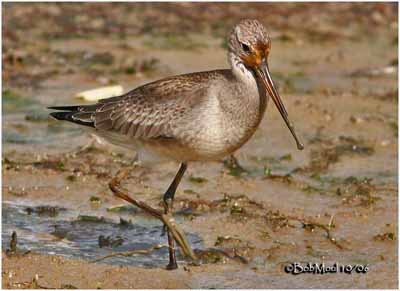 Female is larger and longer-billed than male, with more patchily red below in summer plumage.
VOICE: SOUNDS BY XENO-CANTO
Hudsonian Godwit is relatively silent away from breeding grounds. Calls include a soft "chow-chow", and a sharp, nasal "kip" or "ket". Other call is a rising "toe-wit".
HABITAT:
Hudsonian Godwit breeds in wet grassy tundra, usually close to pools or lakes. At other times, it lives on tidal mudflats, freshwater or brackish lakes and marshes, flooded grasslands and rice fields.
RANGE:
Hudsonian Godwit breeds in scattered locations in the coastal Arctic, from western Alaska to the shore of Hudson Bay in northern Manitoba and Ontario. It winters in southern South America.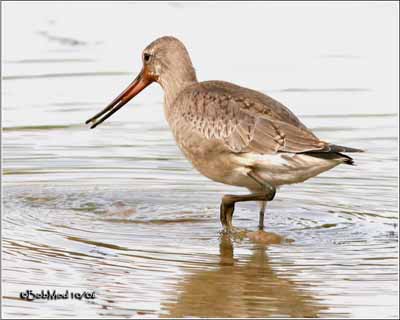 BEHAVIOUR:
Hudsonian Godwit use deeper water when feeding than other shorebirds. Coastal populations forage daily in salt marshes and on tidal mudflats. Bulk of population feeds on tidal mudflats of large bays in winter, and roosts on small islands and floating vegetation and in grassy fields.
Most food is obtained by probing with the long bill which can be opened at the tip to grasp food.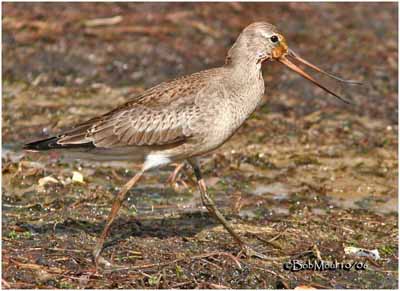 Gleaning from vegetation, mud, and the water surface is also frequent means of food acquisition.
During the breeding season, monogamous pairs form on the breeding grounds, through a courtship process of display flights.
During migration, most of birds apparently fly at least 2,800 miles non-stop. For spring migration, Hudsonian Godwit flies through Northern America, and Central America coasts, South America Atlantic coasts to south-western. For fall migration, birds fly through Brazil, through Atlantic Ocean to Boston, Hudson Bay and coastal Arctic.
FLIGHT:
Hudsonian Godwit can make non-stop flights of several thousand miles (2,800 miles) when migrates from the subarctic to southern South America. They migrate in flocks.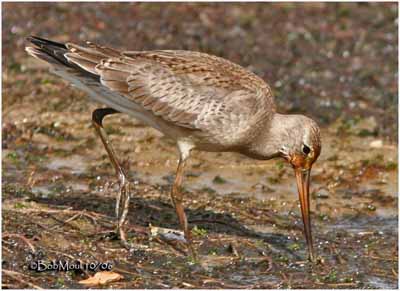 REPRODUCTION:
Hudsonian Godwit's nest is a simple ground depression, probably formed by the male in a mound of moss or other soft vegetation, on a dry hummock, often under a dwarf birch.
Female lays 2 to 4 brown-spotted olive tan eggs. Apparently, both sexes incubate, for about 25 days. Both parents brood and guard the precocial chicks until they fledge, in just less than four weeks.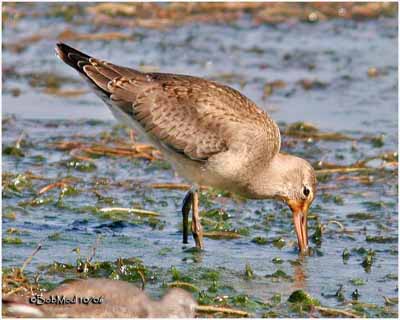 DIET:
Hudsonian Godwit feeds primarily on insects inland, but also crustaceans, molluscs and marine worms. Their preys include flies, beetles, snails, molluscs, amphipods, crabs, clams and worms. During migration, they eat plant tubers.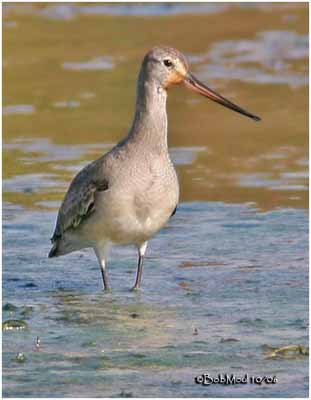 PROTECTION/THREATS/ STATUS :
Populations of Hudsonian Godwit are generally stable. They were seriously depleted in the 19th century, due to hunting pressures.
It is now known to be much more numerous, but it's still considered highly vulnerable, because these populations are concentrated at only a few sites. Over 80% of the world's populations are believed to nest in the North American boreal region.
Habitat loss and degradation due to oil and gas development on their areas, overgrazing by geese, and wetland conversion have replaced hunting as the primary threats to this species.