Hooded Warbler
Setophaga citrina
Passeriforme Order – Parulidae Family
BIOMETRICS:
Length: 13 cm
Weight: 9-12 g
LONGEVITY: Up to 8 years
DESCRIPTION:
Hooded Warbler is the only warbler with a combination of greenish upperparts, yellow underparts and conspicuous white on outer tail feathers, lacking any streaking or wing bars. Bill is blackish, thin and pointed. Legs are pink-brown.
Male has a black hood and upper breast, and clear yellow ear-coverts and forehead.
PROTECTION / THREATS / STATUS:
Ongoing forest loss and fragmentation of suitable forest are major limiting factors, as is agricultural and other development throughout the Canadian range. Little information exists on the effects of pesticides or other toxics on the Hooded Warblers.
This species is fairly widespread in the eastern of United States, and increasing according to Breeding Bird Survey data.
Fr: Paruline à capuchon
All: Kapuzen-Waldsänger
Esp: Chipe Careto
Ital: Parula dal cappuccio
Nd: Monnikszanger
Russe: Капюшонная вильсония
Sd: Kapuschongskogssångare
Photos du mâle par Tom Merigan
Son site : Tom Meriganís Photo Galleries
Photos de la femelle par Bob Moul
Son site : Nature Photography
Texte de Nicole Bouglouan
Sources:
A GUIDE TO THE BIRDS OF MEXICO AND NORTHERN CENTRAL AMERICA by Steve N. G. Howell, Sophie Webb - Oxford University Press - ISBN: 0198540124
BIRDS OF THE GREAT BASIN – by Fred A. Ryser - Univ of Nevada Pr -ISBN: 0874170796
FIELD GUIDE TO THE BIRDS OF NORTH AMERICA - National Geographic Society - ISBN: 0792274512
THE HANDBOOK OF BIRD IDENTIFICATION FOR EUROPE AND THE WESTERN PALEARCTIC by Mark Beaman, Steve Madge - C.Helm - ISBN: 0713639601
All About Birds (Cornell Lab of Ornithology)
What Bird-The ultimate Bird Guide (Mitchell Waite)
Wikipedia (Wikipedia, The Free Encyclopedia)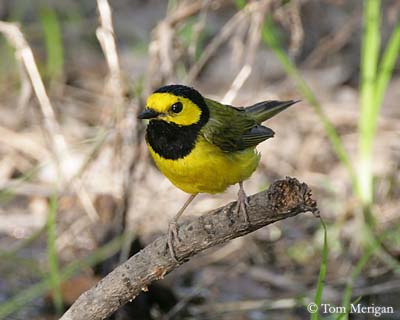 Female resembles female Wilson's Warbler (Winsome pusilla) but she is larger, with a larger bill, a longer, fuller and more round-tipped tail, with much white in outer feathers, a dusky stripe on lore and a more clear-cut border between yellow face and greenish nape.
Immature are like adult, but with less black. Three years or more are required to reach fully adult plumage.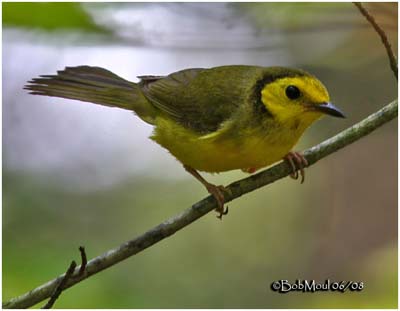 VOICE: SOUNDS BY XENO-CANTO
Hooded Warbler's call includes a sharp "chip" (loud and metallic when agitated), and a higher "cheep". Song is a loud, rapid, clear, ringing "weeta-weeta-wee-tee-o", with the "tee" note much higher than rest of song, and final part is loud and emphatic.
HABITAT:
Hooded Warbler breeds in the dense low understorey of mature deciduous woodlands, often near streams. It is fairly common in swamps and moist woodlands.
RANGE:
Hooded Warbler breeds from S Wisconsin, S Ontario and Connecticut, southward to E Texas and N Florida. It winters in S Mexico, Central America and Caribbean.
BEHAVIOUR:
Hooded Warbler feeds in low bushy cover, but not very skulking, readily hovering and actively flitting and flycatching while feeding, showing conspicuous white outer tail. It is also adept at catching airborne insects.
Hooded warbler is a strongly territorial bird on the wintering grounds.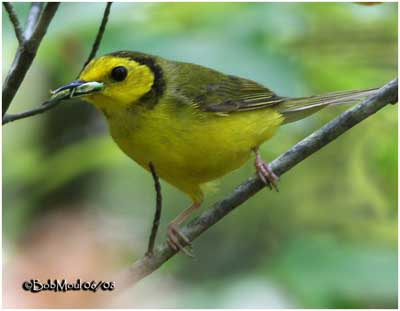 Male and female are using different habitat. Male prefers mature forest, while female lives in scrubbier forest, and seasonally in flooded areas.
When breeding season occurs, males arrive first, singing loudly while claiming their territories. Females follow shortly afterwards, settling on male territories within several days of their arrival.
Male defends nesting and feeding territories and most attracts a single mate, some males have two females nesting on their territory at the same time.
Female chooses nest site and builds the nest, an open cup of woven plants parts.
FLIGHT:
Hooded Warbler has an agile flight, flitting and flycatching to feed on insects.
REPRODUCTION:
Hooded Warbler's nest is placed in the forks of twigs in low thickets, 30 to 180 centimetres above the ground.
Female builds the nest. This one is neat, compact, made with bark strips, dried plants and soft grasses.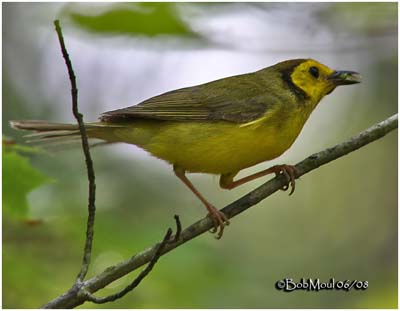 Female lays 3 to 4 creamy-white, brown-spotted eggs. Incubation lasts 12 days by female. Young leave the nest 8 to 10 days after hatching, and fly away 2 or 3 days later. Both parents tend to the young for up to 8 weeks after hatching.
This species usually produces one single brood per year, occasionally two.
DIET:
Hooded Warbler feeds mainly on insects, ants, grasshoppers, locusts, caterpillars, beetles and larvae. They also eat spiders and small arthropods.