Green Bee-eater
Merops orientalis
Coraciforme Order – Meropidae Family
BIOMETRICS :
Length: 16-18 cm – 10 cm more with the tail
Wingspan: 29-30 cm
Weight: 15-20 g
DESCRIPTION:
Green Bee-eater is the smallest species.
PROTECTION / THREATS / STATUS:
This species is not threatened at this moment. Green Bee-eater is common or locally common throughout the large range.
Fr : Guêpier d'Orient
All : Smaragdspint
Esp : Abejaruco Esmeralda
Ital : Gruccione verde piccolo
Nd : Kleine Groene Bijeneter
Russe : Зеленая щурка
Sd : Grön dvärgbiätare
Photographers :
Aurélien Audevard
OUESSANT DIGISCOPING
Niraj V. Mistry
Photo Galleries
Didier Buysse
Vision d'Oiseaux
Text by Nicole Bouglouan
Sources:
HANDBOOK OF THE BIRDS OF THE WORLD Vol 6 by Josep del Hoyo-Andrew Elliott-Jordi Sargatal - Lynx Edicions, 2001 - ISBN: 848733430X
THE HANDBOOK OF BIRD IDENTIFICATION FOR EUROPE AND THE WESTERN PALEARCTIC by Mark Beaman, Steve Madge - C.Helm - ISBN: 0713639601
BIRDS OF THE MIDDLE EAST by R.F. Porter, S. Christensen, P Schiermacker-Ansen C.Helm - ISBN: 0713670169
Wikipedia (Wikipedia, The Free Encyclopedia)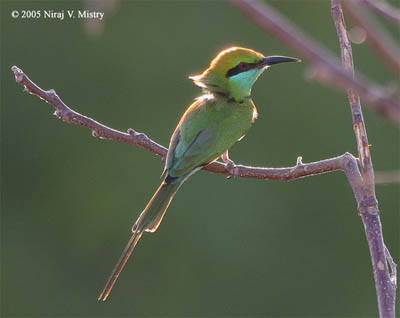 It is mostly bronze-green, with golden-green crown and nape, black eye line, pale bluish-green cheeks, chin and throat, and narrow black half-collar between throat and breast.
Wings show black trailing edges.
Outer undertail feathers are shiny grey, and median rectrices are long and purplish. Streamers may reach up to 7 cm in male.
Black bill is long and down-curved. Eyes are deep red. Legs and feet are blackish.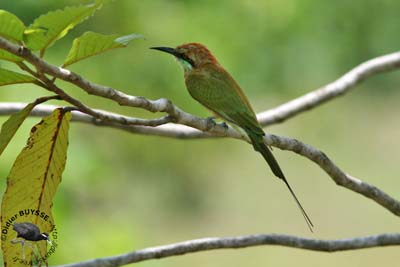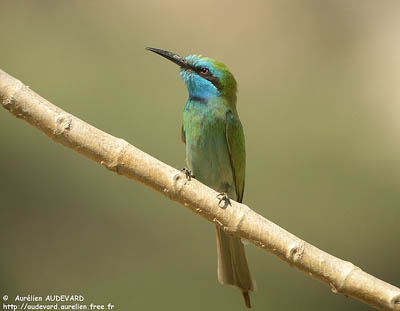 Female is similar to male, but she has shorter streamers, duller throat and narrower half collar.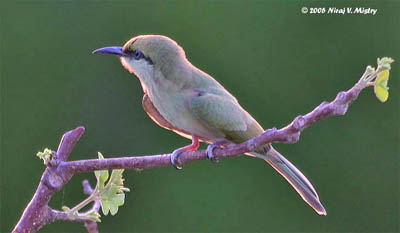 Juvenile is duller. It lacks half collar. Eye line is duller and paler. Breast is pale green and belly almost white.
We can find several races (8 subspecies) which differ by throat, crown and nape colours. We can notice some differences in black half collar's width and streamers' length.
The subspecies « beludschicus » from south Iraq and NW India (displayed here), has golden-green crown and nape, pale blue chin turning greener on lower throat, very narrow half collar and streamers of about 6 cm.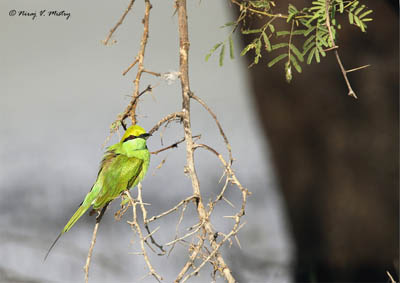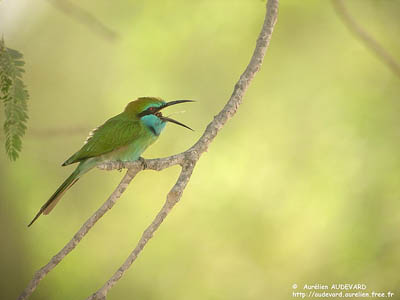 VOICE: SOUNDS BY XENO-CANTO
Green Bee-eater utters a repeated, sweet trill "triiie". Sometimes, it may give a shrill "tit-tit-tit", or a loud 'prrrit'.
HABITAT:
Green Bee-eater frequents wooded areas with scattered trees and bushes, near streams and shores. It is also found in arid areas with Acacia and date palms, dunes, close to cultivated areas and large gardens. It likes sandy and bare soils. This species can be seen from sea-level up to 2000 metres of elevation.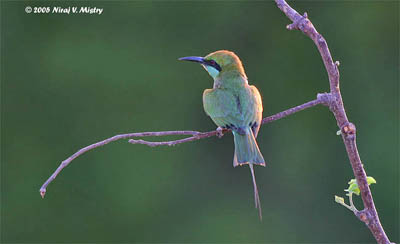 RANGE:
Green Bee-eater is found in W India, E Bangladesh, S Sri Lanka, Central Africa, S and E Asia.
This species is resident or partially migratory in Africa, whereas it is mainly migratory in Asia. It also performs post-breeding dispersions and some altitudinal migrations, according to the range.
It is more resident in Israel and Egypt.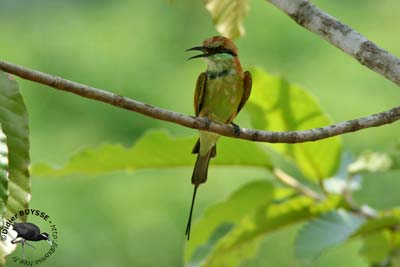 BEHAVIOUR:
Green Bee-eater is usually less gregarious than other bee-eaters. It often nests alone or in small groups. They sleep in flocks at roosts, perched high in trees.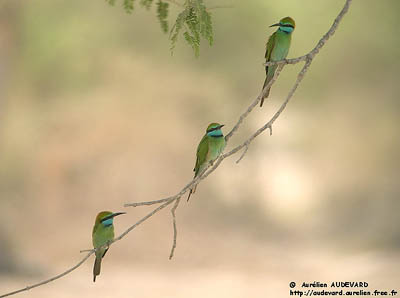 Outside the night, this bird perches fairly low. It hunts from a perch, fence, small thorny tree, but it is less aerial than other bee-eaters. It usually hunts low from the ground, performing short swoop before to return to its perch.
It may sometimes perch on cattle's back or grazing antelope, and perform sallies close to the ground into vegetation for catching some insect.
Before swallowing its prey, it removes the dart by striking several times the insect against a hard surface.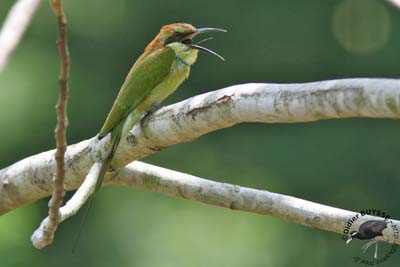 FLIGHT:
Green Bee-eater has agile flight. It sallies low from the ground into vegetation in order to catch preys.
REPRODUCTION:
Breeding season varies from March to June and sometimes from July to August according to the range.
Green Bee-eater is solitary nester in Africa and Arabia, whereas we can find small colonies in India, and larger colonies (10 to 30 pairs) in Pakistan and Myanmar.
Green Bee-eater nests in burrows, dug by both adults into flat ground or gentle slope in Africa, or often into low shore in Asia.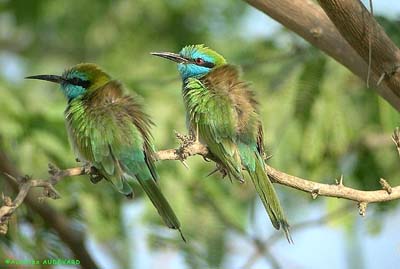 The burrow is between one and two metres length, with a nest-chamber of about 15 cm at the end.
Female usually lays 4-8 white eggs in this chamber. Incubation lasts about 18 to 22 days, mainly by female. Young remain at nest during 22 to 31 days and they are fed by both parents.
DIET:
Green Bee-eater feeds on Hymenoptera, bugs, termites, beetles, moths and a lot of flies. It also consumes some butterflies, crickets, dragonflies, spiders and caterpillars.