Great Spotted Woodpecker
Dendrocopos major
Piciforme Order – Picidae Family
BIOMETRICS:
Length: 20-24 cm
Weight: 70-98 g
DESCRIPTION:
Great Spotted Woodpecker is the most widespread and common.
Male has black and white plumage, with red vent and rear crown. Forehead is buffy-white. Crown is black. Cheeks and throat are white. We can see its black moustache, joining the red nape, descending towards the chest and joining again the black back while it borders a white patch on the side of the neck.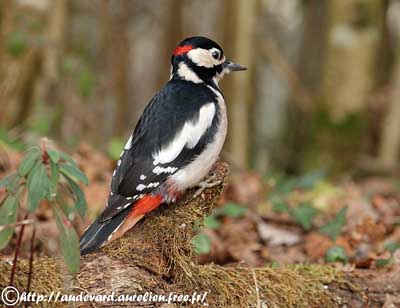 Upperparts are black, with white large patches on wings and white edges on primaries. Tail is black with white spots on outer feathers.
Underparts are whitish with a broad black semi-collar on upper breast, and red vent.
The strong pointed bill is black. Eyes are dark, surrounded by a fine white stripe. Legs and zygodactylous feet are greyish. It has long sticky tongue, to extract insects and larvae from bark crevices.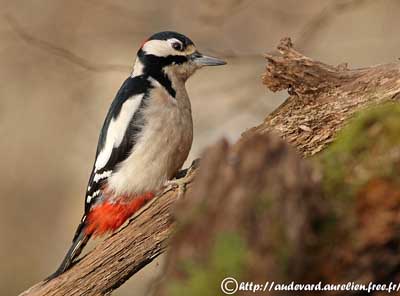 Female has entire black crown.
Juvenile is browner with duller plumage than adults.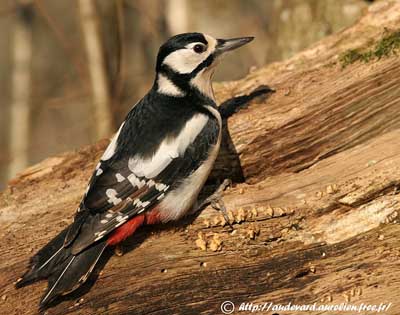 We can observe some variations in plumage. Birds of west and south of Europe have brownish-white forehead and underparts, and weaker bill. Birds from Algeria and Tunisia have black and red chest, and red of the vent extending to belly.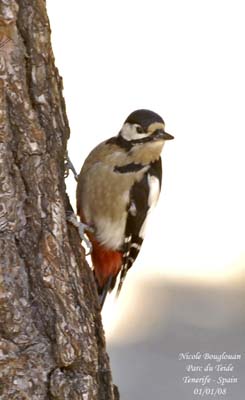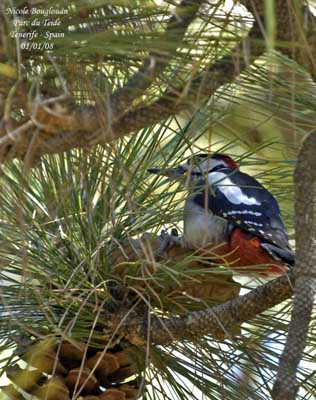 The subspecies Dendrocopos major canariensis has browner underparts contrasting with whitish flanks. Vent is more red-orange.
VOICE: SOUNDS BY XENO-CANTO
Great Spotted Woodpecker utters typical call "kik" or "pik". It is a short, sharp, and high-pitched explosive note. It also utters a softer and lower pitched "chick", as other woodpeckers. We can also hear rattling trills.
It uses drumming during territorial displays. Male and female are striking dead branch, giving a series of rapid blows with the bill to get a resonance. Each drum includes 16 blows in less than a second, with interval of a few seconds.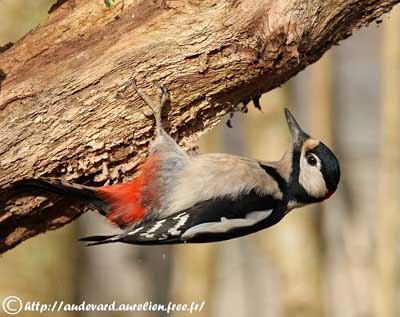 HABITAT:
Great Spotted Woodpecker lives in forests and woodlands of all types, hedgerows trees, orchards, parks and large gardens, from arctic taiga to Mediterranean areas.
RANGE:
Great Spotted Woodpecker lives from Northern Eurasia to Middle-East, Canary Islands and Northern Africa. It is sedentary and resident in its range. Some northern populations can migrate southwards in winter, according to the food resources.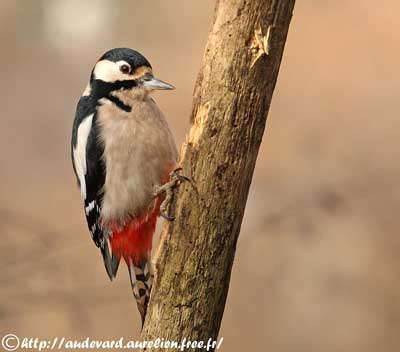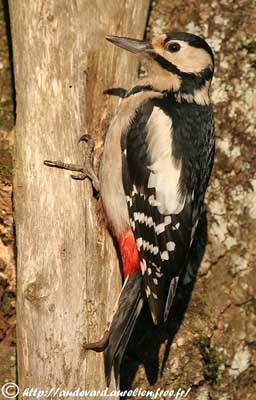 BEHAVIOUR:
Great Spotted Woodpecker feeds mostly in trees, on trunks and large branches. It drills holes to get sap, and insects attracted by it.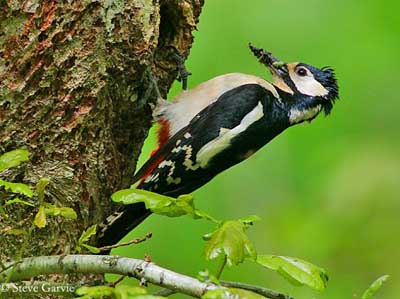 It also may feed on the ground, but rarely.
To feed, it catches pine-cones or nuts between the bark, in order to open the seeds with its beak.
It works upwards on the trunk, and also side to side, taping the bark to extract food from crevices, with the tip of its sticky tongue. It turns around the trunk probably to avoid observation.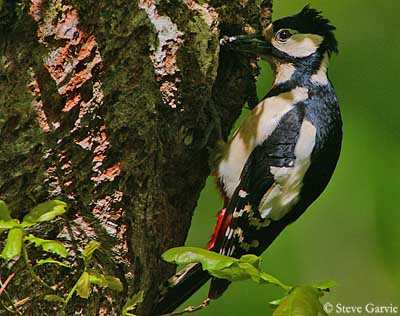 Spring is announced by early morning drumming, and aerial chases with 2 or 3 birds through the canopy, while they chatter loudly. It is time for the male to perform its annual territorial drumming solo.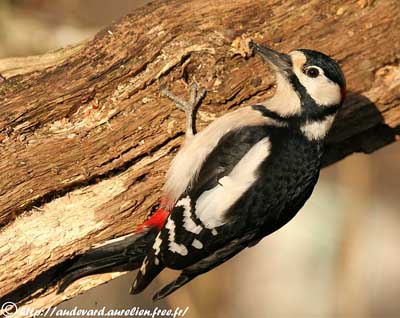 Flight displays are performed by both adults. They perform spiral flight, and then, they alight close to the trunk with semi-open and quivering wings.
Great Spotted Woodpecker is very shy, and outside breeding season, it is solitary. It roosts in old holes in trees. It lives often hidden among foliage, often advertised by its drumming.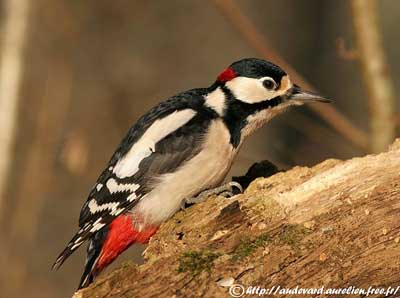 FLIGHT:
Great Spotted Woodpecker has strong undulating flight, with white wing patches very conspicuous.
REPRODUCTION:
Great Spotted Woodpecker nests in holes. Both adults excavate this hole, in March and April. They use a new nest each year, and they excavate the hole during one or two weeks, according to the hardness of the wood. The chamber of the nest is about 30 cm deep, and the entrance is oval-shaped, at about 4 metres above the ground. The chamber is lined with wood chips.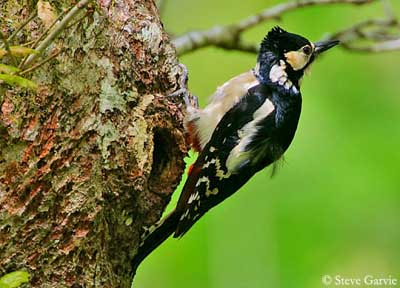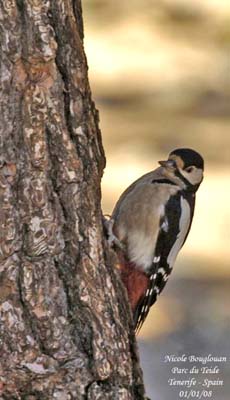 Female lays 4 to 7 white eggs, between mid-May and early June. Incubation lasts about 16 days, by female during the day, and by male at night. Chicks hatch altricial, and both parents feed them. They fledge at about 18 to 21 days of age. They reach their sexual maturity at one year.
Adults keep the nest clean, removing the chick's droppings. Young are very noisy. Adults remain in nearly area while chicks are in the nest.
This species produces only one brood per year.
DIET:
Great Spotted Woodpecker feeds on seeds and nuts, invertebrates (especially beetles and larvae) and also eggs and bird's nestlings.
PROTECTION / THREATS / STATUS:
Great Spotted Woodpecker is common and widespread, but deforestation is the most important threat for Woodpeckers.