Fan-tailed Raven
Corvus rhipidurus
Passeriforme Order – Corvidae Family
BIOMETRICS:
Length: 47 cm
Wingspan: 102-120 cm
Weight: 340-550 g
DESCRIPTION:
Fan-tailed Raven is a distinctive black crow of the Middle East and Tibesti. Remarkably short in length, its rounded tail gives it distinctive shape in flight. It appears to be tailless, an appearance enhanced by its very broad wings. On the ground, primaries project well beyond end of tail.
Fan-tailed Raven is completely black including bill, legs and feet. It's a large bat-winged black crow. When fresh, plumage is entirely glossy blue-black, with some additional purple and bronze iridescence marked in certain light. When worn, blue and purple tones become oily-blue bronze or even copper, and bird may then look browner.
Both sexes are similar.
Juvenile lacks slight gloss of adult, and worn plumaged birds of all ages may become brownish.
Fr: Corbeau à queue courte
All : Borstenrabe
Esp: Cuervo de Cola Abanico
Ital: Corvo coda a ventaglio
Nd: Waaierstaartraaf
Russe: Трубастый ворон
Sd: Kortstjärtad korp
Photographers:
Jean Michel Fenerole
Photos d'Oiseaux du monde
Text by Nicole Bouglouan
Sources:
BIRDS OF AFRICA SOUTH OF THE SAHARA by Ian Sinclair and Peter Ryan - Princeton University Press Princeton and Oxford - ISBN: 0691118159
THE HANDBOOK OF BIRD IDENTIFICATION FOR EUROPE AND THE WESTERN PALEARCTIC by Mark Beaman, Steve Madge - C.Helm - ISBN: 0713639601
BIRDS OF THE MIDDLE EAST by R.F. Porter, S. Christensen, P Schiermacker-Ansen C.Helm - ISBN: 0713670169
SORA Searchable Ornithological Research Archive (Blair O. Wolf)
Wikipedia (Wikipedia, The Free Encyclopedia)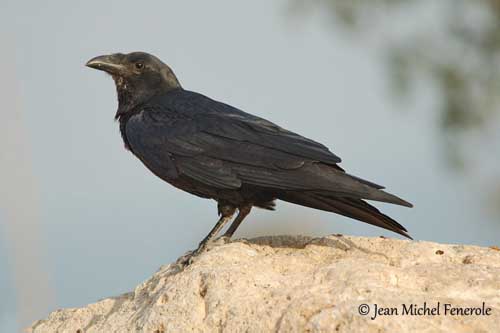 VOICE: SOUNDS BY XENO-CANTO
Fan-tailed Raven's typical call is a high pitched, croaked "craa-craa", much less harsh than calls of other black crows. Other calls include an almost trumpet-like "parp-parp".
HABITAT:
Fan-tailed Raven is locally common. It lives in cliff faces and adjacent terrain in desert regions. Breeds mainly in semi-arid or arid regions, preferring presence of cliffs or crags suitable for nesting, and creating opportunities for habit of playing and soaring in thermals.
RANGE:
Fan-tailed Raven is chiefly sedentary in Africa. It is also resident in Saudi Arabia, with some movements southwards.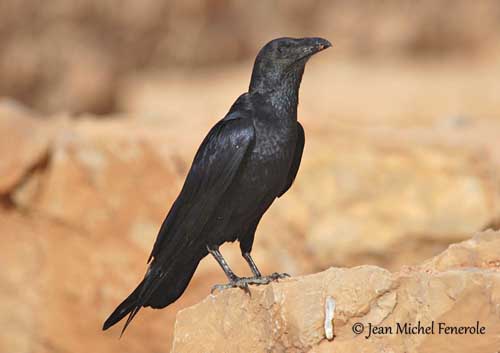 BEHAVIOUR:
Fan-tailed Raven forages on the ground in pairs, or more frequently, in flocks at rubbish dumps, picnic sites… It is mainly recorded scavenging near human settlements, for offal, scraps and rubbish. It may travel long distance to find food.
Fan-tailed Raven is essentially sedentary, with local movements. Often relatively tame, it freely scavenges about habitations. Sociable, it is generally found in small flocks.
FLIGHT:
Fan-tailed Raven soars and sails effortlessly over barren cliff faces. Its short and rounded tail gives it a distinctive shape in flight. Its large wings are adapted to gliding on thermals in a rather vulture-like way.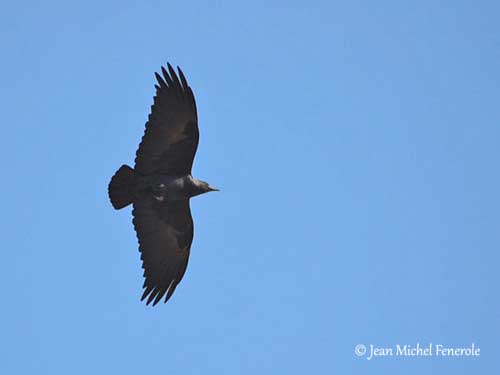 REPRODUCTION:
Fan-tailed Raven's nest is located in crevice, or sheltered ledge, inaccessible in sheer cliff, rarely on building. Nest is loosely constructed, platform and cup, with sticks, twigs and roots, lined with wool, hair, cloth, freshly plucked twigs and other soft material.
Female lays 3 to 4 smooth and glossy eggs. They are pale greenish-blue, blotched and speckled or finely streaked with olive-brown and dark-brown. Incubation lasts 18 to 20 days.
DIET:
Fan-tailed Raven scavenges for offal and rubbish. It also takes insects and other invertebrates, berries and fruit.
PROTECTION / THREATS / STATUS:
Fan-tailed Raven's nest is sometimes parasitized by Great-spotted Cuckoo (Clamator glandarius) as a brood host. Populations are not globally threatened.