Eurasian Nuthatch
Sitta europaea
Passeriforme Order – Sittidae Family
BIOMETRICS:
L: 14 cm
Weight: 17-28 g
LONGEVITY: up to 9 years
DESCRIPTION:
Eurasian Nuthatch is a medium-sized bird.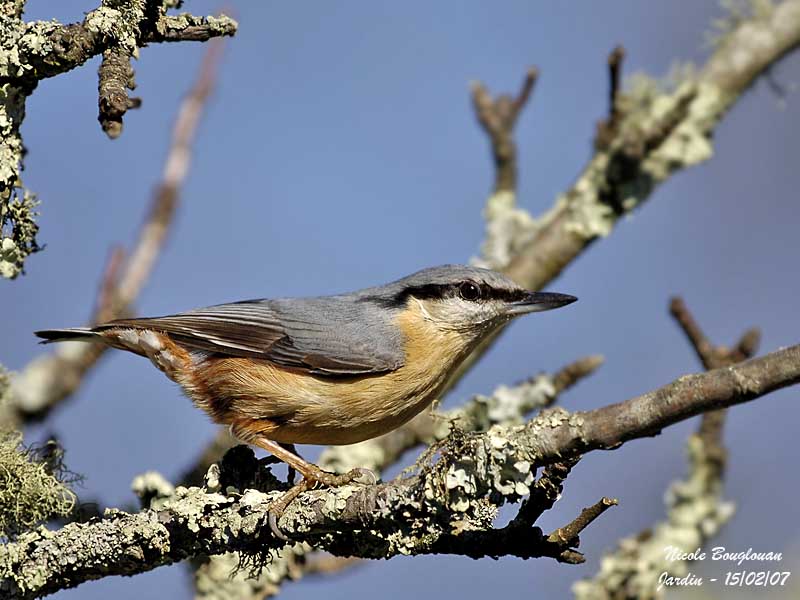 Adult male has blue grey upperparts, including wings and tail. Flight feathers are darker, brownish-grey.
The underparts are buffy white with rufous flanks and vent. The undertail coverts appear as a mottled rufous and white patch. Underwings are grey with black primary coverts.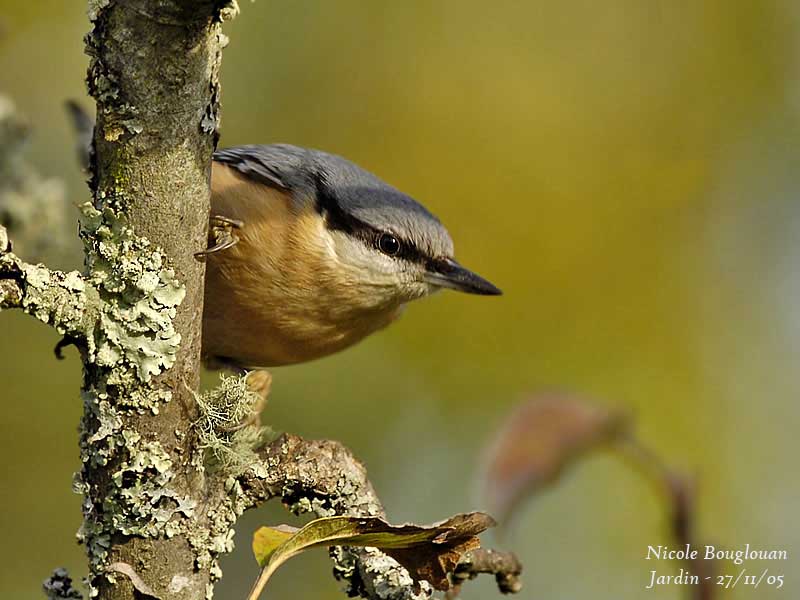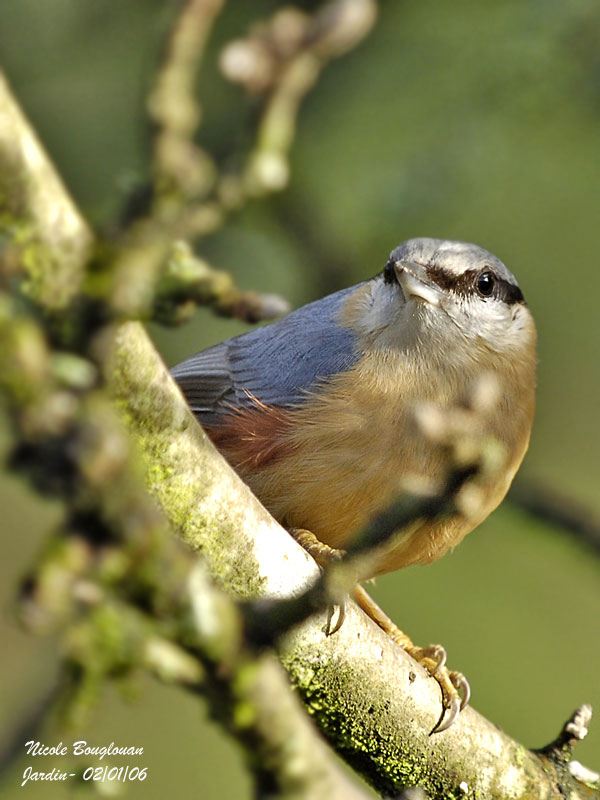 On the head, forehead and crown are blue grey. We can see a conspicuous black eye stripe from the upper base of the bill, extending through the eye and behind until the nape sides. Cheeks and chin are whitish. Neck sides are buffy white as underparts.
The stout bill is dark grey with pale bluish base of lower mandible. Eyes are dark brown. Legs and feet are yellowish-brown to brown or dark grey.
Female is very similar but duller, slightly paler on the upperparts, with browner eye stripe and whiter underparts.
Juvenile resembles adult female but with paler plumage.
We can find numerous subspecies with variations in plumage, but with the same general pattern.
VOICE: SOUNDS BY XENO-CANTO
Eurasian Nuthatch is very vocal. It gives loud calls when excited, an abrupt 'twit", only one, or in slow series, but often in phrases of 3-4 notes in rapid succession. But in great excitement, it utters phrases of about ten notes per second!
We can also hear some shrill "sirrrr", becoming harsher in alarm call. The contact call is a thin "tsit" uttered before to take off.
The song is very variable, with rising and falling notes, sometimes with repetition of excitement calls.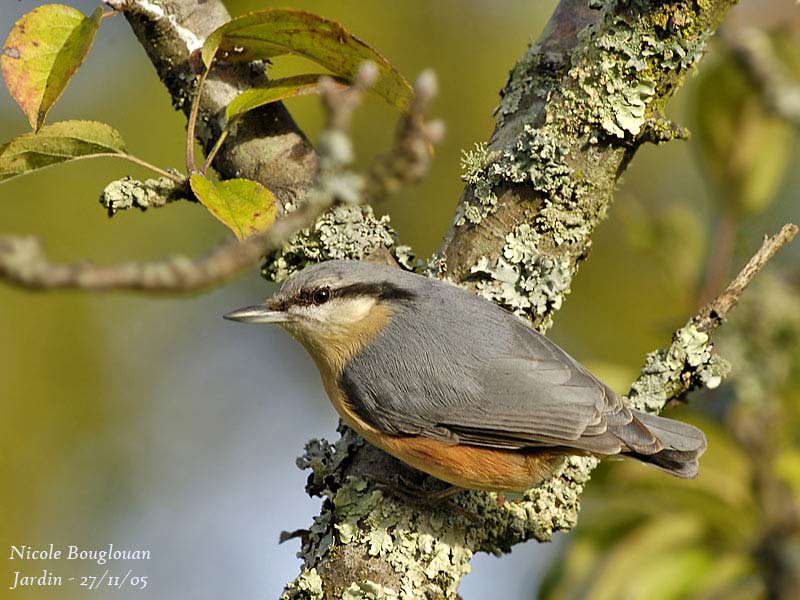 HABITAT:
Eurasian Nuthatch frequents deciduous and mixed woodlands, parks and gardens. This species needs large old trees with canopy for foraging and nesting.
It may be found at different elevation, according to the geographic range, in average from sea-level up to 2500 metres.
RANGE:
Eurasian Nuthatch is sedentary and widespread over most temperate Europe and Asia.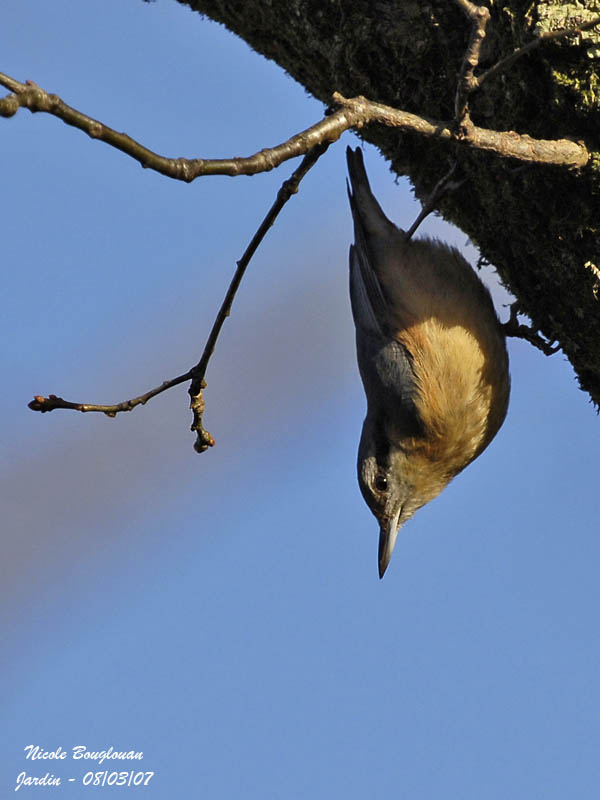 BEHAVIOUR:
Eurasian Nuthatch is a very agile bird, climbing up and down trunks and branches. It moves with one leg above the other, and performs jerky hops. It moves laterally in zigzag pattern, or along the underside of branches. It is able to hang upside-down, and to climb down trunks head first. It does not use the tail but it grabs with its long claws.
Eurasian Nuthatch moves easily on the ground too, performing series of hops.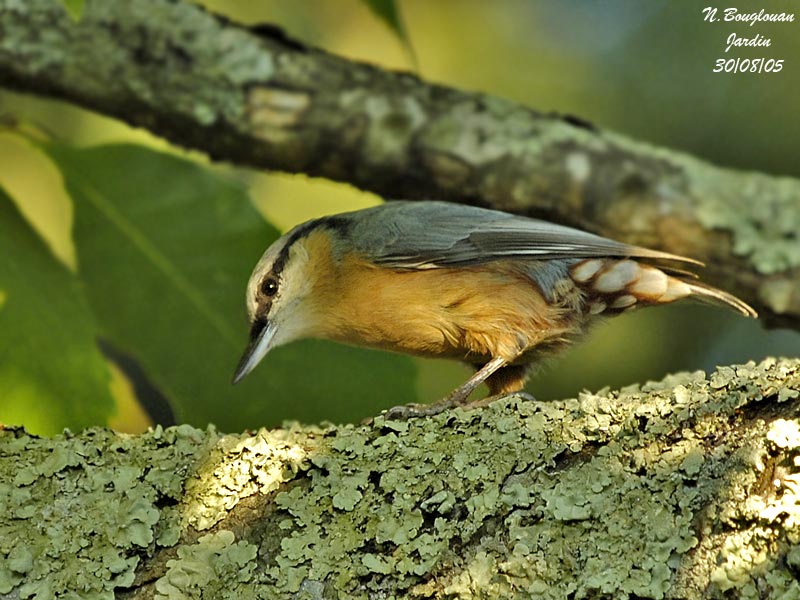 The feeding behaviour is particular. The bird wedges food items into the wood or bark's crevices and hammers them with its stout bill, helped by the weight of its body.
This species frequents bird-feeders near habitations, and drives away all the other birds because it is very aggressive.
Eurasian Nuthatch is very territorial in breeding season. This bird is sedentary and maintains its territory all year round, mainly if there are abundant food resources.
Usually, both mates stay in close contact, foraging in the same area and uttering frequent contact calls.
Disputes may occur if other nuthatches approach the boundaries. Both sexes call, perform short chases and displays.
The bird raises and spreads the tail, and points the bill upwards with half-opened and dropped wings.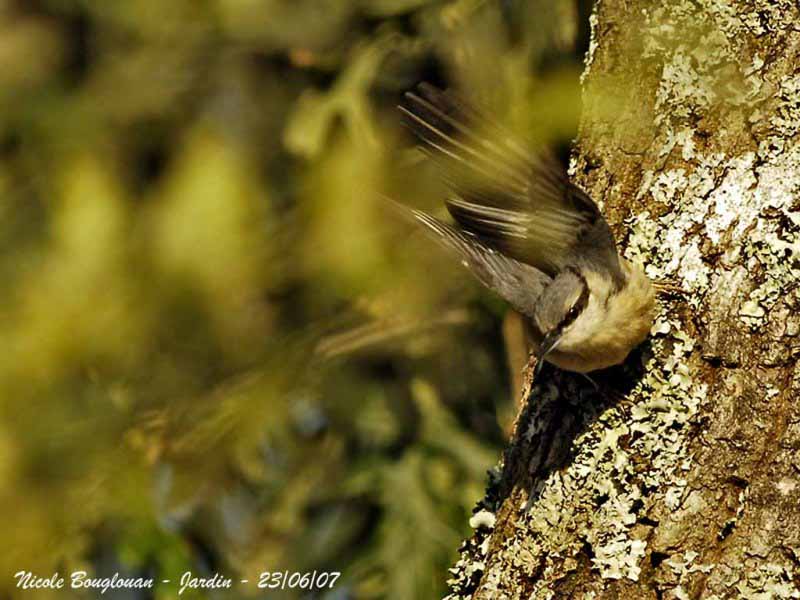 In more intense display, the bird sleeks its feathers, and wing and tail are widely opened. Both combatants may grapple with their feet, and peck. Combats can be very hard sometimes.
During the courtship displays, the male exposes the bright colours of the flanks, fluffs its plumage with opened wings. The tail is fanned in order to show the mottled patch of the undertail coverts.
FLIGHT:
Eurasian Nuthatch performs undulating flight over long distances, but usually, it flies briefly from tree to tree.
REPRODUCTION:
Breeding season occurs in April-May.
Eurasian Nuthatch is a cavity nester, monogamous and territorial. It does not excavate the hole, but occupies abandoned woodpecker's nest or natural cavity in tree.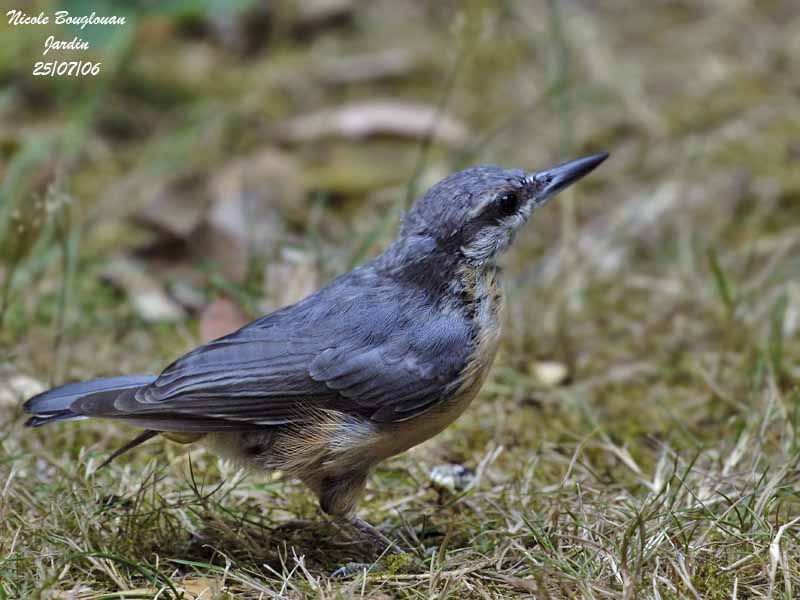 JUVENILE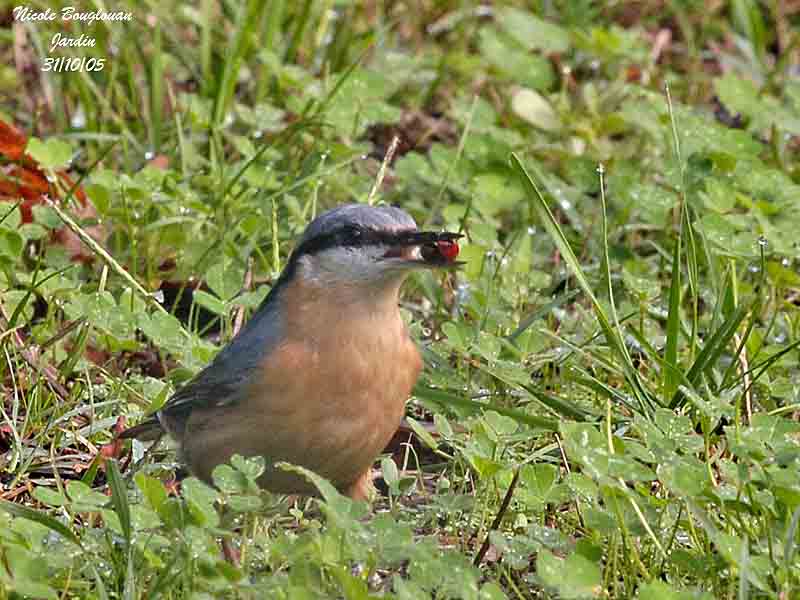 DIET:
Eurasian Nuthatch feeds mainly on insects, seeds, nuts and acorns. It may take sometimes sap and flower buds, and frequents the bird-feeders in winter.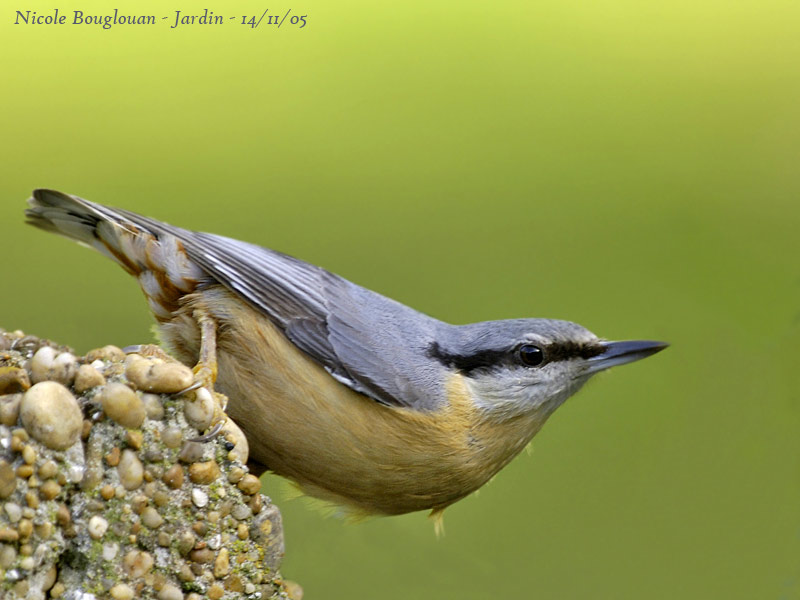 PROTECTION/ MENACES/ STATUS
Eurasian Nuthatch is common and widespread, but it needs large trees and the fragmentation and destruction of forests in some parts of the range cause some local declines.
The female lays 5 to 9 white eggs, with little reddish markings. She incubates during 13 to 18 days, and then, she broods the chicks.
Young are fed by both parents and the nesting period lasts about 19 to 29 days. They become independent one or two weeks later.
This species produces one brood per season, sometimes two.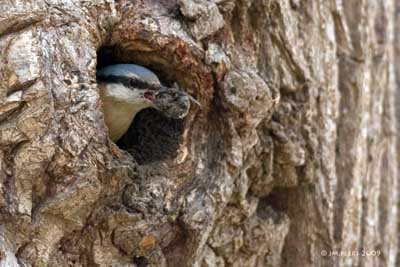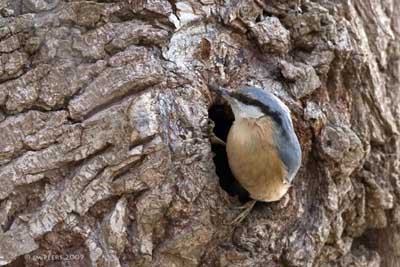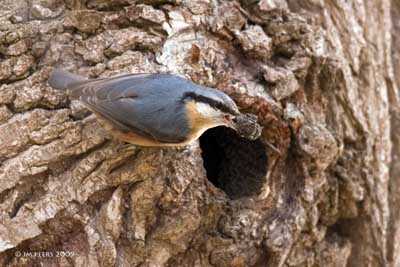 If the entrance is too large, the bird reduces it with mud, and may also plasters the interior for protection against the bad weather.
The interior of the cavity is lined with wood chips or bark, but rarely with other materials such as leaves or moss.
Female builds the nest almost alone and needs about 2-4 weeks. The nest-site may be reused for several years.