Egyptian Goose
Alopochen aegyptiacus
Anseriforme Order – Anatidae family
BIOMETRICS:
Length: 71-73 cm
Wingspan: 135-155 cm
Weight: 1500-2250 g
LONGEVITY: Up to 25 years
DESCRIPTION:
The Egyptian Goose has been introduced as ornamental bird in lakes and ponds. But this species breeds very well, and birds escaped from captivity have built populations living now in wild, near other ducks and geese.
Fr: Ouette d'Egypte
All : Nilgans
Esp : Ganso del Nilo
Ital: Oca egiziana
Nd: Nijlgans
Russe: Нильский гусь
Sd: Nilgås
Photographers:
Callie de Wet
GALLERY
Nicole Bouglouan
PHOTOGRAPHIC RAMBLE
Text by Nicole Bouglouan
Sources:
HANDBOOK OF THE BIRDS OF THE WORLD vol 1 by Josep del Hoyo-Andrew Elliot-Jordi Sargatal - Lynx Edicions - ISBN: 8487334105
L'ENCYCLOPEDIE MONDIALE DES OISEAUX - Dr Christopher M. Perrins - BORDAS - ISBN: 2040185607
GUIDE DES CANARDS, DES OIES ET DES CYGNES – de Steve Madge - Delachaux et Niestlé - ISBN: 2603013769
THE HANDBOOK OF BIRD IDENTIFICATION FOR EUROPE AND THE WESTERN PALEARCTIC by Mark Beaman, Steve Madge - C.Helm - ISBN: 0713639601
Birds of Britain - The Web Magazine for Birdwatchers
BirdLife International (BirdLife International)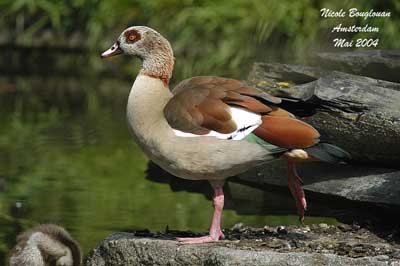 Egyptian Goose has buffy grey head, neck, chest and belly. A black line starts from the bill, surrounding the eye in a broad dark band. Another brown stripe forms a fine collar in lower neck and towards the nape.
The yellowish to greyish belly shows a dark patch of various sizes. Undertail coverts are cinnamon.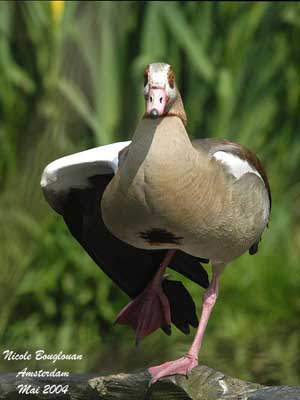 Usually, upperparts are dark brown. Scapulars are brownish, and rump and tail are black. Egyptian Goose has white wings, finely crossed by a narrow black line. Tertials are chestnut, secondaries are metallic green and primaries are black.
Bill and legs are dark pink. Eyes are brown.
Both sexes are similar in plumage, but the male is larger than the female.
Young lacks brown marks around eyes and on breast. White wings are duller than in adults. Bill and legs are yellowish grey. Eyes are brown. They reach their sexual maturity at about two years.
Nestlings have creamy-white plumage, with dark brown dorsal marks, and white colour behind the bill extending above and behind the eyes in narrow line. Bill and legs are dark grey.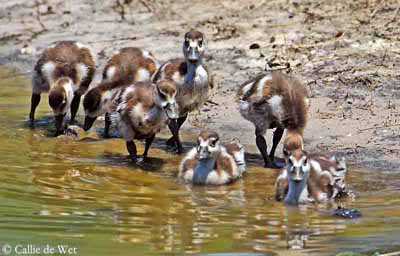 Egyptian Goose shows two morphs, one with brown-grey back and paler head pattern, and the other with reddish brown back. Its bearing is straighter than the most of Anatidae.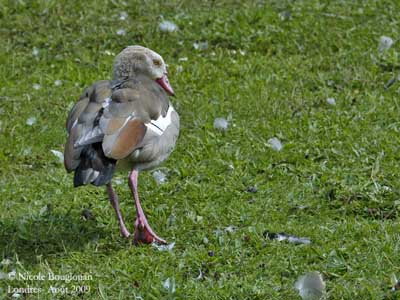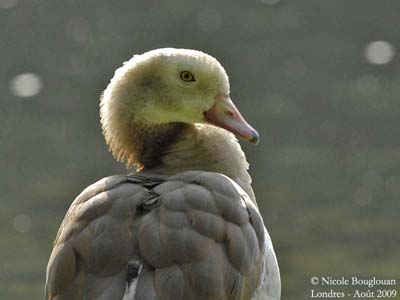 VOICE: SOUNDS BY XENO-CANTO
Territorial fights involve many chattering in both sexes Egyptian Geese. Male gives a raucous and wheezy whistle. Female utters a guttural shrill cackle "honk-haah-haah-haah"
HABITAT:
Egyptian Goose lives in tropical and subtropical wetlands, and in open areas, meadows, grasslands, including highlands up to 4000 metres.
GEOGRAPHIC RANGE:
Egyptian Goose is found in the Nile Valley and Africa, south of the Sahara.
Populations have been successfully introduced to United Kingdom and Netherlands.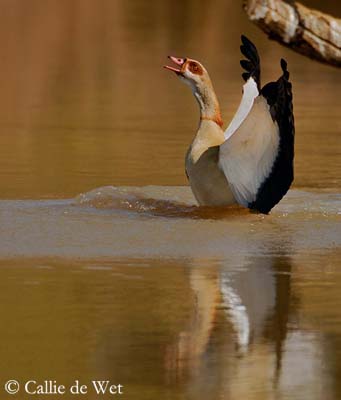 BEHAVIOUR:
Egyptian Goose is rather sedentary. Some dispersion occurs, according to the water resources. Occasionally, it can migrate to northern Sahara, and winter in Algeria and Tunisia.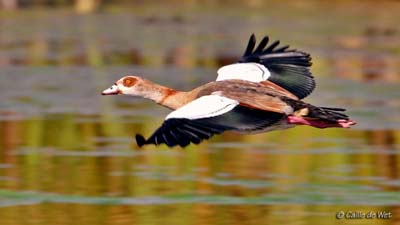 It takes off for feeding areas at dusk, foraging during several hours, but not during the entire night. It feeds by grazing vegetation, by dabbling at water surface too, and sometimes submerging the head underwater.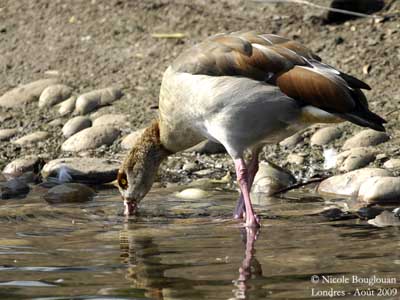 Egyptian Goose is territorial during breeding season. Some birds remain in isolated pairs outside this period, others are forming flocks. There is a strong aggressiveness between the birds within the group.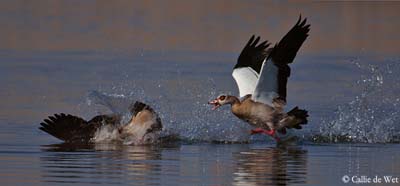 FLIGHT:
Egyptian Goose's flight seems to be heavy, more similar to a goose's flight than to that of a duck.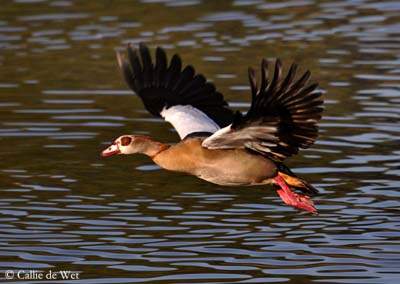 REPRODUCTION:
According to the place, nesting season starts in spring, or at the end of the dry season. Egyptian Goose's nest is on the ground, sheltered into vegetation, sometimes higher in tree or on a ledge, or in abandoned nests of other species at the top of a tree, or in a hole.
Nest is made with roots, leaves, grasses, and it is lined with down from the female's breast.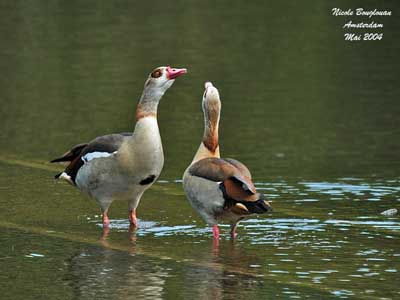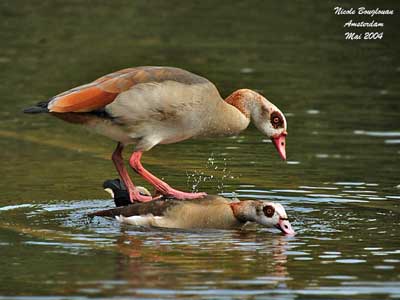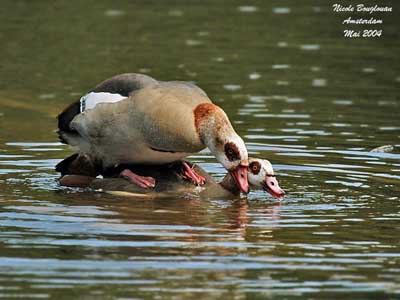 Female lays 5 to 11 creamy eggs. Incubation lasts about 28 to 30 days, by female alone. Births are synchronized. Both parents feed and care the chicks. Young fledge at about 60 to 75 days of age, but still remain with parents for several weeks or months more.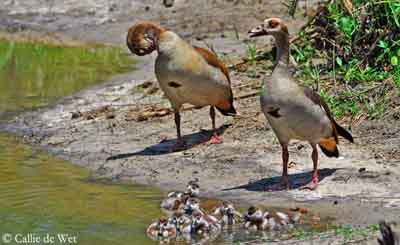 Chicks which are born in very high nests, must find courage to jump into the void when they leave the nest. Parents do not help them, but they call them from the ground to encourage them for making this sometimes vertiginous fall.
Pairs remain together for their entire life.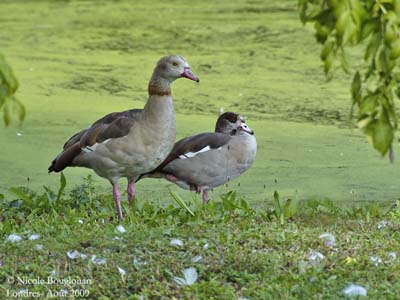 DIET:
Egyptian Goose feeds on grass, seeds, leaves and stems from various plants, grains, potatoes and other vegetables. It can also consume worms and locusts.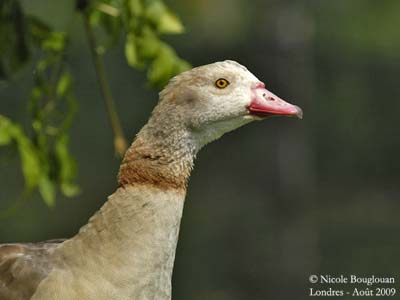 PROTECTION / THREATS / STATUS:
Egyptian Goose has predators such as Kites, large lizards, snakes, various mammals and tortoises which catch the young.
Crocodiles can threaten adults. Populations are abundant and not endangered.