Eastern Towhee
Pipilo erythrophtalmus
Passeriforme Order – Passerellidae Family
BIOMETRICS:
Length: 17-21 cm
Wingspan: 20-28 cm
Weight: 32-52 g
LONGEVITY: Up to12 years
DESCRIPTION:
Eastern towhee is fairly large, bulky, long-tailed, strong-billed, finch-like bird, with black (male) or dark brown (female) head, upper breast and upperparts, white central underparts, rusty flanks and sides of lower breast, buff undertail coverts, and white tail corners and wing patch (on primaries).
Bill is black and conical. Eyes are red (white in south-eastern birds). Legs and feet are pale brown.
PROTECTION / THREATS / STATUS:
Eastern towhee populations appear to be declining. This decline may be due to the habitat loss of woodland and edge habitats to development of land.
Frequent cowbird parasitism no doubt accounts for some of this decline.
Fr: Tohi à flancs roux
All : Rötelgrundammer
Esp : Rascador Zarcero
Ital: Pipilo fianchirossi
Nd: Roodflanktowie
Russe: Красноглазый тауи
Sd: Brunsidig busksparv
Photographs by Bob Moul
His website: Nature Photography
Photographs by Tom Grey
His website : Tom Grey's Bird Pictures
Text by Nicole Bouglouan
Sources:
THE HANDBOOK OF BIRD IDENTIFICATION FOR EUROPE AND THE WESTERN PALEARCTIC by Mark Beaman, Steve Madge - C.Helm - ISBN: 0713639601
A GUIDE TO THE BIRDS OF MEXICO AND NORTHERN CENTRAL AMERICA by Steve N. G. Howell, Sophie Webb - Oxford University Press - ISBN: 0198540124
BIRDS OF THE GREAT BASIN – by Fred A. Ryser - Univ of Nevada Pr -ISBN: 0874170796
FIELD GUIDE TO THE BIRDS OF NORTH AMERICA - National Geographic Society - ISBN: 0792274512
All About Birds (Cornell Lab of Ornithology)
What Bird-The ultimate Bird Guide (Mitchell Waite)
Wikipedia (Wikipedia, The Free Encyclopedia)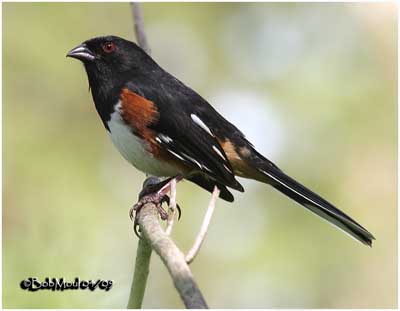 Juvenile resembles adult female, but is heavily streaked both above and below.
First winter resembles respective adult, but has browner flight feathers, and initially a drab, not red, iris.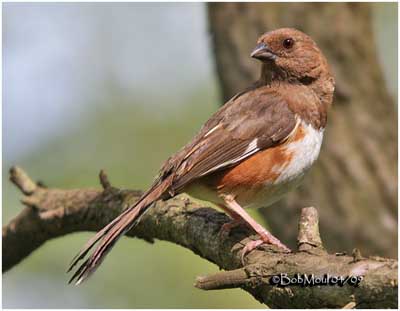 VOICE: SOUNDS BY XENO-CANTO
Eastern towhee's call is a rising, interrogative "tow-whee?", or sometimes "chew-wink". Also gives a soft "hew", and a sharp metallic "sit". Song is variable, but based on two clear notes (second lower in pitch) followed by a medium-pitched trill "tuee tuee tee-tee-tee-tee-tee".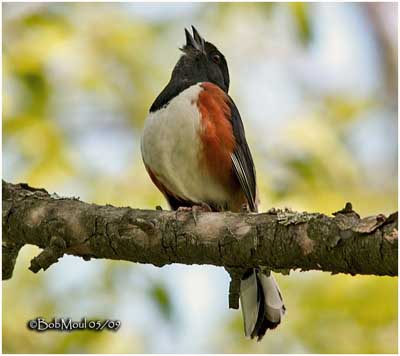 HABITAT:
Eastern towhee breeds in bushy undergrowth, thickets, woodland edges and gardens, often in dry environments and open grounds. It winters in similar and residential areas.
RANGE:
Eastern towhee breeds from S Canada, Manitoba to Quebec, southward to W Louisiana and S Florida. It winters from Oklahoma, S Ohio, and New Jersey, southward to C Texas and Florida.
BEHAVIOUR:
Eastern towhee feeds on ground, often with raised tail, under cover of bushes, into which it retreats when alarmed. It digs in dead leaves litter with a characteristic scratching behaviour. It makes a short jump forward, and then scratches back with both feet at once to uncover its food.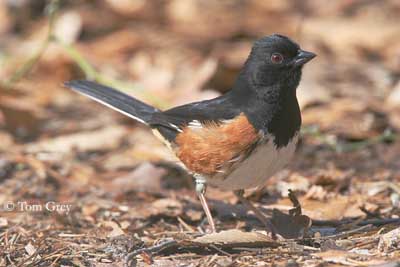 During winter, Eastern towhee northern populations migrate, but southern birds are typically permanent residents. Groups of wintering towhees may join foraging flocks of mixed species. It's a short distance migrant.
During courtship display, females are pursued in full flight by courting males. Male whisper song is a prominent part of courtship as the male-female chase. Other behaviour sees the male carrying nesting materials such as dead leaves, to the vicinity of the female, who then arrange it. In precopulatory display, female holds her back horizontal, raises her bill and tail, and utters a rapid high-pitched "tetetetete".
To eject an intruder, both adults become bolder and often dash to within 3 or 4 feet of intruder, tweeting excitedly with wings and tail spread and crown raised, before retiring to continue scolding from the trees at safer distance. Male often sings and scolds alternately.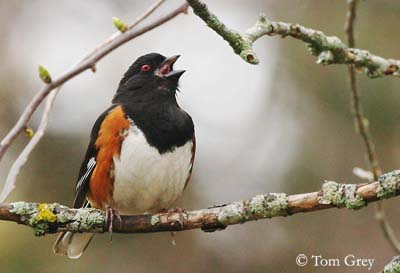 FLIGHT:
Eastern towhee flies short distances noisily, its wings making a sound audible at some distance.
REPRODUCTION:
Eastern towhee's nest is located under a bush or brush pile, but also in a bush. It is a depression scratched into the soil. The nest is built by female. It is made with twigs, leaves and barks, and lined with animal hair. It is a cup-shaped nest.
Female lays 2 to 6 greyish or creamy white eggs, occasionally greenish white, more or less speckled or spotted brown. Incubation lasts about 12 to 13 days, by female. The nestlings, cared by both parents, fledge in 10 to 12 days. Young are altricial. Female broods them while they are in the nest. After fledging, family group stay together through the summer. Two or three broods are commonly raised each year, between April and August.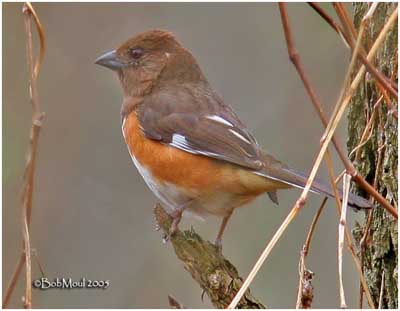 DIET:
Eastern towhee feeds on insects such as moths, caterpillars, ants, scale insects, wood borers, beetles, snails, sow bugs and other distinctive pests. Their animal diet also includes millipedes, small salamanders, lizards and snakes.
They feed also on many berries, and propagate the seeds of many useful plants such as blueberries, bayberries, strawberries, mulberries and hollyberries.