PROTECTION / THREATS / STATUS:
The Crimson-mantled Woodpecker has a large distribution in which it is described as uncommon.
The size of the population is unknown but it is suspected to be stable.
The Crimson-mantled Woodpecker is not globally threatened and currently evaluated as Least Concern.
Fr: Pic de Rivoli
Ang: Crimson-mantled Woodpecker
All: Rotmantelspecht
Esp: Carpintero candela común
Ita: Picchio mantocremisi
Nd: Roodmantelspecht
Sd: karmosinryggig hackspett
Photographers:
Roger Ahlman
Pbase Galleries Peru and Ecuador
Text by Nicole Bouglouan
Sources:
HANDBOOK OF THE BIRDS OF THE WORLD Vol. 7 by Josep del Hoyo-Andrew Elliott-Jordi Sargatal – Lynx Edicions – ISBN: 8487334377
Woodpeckers of the World: The Complete Guide by Gerard Gorman – Editeur: A&C Black, 2014 – Helm Photographic Guides - ISBN: 1408147173, 9781408147177
WOODPECKERS, an identification guide of the woodpeckers of the world by Winkler Hans and Christie David – Helm – ISBN: 0395720435
BIRDS OF PERU by Thomas S. Schulenberg, Douglas F. Stotz, Daniel F. Lane, John P. O'Neill, Theodore A. Parker III – Princeton University Press 2007– ISBN: 978-0-691-13023-1
BIRDS OF VENEZUELA by Steven L. Hilty – Ed. Christopher Helm – ISBN: 0713664185
Arthur Grosset's Birds (Arthur Grosset)
Wikipedia, the free encyclopaedia
Crimson-mantled Woodpecker
Colaptes rivolii
Piciformes Order – Picidae Family
INTRODUCTION:
The Crimson-mantled Woodpecker is found in the Andes, from NW Venezuela to NW Peru and Bolivia, where it frequents humid and wet mossy forests and borders, and lower páramo areas.
It feeds on a variety of arthropods and also takes some fruits. It forages in lichen-covered trees, rotting trunks and on the ground in clearings.
Like all Picidae species, it is a cavity-nester.

The Crimson-mantled Woodpecker is described as uncommon, but the population is suspected to be stable and not globally threatened.
Both French and scientific names pay tribute to the French ornithologist François Victor Masséna, second Duke of Rivoli and third Prince of Essling (1799-1863).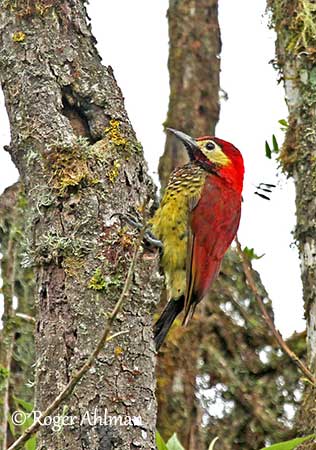 DESCRIPTION OF THE BIRD:
Biometrics:
Length: 25 cm
Weight: 100-112 g
The Crimson-mantled Woodpecker adult male has mainly scarlet-red upperparts, but rump and tail are black and the wings appear more bronzy.
On the underparts, chin and throat are black, with curving black and white markings on the breast, often with red edges, involving scalloped pattern. In worn plumage, the breast becomes blacker. The belly is yellow, sometimes spotted with black.
On the head, the crown is red. Head sides are pale yellow, contrasting with a dark red malar stripe. Chin and throat are black.
The pointed bill is black. The eyes are red-brown. Legs and feet are pale grey.
The adult female resembles male but she has black crown and malar stripe.
The juvenile is duller. No red on breast. The young male has blacker crown.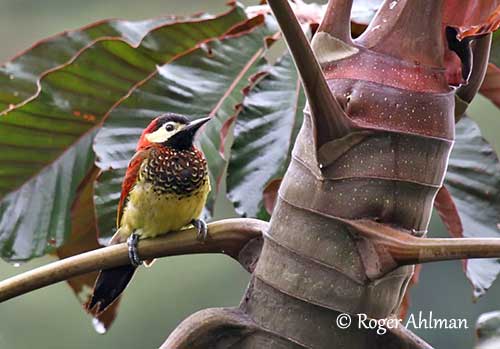 SUBSPECIES AND RANGE:
The Crimson-mantled Woodpecker has six subspecies.
C.r. quindiuna occurs in the Andes of NC Colombia.
C.r. zuliensis is found in Sierra de Perija, Colombia-Venezuela border.
C.r. rivolii (described above) is found in the Andes of EC Colombia to NW Venezuela.
C.r. meridae occurs in the Andes of W Venezuela (Trujillo to N Táchira).
C.r. brevirostris is found in the Andes of SW Colombia, S to C Peru.
C.r. atriceps occurs in SE Peru, and W and C Bolivia.
This one is more distinctive. The male has black crown, whereas the female has more extensive black on the crown. The breast feathers are edged yellow, not red.
HABITAT:
The Crimson-mantled Woodpecker is found in humid montane forest and stunted treeline woodland. It frequents the mossy cloud forests and the vegetation of páramo, from 950 to 3,700 metres of elevation, but also forest edges and shrubby clearings.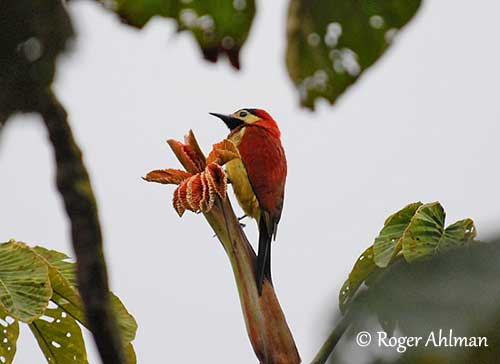 CALLS AND SONGS: SOUNDS BY XENO-CANTO
The Crimson-mantled Woodpecker is usually quiet.
The song of the race "brevirostris" is a series of monotone, metallic rattles "kee'r'r-ker'r-ke'r'r" whereas the race "atriceps" gives a descending low churr "grr'r'r'r'l".
The call is a rising "REE" and we can also hear some "ky-ky-ky-ky…"
It also gives a rolling "churr-r-r, ka-seEp, ka-weEP…"
The Crimson-mantled Woodpecker rarely drums.
BEHAVIOUR IN THE WILD:
The Crimson-mantled Woodpecker usually forages high in trees and almost at any level of the forest.
It feeds primarily on arthropods including spiders, millipedes and beetle larvae, and probably others. It also consumes some fruits, especially those of Miconia and Colubrina species. Fruits are taken near the end of slender branches.
It forages alone or in pairs, and follows mixed-species flocks of birds.
It hops along branches, vines and trunks, and then probes, pecks and gleans, or chisels in rotten wood, or searches for prey in pieces of bark, moss and epiphytes.
In páramo, it forages on Espeletia trunks and flowers (Sunflower family) while hopping.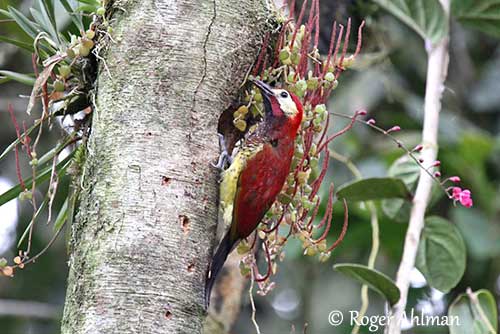 Nesting and breeding behaviour are very poorly known.
The Crimson-mantled Woodpecker is resident, with probably some altitudinal movements.
The flight is typically undulating.
REPRODUCTION OF THIS SPECIES:
A nest was reported in C Peru in August, maybe involving a breeding period from June to November.
Juveniles were reported in January/February in Colombia.
An active nest was found in Ecuador in October.
The Crimson-mantled Woodpecker excavates the nest-hole in a tree.
No more information.