Cream-coloured Courser
Cursorius cursor
Charadriiforme Order – Glareolidae Family
BIOMETRICS:
Length: 21 à 24 cm
Wingspan: 51 à 57 cm
Weight: 93 à 156 g
DESCRIPTION:
Cream-coloured Courser has pale sandy-buff to rufous upperparts, with black line extending from the rear of the eye to the nape, bordered above with white supercilium. Both black lines join on the nape, forming a conspicuous V. The rear crown is grey-blue.
Underparts are pale sand with white vent. On the upperwing, primary flight feathers and primary coverts are black, contrasting strongly with the sandy-coloured secondary flight feathers. Underwing is black, with narrow white edge to secondary's tips.
The bill is black. It is rather short, thin and down-curved. Eyes are brown. Long legs and feet are yellowish.
Both sexes are similar.
Fr : Courvite isabelle
All : Rennvogel
Esp: Corredora Sahariana
Ital: Corridore biondo
Nd: Renvogel
Russe: Бегунок
Sd: Ökenlöpare
Photographers:
Didier Buysse
Vision d'Oiseaux
Jean Michel Fenerole
Photos d'Oiseaux du monde
Paul Guillet
Photos d'Oiseaux
Texte de Nicole Bouglouan
Sources:
HANDBOOK OF THE BIRDS OF THE WORLD Volume 3 by Josep del Hoyo-Andrew Elliott-Jordi Sargatal - Lynx Edicions - ISBN : 8487334202
THE HANDBOOK OF BIRD IDENTIFICATION FOR EUROPE AND THE WESTERN PALEARCTIC by Mark Beaman, Steve Madge - C.Helm - ISBN: 0713639601
BIRDS OF AFRICA SOUTH OF THE SAHARA by Ian Sinclair and Peter Ryan - Princeton University Press Princeton and Oxford - ISBN: 0691118159
BIRDS OF THE MIDDLE EAST by R.F. Porter, S. Christensen, P Schiermacker-Ansen C.Helm - ISBN: 0713670169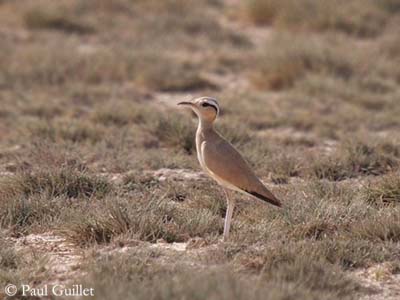 BEHAVIOUR:
Cream-coloured Courser has cryptic plumage providing good camouflage in the desert. This bird is more visible in flight with the black underwings.
It feeds by running all over the place to catch insects. It also may dig into the soil to disturb some preys. It also catches grasshoppers in flight.
When disturbed, it escapes, stopping sometimes to stand up on its legs and watching around.
The northernmost populations, and mainly from north-east, are more migratory than the island sedentary subspecies.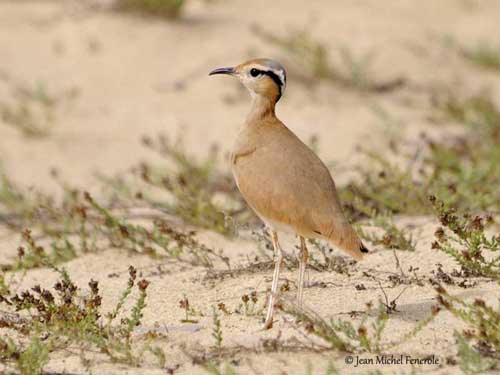 FLIGHT:
Cream-coloured Courser performs slow and undulating flight, sometimes interspersed with short glides, but the progression is rapid despite everything.
While flying, we can see the black underwing contrasting with the pale belly. The tail is rounded and legs are held beyond the tail.
REPRODUCTION:
Cream-coloured Courser nests in shallow depression without any lining. The nest is situated on the bare ground.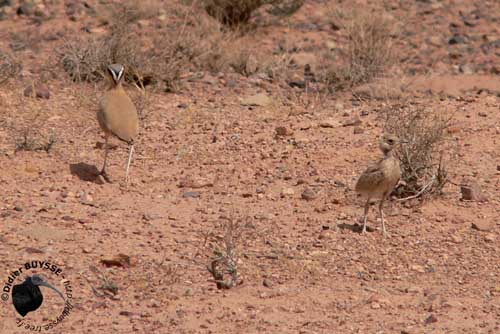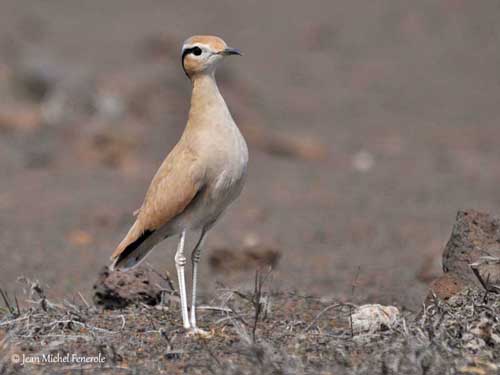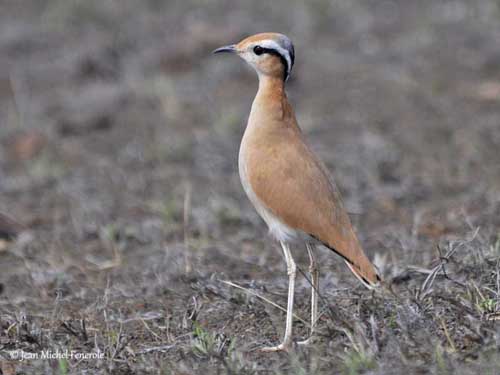 The juvenile has more uniform appearance on the head, with creamy-coloured eyebrow, very indistinct black line on the eye, and without grey on the rear crown.
Head and breast are mottled brownish. Upperparts and central rectrices are finely streaked dark, and primaries are edged buff.
VOICE:
Cream-coloured Courser's typical call is a sharp whistle often repeated "quit-quit".
During the displays, it gives a series of nasal notes « whowr ». We can also hear a raucous call similar to frog's croaking "praak-praak".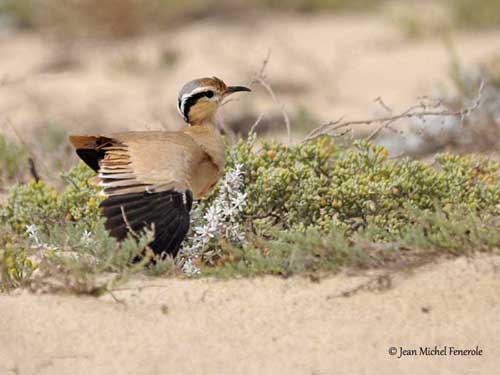 HABITAT:
Cream-coloured Courser frequents arid and bare plains with scattered vegetation, at the edge of the cultivated areas. It is often found in open and arid desert and semi-desert, warm to very warm, both sandy and stony, including the hollow areas in dunes with or without scattered low vegetation, and also in low grassy plains, gravel pits, salty marshes, semi-cultivated steppes and stony roads.
RANGE:
Cream-coloured Courser is found in N and E of Africa and in Middle East to W Pakistan.
The North African birds winter southwards to southern Sahara and those from Middle East winter in Arabia. SW Asian birds winter in NW India.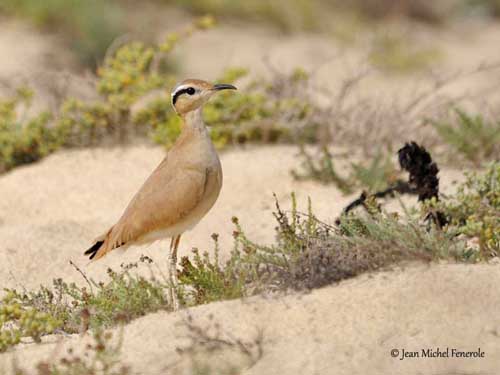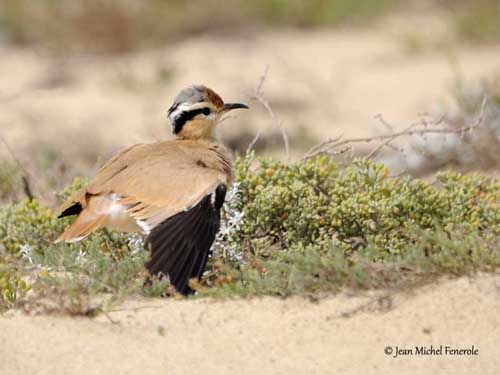 Female lays two eggs. Incubation lasts 19 days, shared by both adults.
The young leave the nest very soon after hatching. They are fed by both parents during the first days. They have cryptic down with finely spotted sandy-buff and white upperparts, dark-streaked crown, white underparts and pale buff breast.
DIET:
Cream-coloured Courser usually feeds on insects such as beetles, grasshoppers, ants and flies. It also consumes molluscs and isopods (a kind of crustacean with flat body and all similar legs). It also feeds on seeds.
PROTECTION / THREATS / STATUS:
Cream-coloured Courser's populations are not threatened at this moment. We can notice some increase in West Africa.