Common Waxbill
Estrilda astrild
Passeriforme Order – Estrildidae Family
BIOMETRICS:
Length: 10 cm
LONGEVITY: Up to 8 years
DESCRIPTION:
Common Waxbill has grey upperparts, finely, but conspicuously barred grey-brown.
Underparts are pinkish-beige, barred dark grey on the flanks. In the middle of the belly, we can see an elongated bright red patch, more or less conspicuous according to each bird. This patch becomes paler while extending to breast and body sides.
The tail is fairly broad at base. Undertail coverts and vent are blackish. The tip area is black and whitish.
Fr : Astrild ondulé
All : Wellenastrild
Esp : Pico de Coral
Ital : Astrilde comune
Nd : Sint-helenafazantje
Russe : Волнистый астрильд
Sd: Helenaastrild
Photographers:
Callie de Wet
GALLERY
Patrick Ingremeau
TAMANDUA
Marc Chrétien
MURINUS
Text by Nicole Bouglouan
Sources:
BIRDS OF AFRICA SOUTH OF THE SAHARA by Ian Sinclair and Peter Ryan - Princeton University Press Princeton and Oxford - ISBN: 0691118159
THE HANDBOOK OF BIRD IDENTIFICATION FOR EUROPE AND THE WESTERN PALEARCTIC by Mark Beaman, Steve Madge - C.Helm - ISBN: 0713639601
OISEAUX DE LA REUNION par Armand Barau - Nicolas Barré - Christian Jouanin - Editions Orphie - ISBN : 2877632636
BirdLife International (BirdLife International)
Wikipedia (Wikipedia, The Free Encyclopedia)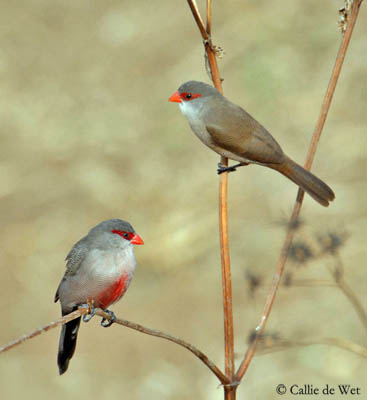 On the head, the crown is slaty-grey, slightly washed brown. The whitish colour of the throat extends to the head sides and neck. A broad bright red eye-stripe includes the eye, and extends from lores to ear-covert area.
The conical, strong glossy bill is bright red. Eyes are brown. Legs and feet are dark grey.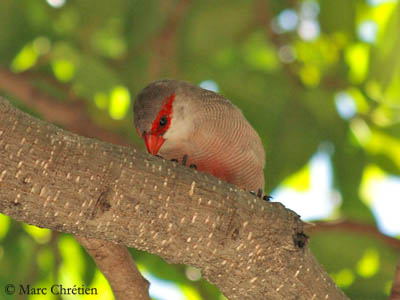 Juvenile is similar in plumage but duller and with black bill.
Immature has pinkish bill.
VOICE: SOUNDS BY XENO-CANTO
When in flocks, the Common Waxbill utters contact calls when taking off and while flying, some nasal warblers such as "tientientientien".
The courtship song by male is nasal too, highly rhythmical, and uttered in series more or less extended "tretrehiep-tretrehiep-tretrehiep". We also can hear a rapid and modulated "tchit-tchit-djuhi-tchit-tchit-djuhi".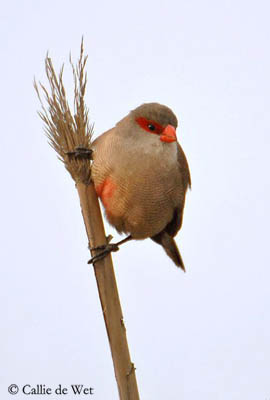 HABITAT:
Common Waxbill forages in dry and grassy areas with shrivelled shrubs, and mainly near water. It frequents open lands, pastures and urban areas. It also may be found at forest edges and in clearings.
RANGE:
Common Waxbill is found in sub-Saharan Africa. It has been introduced in numerous tropical islands. It is well adapted in Cap-vert Islands, and in south and centre of Spain.
We can also find it in Brazil, New Caledonia and Hawaii, and in numerous warm regions.
BEHAVIOUR:
Common Waxbill is very gregarious. It often moves in large flocks, and the birds gather at night at communal roosts.
This species breeds during the rainy season, when insects are sufficiently numerous for feeding the clutch.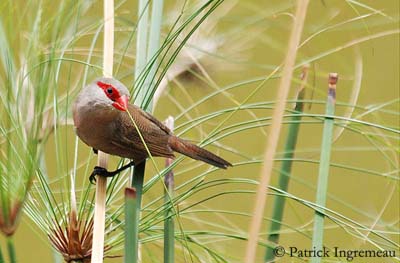 The nest is often parasitized by the Pin-tailed Whydah (Vidua macroura).
But the chicks of the Whydah do not destroy the Waxbill's eggs as several Cuckoos do, and we can often see adult Common Waxbills raising mixed broods.
FLIGHT:
Common Waxbill has rounded wings, allowing it to take off with very rapid wing-beats.
REPRODUCTION:
Common Waxbill's nest is an elaborated structure, with a "roost" above the nest itself. The nest is covered and made with grasses.
It is situated on the ground, and is very similar to a ball of dry grasses and coconut fibres, with narrow entrance tunnel, and with second nest on top of the other for the male.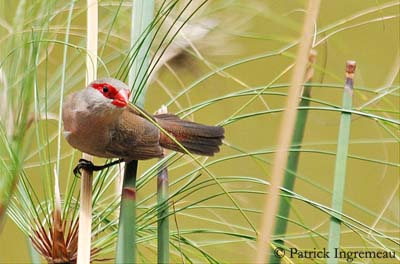 Female lays 1-4 white eggs. Incubation lasts about 10 days.
The chicks are particularly noisy, and when they start growing up, they beg for food with loud calls between 10 and 20 days of age. Then, they leave the nest and harass their parents to be fed. They are able to fly 15 days after hatching.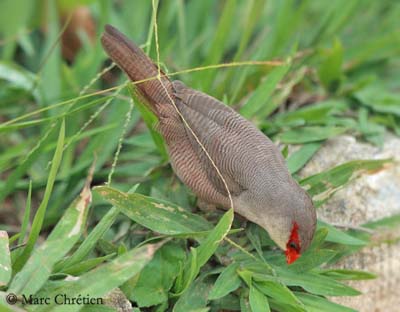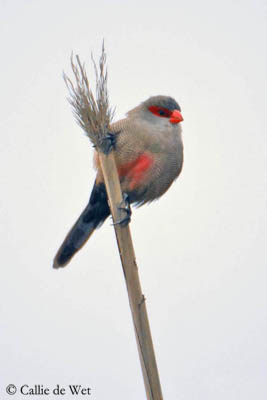 DIET:
Common Waxbill feeds mainly on seeds taken on the ground or in the grasses' ears. It also consumes flying termites.
PROTECTION / THREATS / STATUS :
Common Waxbill is often raised and sold as cage-bird. But the species is common and populations are not threatened at this moment.