Common Myna
Acridotheres tristis
Passeriforme Order – Sturnidae Family
BIOMETRICS:
Length: 23-26 cm
LONGIVITY: up to 12 years
DESCRIPTION:
Common Myna is dark brown, with black head and neck, and white undertail coverts. It has yellow bill, bare eye skin, feet and legs. White tail tips, patch at base of primaries and wing linings are distinctive in flight.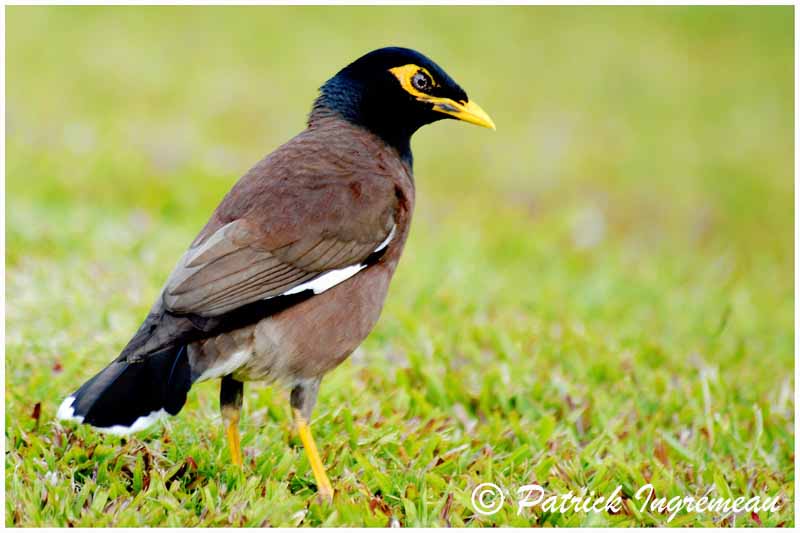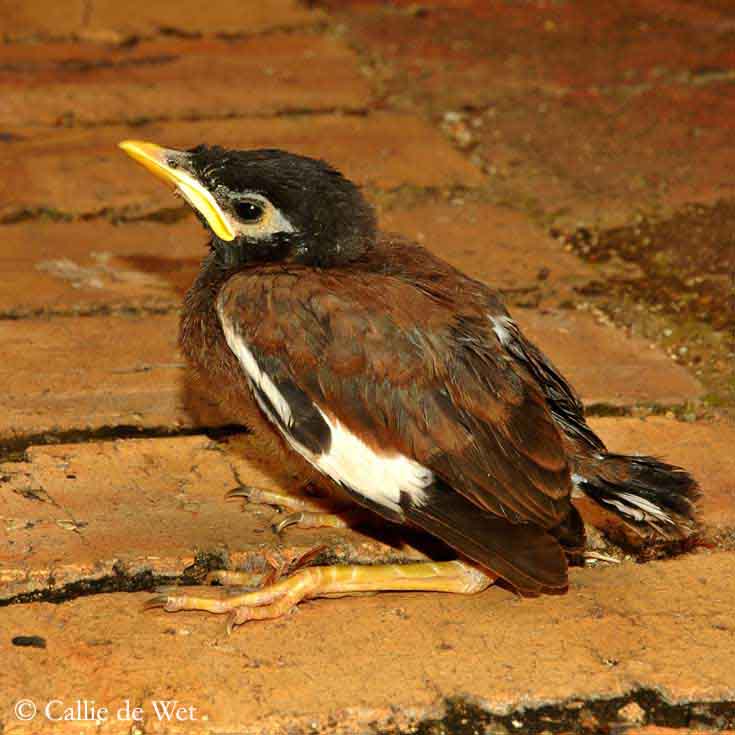 Juvenile has more brownish head. It is duller, with head, throat and upperbreast brown.
VOICE:
Common Myna's calls are noisy and varied, ranging from harsh gurgling and subdued chattering, to liquid whistles. On taking flight, it gives a weak, rather querulous "kwerrh". Alarm call is a harsh, grating "traaahh". Song is disjointed and tuneless, with a variety of different gurgling and whistling phrases usually rapidly repeated. Sometimes it imitates other birds, but it's not a great mimic…
HABITAT:
Common Myna is a tropical bird. It is closely associated with human habitation, urban areas (parks, roadsides verges, gardens). But in natural range, it's also found in all kinds of open or partly wooded countries and villages, farmlands, orchards. They rarely venture far into forests, but can be common on the forest edge.

RANGE:
Common Myna is introduced from South Asia. It has been introduced around the world, and is established in South Africa, Australia, New Zealand, Solomon Islands, New Caledonia, Fiji, Western Samoa, Cook Islands, Hawaii and some other oceanic islands.
BEHAVIOUR:
Common Myna is tame and cheeky, often snatching scraps close to people or domestic animals. Quarrelsome towards each other, they are typically found in small, loose groups. In the breeding season, they are strongly territorial and neighbouring pairs often fight furiously. Violent battles often erupt between occupants of nesting sites, and the pair that which to evict them. Each partner grapples with the intruders, drop to the ground secured in each other claws. Bills are jabbed ruthlessly at the opponent. Finally, the defeated couple leaves to search for another site.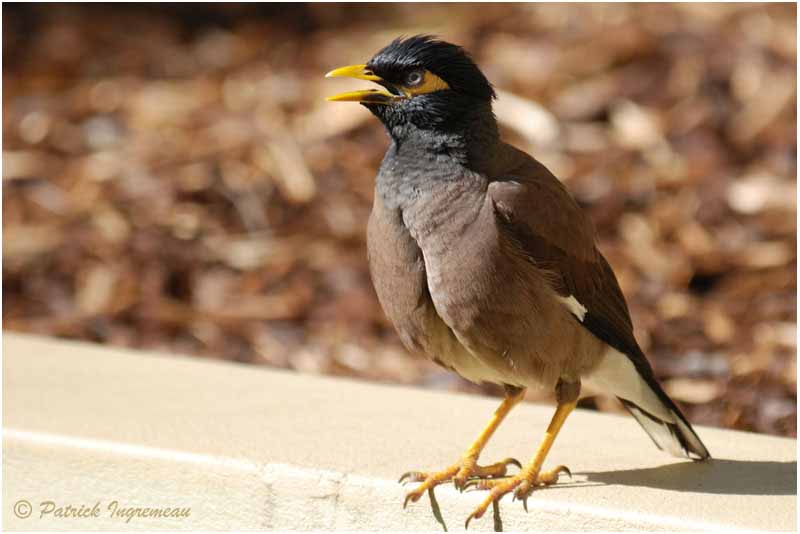 In autumn and winter, they feed in flocks of 5 to 20 birds. They travel up to 10 kilometres between their roosting and feeding sites each day. Common Myna unlike most other birds, walk rather than hop. They feed from the ground and especially on roadsides, where many insects are killed by cars. They also feed by pecking prey from the surface in pasture and grain stubble.
Except for incubating females, Common Myna spends the night at communal roosts, of up to 1000 birds. Territorial birds have an intense calling for 5 to 15 minutes, when they arrive in their territories in the early morning, and pairs sometimes duet.
FLIGHT:
Common Myna shows its large white wing patches in flight.
REPRODUCTION:
Pairs of Common Myna stay together year after year, and keep the same territory. Each pair usually raises two broods a year.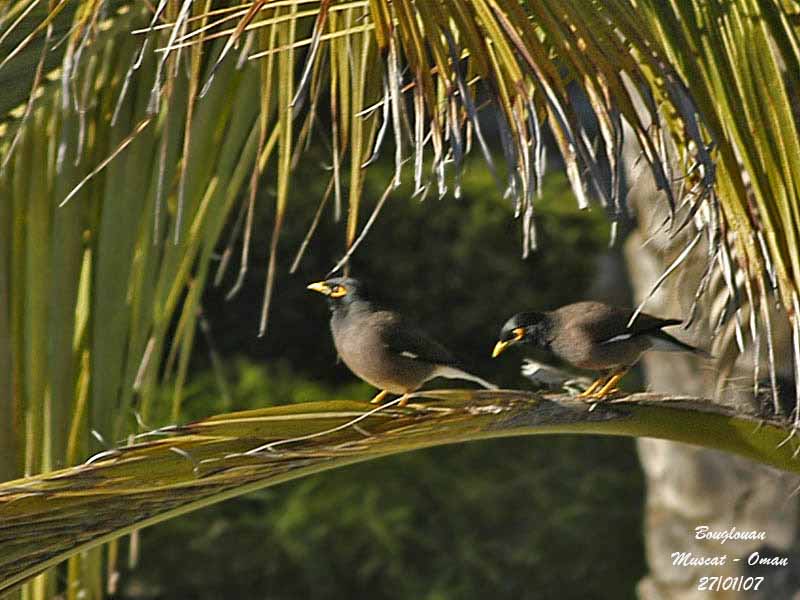 The nest is a cup of dry grass, twigs and leaves, usually in a hole in a tree, cliff or building, or other structure, and sometimes in a thick tangle of vegetation.
Female lays 1 to 6 greenish blue eggs in the early morning. Incubation starts with the last egg laid. It lasts 13 to 14 days, by female. However, both parents feed the nestlings during about the 25 days fledging period, and for up to 3 weeks after leaving the nest.
Juveniles form small flocks when they become independent. They may form pair when they are 9 months old, but only a few females attempt to breed in their first year.
DIET:
In its native India, Common Myna is called the "farmer's friend" because it eats insects that destroy crops plants.
Its diet is a mixed of invertebrates and fruits. They also eat chicks, eggs and lizards. The invertebrates eaten include beetle larvae and adults, bugs, caterpillars, worms, flies, snails and spiders.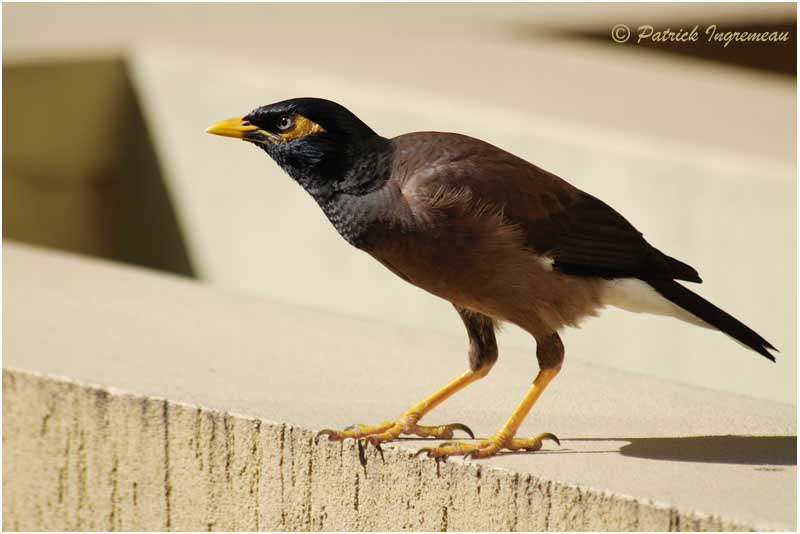 PROTECTION / THREATS / STATUS:
Common Myna is named as among 100 of the "World's Worst" invaders. Introduced all over the world two centuries ago for insect control in farmland and agricultural areas, it's today seen as an invader, reducing the bio-diversity (cavities nests competition, attack of brood) becoming so abundant that they now known as pests to many humans residents.
But there are those who appreciate its personality. Although they are not able of learning to imitate human speech, they can learn a few words and phrases and be understood.
Fr: Martin triste
All : Hirtenmaina
Esp : Mainá Común
Ital: Maina comune
Nd: Treurmaina
Russe: Майна (афганский скворец)
Sd: Brun majna
Photographs by Patrick Ingremeau
TAMANDUA
Photograph of the young bird by Callie de Wet
Flickr Galleries
Text and photograph of the pair by Nicole Bouglouan
Sources :
L'ENCYCLOPEDIE MONDIALE DES OISEAUX - Dr Christopher M. Perrins - BORDAS - ISBN: 2040185607
THE HANDBOOK OF BIRD IDENTIFICATION FOR EUROPE AND THE WESTERN PALEARCTIC by Mark Beaman, Steve Madge - C.Helm - ISBN: 0713639601
Wikipedia (Wikipedia, The Free Encyclopedia)
Birds in backyards (Birds Australia and Australian Museum)

What Bird-The ultimate Bird Guide (Mitchell Waite)