Fr: Petite éroesse
Ang: Common Jery
All: Graunackentimalie
Esp: Jiji Común
Ita: Jery comune
Nd: Grijsnekjery
Sd: gulbröstad jery
Mal: Jijy, Kimitsy, siketribe, Tsisy, Zezea
Photographers:
John Anderson
John Anderson Photo Galleries
Jean Michel Fenerole
Photos d'Oiseaux du monde
William Price
PBase-tereksandpiper & Flickr William Price
Alan & Ann Tate
AA Bird Photography
Text by Nicole Bouglouan
Sources:
HANDBOOK OF THE BIRDS OF THE WORLD Vol 11 by Josep del Hoyo, Andrew Elliott and David Christie - Lynx Edicions - ISBN: 849655306X
Birds of Madagascar and the Indian Ocean Islands Par Roger Safford, Adrian Skerrett, Frank Hawkins – ISBN: 1472924118, 9781472924117- Editeur: Bloomsbury Publishing, 2015
Birds of Madagascar: A Photographic Guide Par Pete Morris, Frank Hawkins – ISBN: 0300077556, 9780300077551- Editeur: Yale University Press, 1998
The Birds of Africa: Volume VIII: The Malagasy Region: Madagascar, Seychelles, Comoros, Mascarenes - Par Roger Safford, Frank Hawkins – ISBN: 1408190494, 9781408190494- Editeur: A&C Black, 2013
Birds of the World - A blog dedicated to the thousands of bird species that fly, swim or walk on our planet.
Wikipedia, the free encyclopaedia
Common Jery
Neomixis tenella
Passeriformes Order – Cisticolidae Family
INTRODUCTION:
The Common Jery is endemic to Madagascar, and was first described in 1866 by Gustav Hartlaub, a German physician and ornithologist.
This species frequents a wide variety of forest and woodland habitats from sea-level up to 1600 metres of elevation. Four subspecies share the range throughout the island, except in completely open areas.
The Common Jery is common on Madagascar and it is not globally threatened.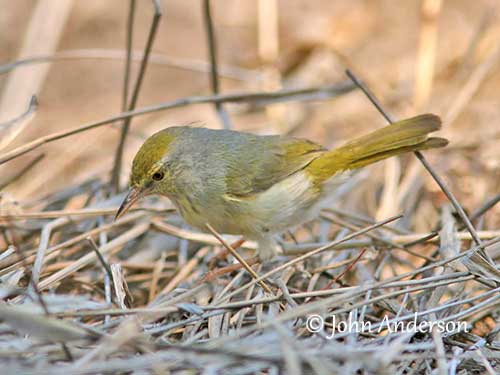 SUBSPECIES AND RANGE:
The Common Jery has four subspecies.
N.t. tenella (described above) is found in N Madagascar.
N.t. decaryi occurs in the W part of Madagascar. This race has duller upperparts, mostly grey-green. The breast is greenish-yellow and heavily streaked. The flanks have olive wash.
N.t. orientalis is found in EC and SE Madagascar. This one is darker than nominate. The upperparts are greener and the underparts are greyer, with often reduced yellow area on breast.
N.t. debilis occurs in S Madagascar. This one is the dullest. It is grey-green above and washed grey below. Throat and breast are mostly yellow-green.
HABITAT:
The Common Jery frequents forest and wooded habitats throughout the island, both dry and moist tropical forests, mangroves, dry scrublands, second growths, plantations and gardens. It occurs from sea-level to 1600 metres. It avoids completely open areas and higher elevations.
CALLS AND SONGS: SOUNDS BY XENO-CANTO
The Common Jery utters high-pitched, descending "seep" interspersed with lower notes while foraging "seep-seep--seep-tsirrup".
The song begins with this series but ends with lower "pitrrr" or "stitit" notes. A single rising "seeeip" followed by descending "eep" notes can be heard too, depending on the range.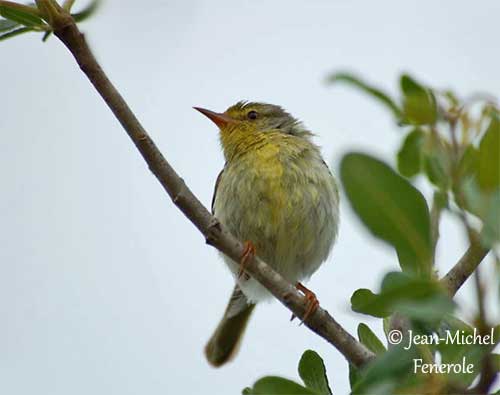 BEHAVIOUR IN THE WILD:
The Common Jery feeds on small invertebrates such as spiders and various insects including beetles, bugs, ants, flies, butterflies and caterpillars.
It forages in tree canopy and gleans small arthropods from foliage. It is very active, moving constantly and hanging upside-down.
It may occasionally forage on the ground, but it is usually low down in scrubby vegetation. It also probes flowers and it is described as an important pollinator, especially of Aloe divaricata and some others.
The Common Jery often joins small mixed-species groups and also congeners. Flocks of up to 20 birds are observed during winter.
The Cisticolidae are mainly solitary nesters, territorial breeders and probably monogamous. The male sings from exposed perches, probably to proclaim the territory.
The Common Jery has short, rounded wings and is presumably mostly resident.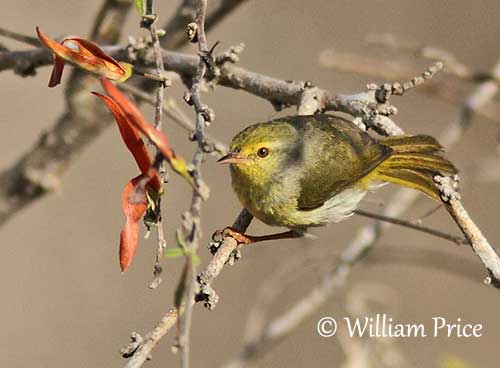 REPRODUCTION OF THIS SPECIES:
The breeding season is associated with summer rains, and occurs between September and April.
The Common Jery builds a flimsy rounded nest with side-top entrance. It is ball-shaped and made with vegetation, reinforced with plant down and spider webs. The cup is lined with moss.
This structure is placed in small branches or among twigs, concealed in dense foliage at about 2-3 metres above the ground.
The female lays 2-4 eggs and performs most of incubation during 10 to 18 days, usually 12-15 days for most Cisticolidae species. The chicks are altricial at hatching and are probably fed by both parents.
PROTECTION / THREATS / STATUS:
The Common Jery is common throughout its range and the population is suspected to be stable and not globally threatened.
The Common Jery is currently evaluated as Least Concern.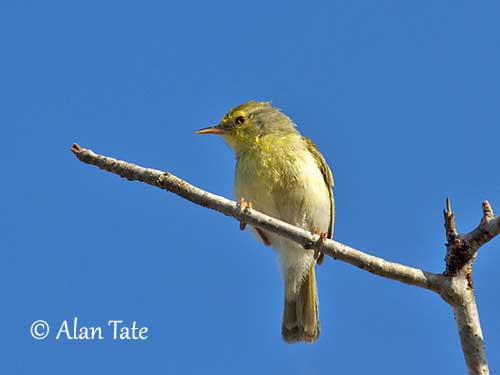 DESCRIPTION OF THE BIRD:
Biometrics:
Length: 10 cm
Weight: 6-8 g
The Common Jery of nominate race has olive-green upperparts with darker flight-feathers showing narrow, pale yellowish edges.
On the underparts, chin, throat and upper breast are pale yellow whereas belly and undertail-coverts are mostly whitish. There are sometimes indistinct olive-green streaks on central breast.
On the head, the crown is olive-green but nape and cheeks are grey. We can see a yellowish supercilium and a darker eyestripe.
The bill is dark horn above, but the lower mandible is paler orange-horn. The eyes are brown. Legs and feet are pinkish-orange.
Male and female are similar.
The juvenile has darker brown eyes than adults.