Canada Warbler
Cardellina Canadensis
Passeriforme Order – Parulidae Family
BIOMETRICS:
Length: 12-15 cm
Wingspan: 17-22 cm
Weight: 9-13 g
LONGEVITY: Up to 8 years
DESCRIPTION:
Canada Warbler has unstreaked blue-grey upperparts, canary yellow underparts, and white undertail coverts. It has a whitish eye-ring and a yellow streak on the lore. Male shows a necklace of black spotting across upper breast. It also has black sides of face and forehead. Female has dusky grey necklace.
Legs are pale pinkish orange. Bill is thin and pointed. This species lacks pale wing bars and tail spots.
Both sexes are similar, but female is duller. Immature is similar to adults, but duller, with less streaking and facial pattern.
FOOD HABITS:
Canada Warbler feeds on flying insects and insect larvae, also spiders, snails, worms and seasonally, some fruit.
PROTECTION / THREATS / STATUS:
Canada Warbler is threatened by habitat loss in its wintering and breeding grounds. The most severe decline is in the NE United States, a result of a change in forest structure over the past century. Forested wetlands have been drained, filled and developed during the 20th century.
Fr: Paruline du Canada
All: Kanadawaldsänger
Esp: Chipe Collarejo
Ital: Parula canadese
Nd: Canadese Zanger
Sd: Kanadaskogssångare
Photographer:
René Lortie
http://rlortie.ca/
Texte de Nicole Bouglouan
Sources :
A GUIDE TO THE BIRDS OF MEXICO AND NORTHERN CENTRAL AMERICA by Steve N. G. Howell, Sophie Webb - Oxford University Press - ISBN: 0198540124
FIELD GUIDE TO THE BIRDS OF NORTH AMERICA - National Geographic Society - ISBN: 0792274512
THE HANDBOOK OF BIRD IDENTIFICATION FOR EUROPE AND THE WESTERN PALEARCTIC by Mark Beaman, Steve Madge - C.Helm - ISBN: 0713639601
All About Birds (Cornell Lab of Ornithology)
Birds of Nova Scotia (Robie Tufts)
SORA Searchable Ornithological Research Archive (Blair O. Wolf)
What Bird-The ultimate Bird Guide (Mitchell Waite)
Wikipedia (Wikipedia, The Free Encyclopedia)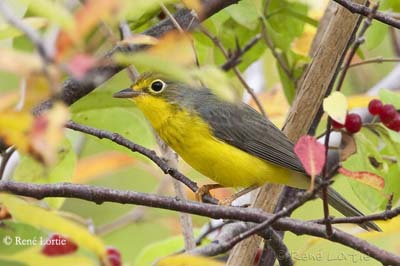 VOICE: SOUNDS BY XENO-CANTO
Canada Warbler's call is a quiet, dry "chick" or "ckeck". Song is a rapid burst of short notes, ending with a three notes phrase, the last one loud and rising in pitch.
HABITAT:
Canada Warbler breeds in moist mixed forests with dense undergrowth, and waterside thickets. It winters in mid-and-upper-elevation habitats, and in coffee plantations and hedgerows.
RANGE:
Canada Warbler breeds across Canada from E British Columbia to Nova Scotia, southward to E Minnesota, N Michigan and Connecticut, and farther southward, in mountains to N Georgia.
It winters in Northern South America, including Venezuela, Colombia, Ecuador, Peru and northern Brazil.
BEHAVIOUR:
Canada Warbler usually forages in undergrowth or low branches, but it can also use flycatching. It is an active warbler, feeding conspicuously in foliages of bushes and low trees, sometimes cocking tail. It keeps low down, often hovering briefly. It has a wide variety of foraging tactics, often flushing insects from foliage and catching them on the wing. It gleans from branches and occasionally on the ground, and hover-gleans. It often joins mixed-species flocks in winter.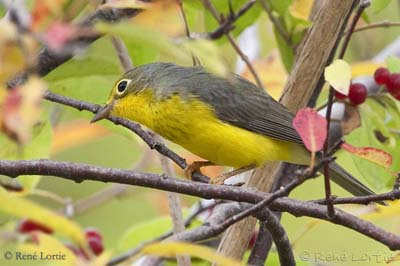 Canada Warbler spends little time on breeding grounds. Last arrived and first to leave them, heading early to its South American wintering grounds. It migrates at night, rapidly and synchronously. Some birds migrate along coasts and the others across the Gulf.
Canada Warbler appears to be monogamous, and their behaviour during migration suggests that the pair may stay together year round. Male appears to arrive before female, and defends aggressively a territory by singing. They become very agitated when intruders enter within their breeding grounds, by engaging a distraction display and chipping loudly.
FLIGHT:
Canada Warbler has an agile flight, allowing it flycatching to feed on insects. It is a skilled flyer.
REPRODUCTION:
Canada Warbler's nest is an open cup built by female alone. It is located on or just above the ground, among ferns, stumps and fallen logs. A dense nest site cover seems to be an important habitat requirement. Nest is made with decayed leaves, grass, lichens and moss, and lined with black rootlets.
Female lays 4 to 5 white eggs shaded with cinnamon or brown. Incubation lasts about 12 days, only by female. Both parents feed the chicks during the nestling period; they fledge at about 10 days, still unable to fly.
This species produces only one single brood per year.