Blue Grosbeak
Passerina caerulea
Passeriforme Order - Cardinalidae Family
BIOMETRICS:
Length: 15-16 cm: Wingspan: 28 cm; Weight: 26-31 g
LONGEVITY: up to 6 years
DESCRIPTION:
Blue Grosbeak breeding male has deep blue plumage, with blackish tail and wings. We can see two wide chestnut wing bars.
Head is deep blue, with black patch around the base of bill and lores.
Conical bill is two-toned, with black upper mandible, and grey lower. Eyes are dark brown. Legs and feet are grey.
Blue Grosbeak in fresh autumn plumage has slightly dull plumage, with reddish-brown edges on entire body.

VOICE: SOUNDS BY XENO-CANTO
Blue Grosbeak's call is an explosive "spink" and a high rolling "preet". Song is a short series of rich warbler phrases rising and falling.
HABITAT:
Blue Grosbeak lives in woodland edges, hedgerows, bushy fields, roadsides and streamside thickets.
RANGE:
Blue Grosbeak breeds from California throughout Central United States, northwards to North Dakota to northern New Jersey, and also in Mexico and Central America, where they are resident all year round.
It winters from Mexico to Panama, sometimes in South America.
BEHAVIOUR:
Blue Grosbeak may eat large seeds, thanks to its strong bill. It gleans seeds and insects from the ground, and occasionally eats fruits. It can hover, perform fly-catching, walk or hop on the ground when foraging. It also forages in low vegetation.
They gather in flocks to feed in rice fields before migrations. It is a rather shy bird, typically diving back into dense cover after being flushed.
FLIGHT:
Blue Grosbeak has a swift flight with rapid wing beats. Its flight may be undulating and prolonged.
REPRODUCTION:
Blue Grosbeak's nest is concealed in a clump of weeds or situated low in shrubs or small tree. Female builds the nest. It is an open cup made with grass, weed stems, twigs, leaves and rootlets, and lined with fine roots and horse-hair, often near open areas or roads. We can find some items such as paper, string, or cellophane in the nest, and even snakeskin.
Female lays 3 to 5 pale blue eggs. Incubation lasts about 11 to 12 days, by female, fed by the male during this period. Altricial chicks are fed mainly by female while young stay at nest. Male feeds them when they fledge, at about 9 to 10 days of age, while female is building a nest for the second clutch of the season.
Second brood occurs mainly in the southern parts of the range.
Blue Grosbeak female is brown, sometimes with blue feathers on the back. Wings are darker, with two reddish-brown wing bars, and blue edges on flight feathers.
Juvenile resembles adult female, but in first autumn, immature is brighter brown than female.
First spring male begins to get some blue feathers above and below. Second winter resembles adult male. Young reach their adult plumage at three years.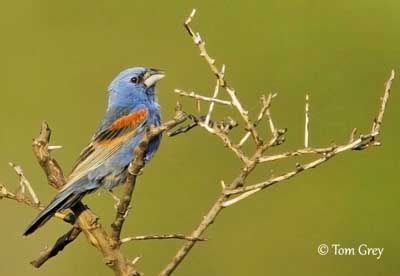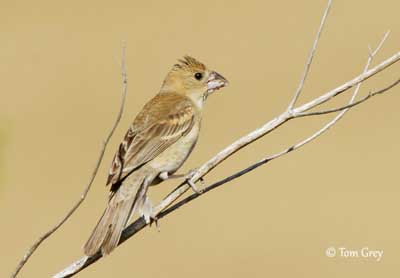 It sings from small shrubs or low perches, flicking and slightly fanning its tail. Male's song is used to attract female and to proclaim territory to other males. Blue Grosbeak is monogamous during breeding season. During courtship displays, male flicks and spreads its tail, and may erect its crown feathers.
This species suffers heavy parasitism by Brown-headed Cowbirds, and it is also the host of Bronzed Cowbird. Blue Grosbeak may build another nest above a parasitized nest, but it may also raise both cowbirds and their own young.
After breeding season, young Blue Grosbeaks feed in large mixed flocks in fields, eating seeds and grain before to start their migration.