Blue Chaffinch
Fringilla teydea
Passeriforme Order – Fringillidae Family
BIOMETRICS :
Length : 16-18 cm
DESCRIPTION :
Blue Chaffinch is endemic to the Canary Islands. It is a rare species only found on Tenerife and Gran Canaria.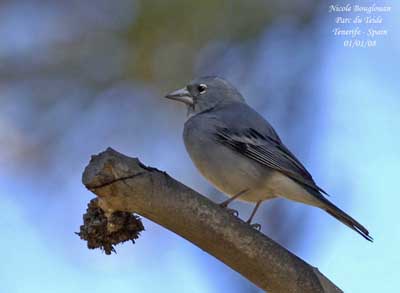 Adult male has blue-grey plumage overall. The upperparts are darker, with blue-black flight feathers and tail. We can see two pale wing bars.
On the underparts, throat, breast and flanks are paler blue-grey. Belly and undertail coverts are whitish.
Head is blue-grey. The strong, conical bill is pale blue-grey. Eyes are black, with two conspicuous white crescents above and below. Legs and feet are pinkish-grey.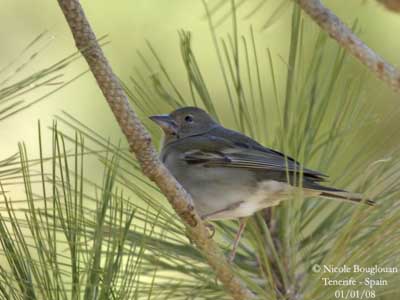 Female is very different. She has grey-brown upperparts with darker flight feathers and two buffy-white wing bars.
The underparts are greyish, with whitish belly and undertail coverts.
Head is grey-brown, with less distinct white crescents. The strong, long bill is dark grey. Legs and feet are pinkish.
Juvenile male is duller and browner, with some greenish wash on mantle.
The Blue Chaffinch is slightly larger than the Common Chaffinch (Fringilla coelebs), and has thicker and longer bill. It may be seen sometimes with the Canarian Chaffinch, Fringilla coelebs tintillon, which has dark grey-blue back and more contrasted colours.
We find two subspecies:
F.t. teydea found on Tenerife
F.t. polatzeky, found on Gran Canaria. It is duller and greyer on the upperparts.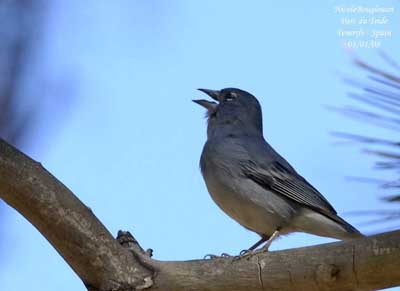 VOICE: SOUNDS BY XENO-CANTO
Blue Chaffinch's common call is a loud chirp "p-lup p-lip". Alarm call is a thin "seee". In flight, it gives a sharp "sipp".
The song is a dry trill ending in rising and falling flourish often repeated.
The race polatzeky utters softer low "twee".
HABITAT:
Blue Chaffinch frequents high pine and laurel forests and tall shrubs. It is found in mountainous areas, from 700 to 2000 metres of elevation, sometimes more.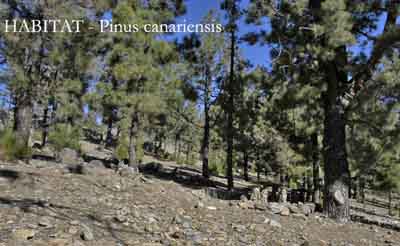 RANGE:
Blue Chaffinch is endemic to Canary Islands, and it is resident on Tenerife and Gran Canaria. It is often seen in the Teide's Park.
BEHAVIOUR:
Blue Chaffinch lives mainly in the pine forest of Pinus canariensis where it feeds on the seeds of this species. It is often seen alone or in pairs, but outside the breeding season, small family groups of about 8-10 birds feed together on the forest ground.
Its preferred food is constituted by seeds of pines, but during the breeding season, the young are fed on insects and caterpillars. The Blue Chaffinch may catch insects on the wing.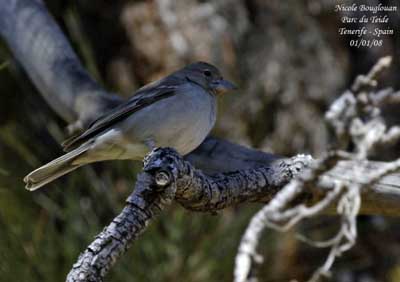 Blue Chaffinch lives high in mountains, especially in pine forests where it breeds every year. We can see this species up to 2000-2500 metres of elevation in the Teide's Park.
It is sedentary in its restricted habitat, but it may move at lower elevation according to weather conditions. At this moment, it moves to the cultivated areas, at about 500 metres of elevation. During summer, it travels in search on water, but not long distances.
FLIGHT:
Blue Chaffinch performs undulating flight, heavier than that of Common Chaffinch.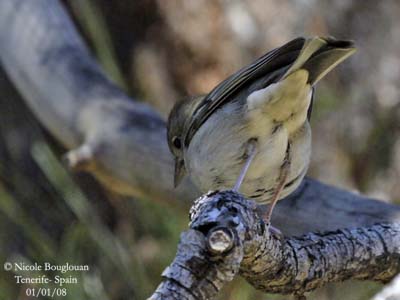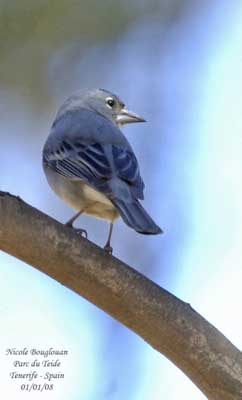 REPRODUCTION:
Breeding season occurs in spring, mainly in late May until July-August.
Blue Chaffinch breeds in the pine forest. The nest is situated in a fork of pine or laurel, often high above the ground, but also in shrubs. It is made with materials found in the nest-site, such as pine-needles and lichens. The interior of the cup is lined with fine materials, often moss, feathers and fur (usually rabbit).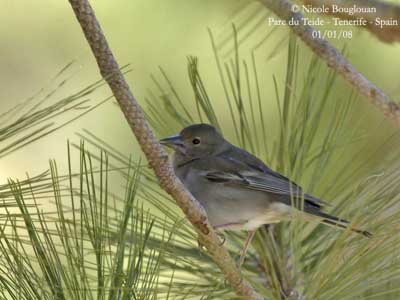 Female lays two eggs. Incubation lasts about two weeks by female. She is fed by the male during this period.
Both parents feed the young with intensive insects' diet. They fledge about 16 to 18 days after hatching.
This species produces only one brood per year.
DIET:
Blue Chaffinch feeds mainly on pine seeds, but it feeds the young with insects and caterpillars during the nesting period.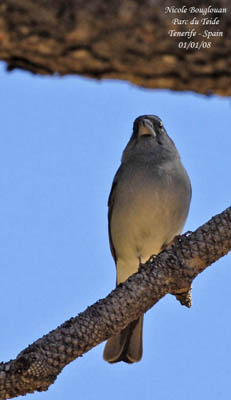 PROTECTION / THREATS / STATUS:
Blue Chaffinch is a rare species living in restricted habitat, only Canary Islands.
This species is frequently threatened by fires which destroy the pine forest. But this bird is relatively tame and suffers from human disturbances in addition of habitat loss and predation by raptors and introduced feral cats.
Blue Chaffinch is also threatened by illegal trade due to its beautiful blue plumage.
However, protection programs are active and others in progress. The species is protected but its habitat, mainly the reforestation, is active too.
The low numbers and the restricted habitat make this bird listed as Near Threatened (IUCN Red List).
The subspecies F.t. polatzeky from Gran Canaria has very reduced numbers.
Fr : Pinson bleu
All : Teydefink
Esp : Pinzón de Teide
Ital: Fringuello di Teide
Nd: Blauwe Vink
Sd: Blå bofink
Photographs and text by Nicole Bouglouan
Sources:
FINCHES AND SPARROWS by Peter Clement, Alan Harris and John Davis – Helm Identification Guides – ISBN: 0713652039
L'ENCYCLOPEDIE MONDIALE DES OISEAUX - Dr Christopher M. Perrins - BORDAS - ISBN: 2040185607
LE GUIDE ORNITHO par Grant, Mullarney, Sven - Delachaux Niestle - ISBN: 2603011421
THE HANDBOOK OF BIRD IDENTIFICATION FOR EUROPE AND THE WESTERN PALEARCTIC by Mark Beaman, Steve Madge - C.Helm - ISBN: 0713639601
Pájaros de España (JL Beamonte)
Wikipedia (Wikipedia, The Free Encyclopedia)